Smash Mouth Explains Its Weird Carrie Fisher and George Michael Memorial Tweets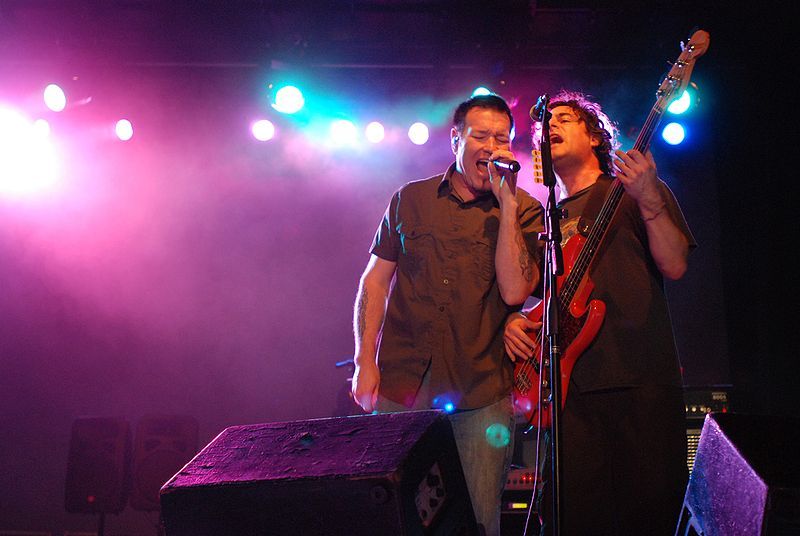 Over the holidays, '90s rock band Smash Mouth gifted everyone ignoring the family by reading Twitter to a series of bizarre holiday tweets. The three posts, now deleted, featured images celebrating Hanukkah, Kwanzaa and Christmas, respectively, and featured the band's logo along with characters from Shrek. They kind of look like cheap movie posters for knockoff religious sequels to the film.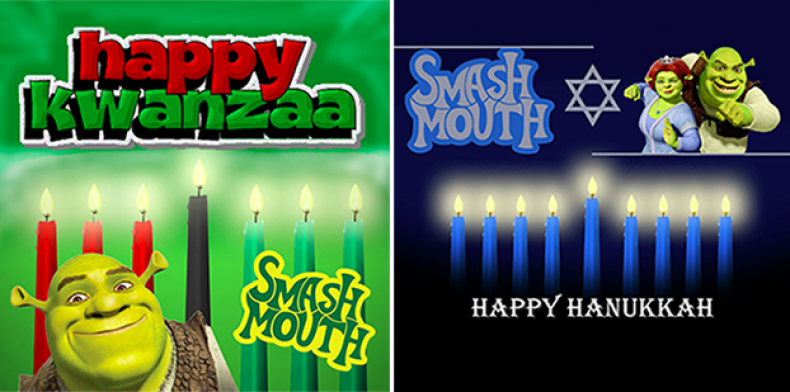 The tweets went viral and then were later deleted, disappearing like a beautiful shooting star sailing over the baby Jesus's manger.
Smash Mouth has a pretty unorthodox Twitter presence, and December was an especially busy month for the band's account. On the anniversary of Pearl Harbor, they tweeted this solemn remembrance, featuring their logo as a backdrop (they later deleted it):
After the death of George Michael, they tweeted the following, spelling his name wrong (they then deleted it, reposted with corrected spelling, then deleted it again):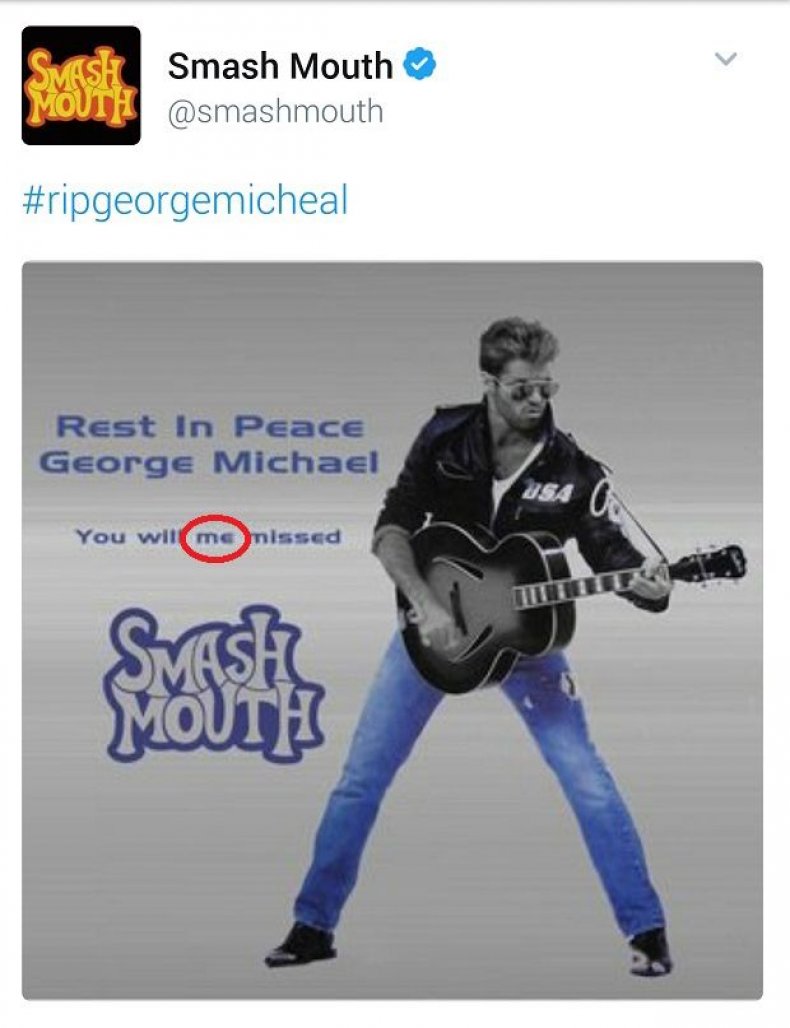 After Carrie Fisher passed away, there was yet another post/delete combo. Star Wars fans were less than thrilled.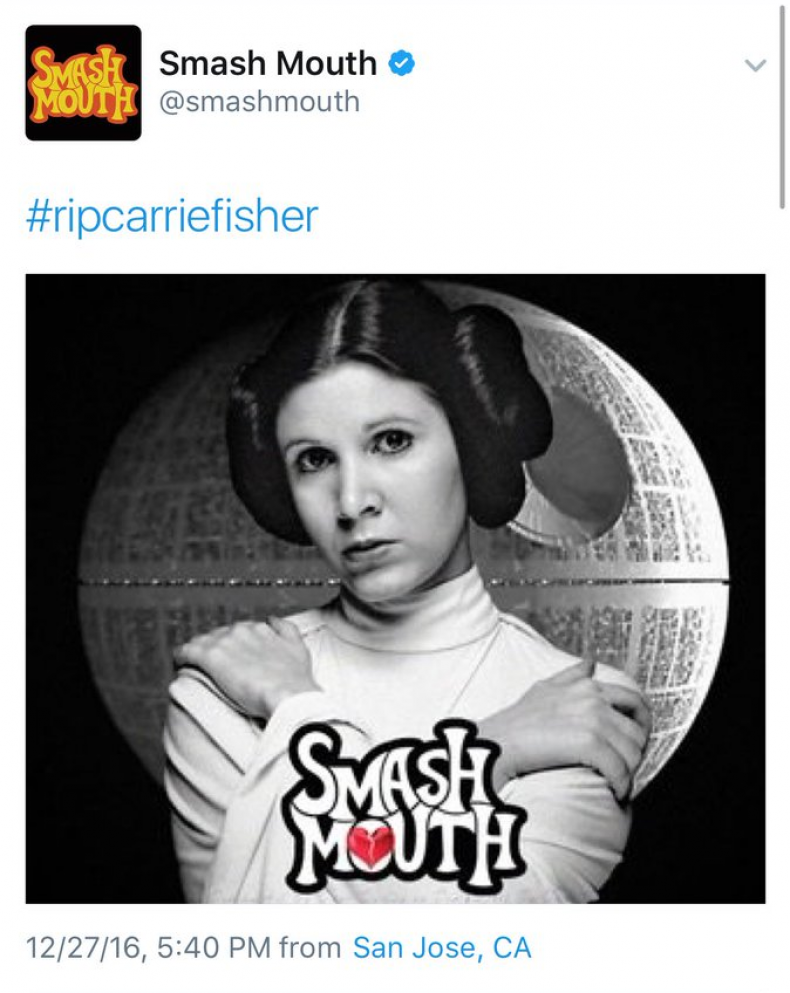 And earlier this fall, they got into an intense argument with the Oakland A's. It's all kind of inexplicable. Why do they paste their logo on memorial tweets? Are the tweets earnest? Is Smash Mouth somehow operating on a level of irony greater than a Katt Williams/Will Ferrell parody-parody account? Is Shrek Jewish?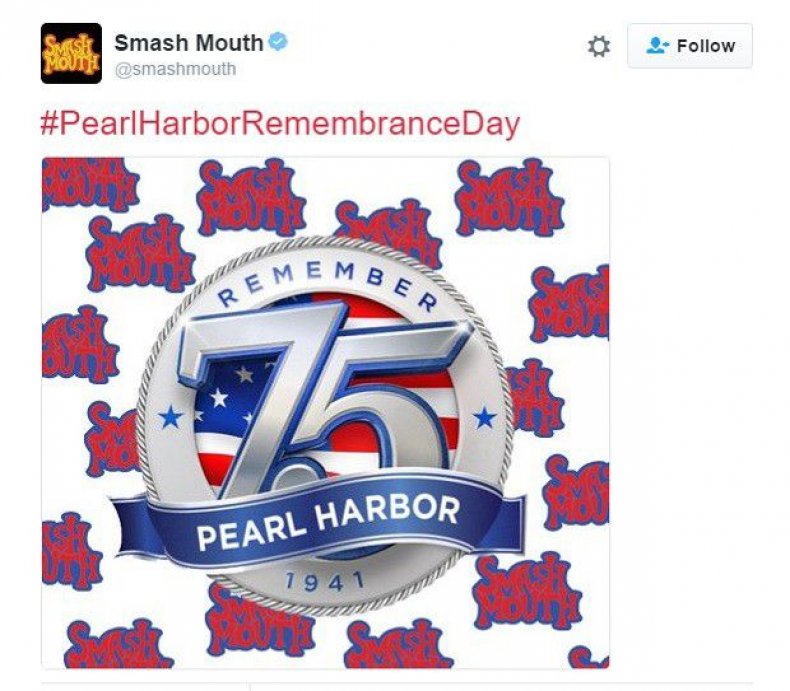 I reached out to the band to find out. They're on a short East Coast tour, in between recording an acoustic album to celebrate the upcoming 20th anniversary of their first record. "We post from our management office," says bassist Paul De Lisle. "We all live about five minutes from our management office [in San Jose, California], so every day we head over there, and we discuss what we're going to talk about, and we post it from there.... It all comes from us."
Their management team then creates the images for them in Photoshop. "We sit there with them while they're doing it."
Related: What it's like to see Smash Mouth, Sugar Ray and Blues Traveler in a park in Connecticut
But...why Shrek? "Our singer, Steve, he gets addressed as Shrek a lot: 'Hey Shrek!' or 'Hey Smash Mouth!'" De Lisle explains. "Our fans find it funny. They come to shows wearing Shrek glasses and whatnot, and we thought, Ah, it'd be fun, let's post some Shrek images."
The expressions of grief are earnest, though. "Any time an entertainer or celebrity dies, it really hits us hard," says De Lisle, "and we just want to reach out and express that."
The tweets, then, are sort of meant to be tongue in cheek, but their kitsch appeal isn't exactly on purpose. The band isn't intentionally trying to troll everyone. It just sort of happens that way. That their tweets end up being strange works of net art is mostly accidental.
But they don't really care. They're making them to provoke any kind of reaction, and they reliably get one. "Some people are going to goof on us, and others are going to strongly stand behind us," De Lisle says. "But at the end of the day, they're talking about us."
Perhaps that's why fellow reggae-influenced '90s California rock band 311—and even the FBI—employ similar strategies. One thing's for sure: When it comes to social media, the members of Smash Mouth truly are...All-Stars.
Editor's note: Shortly after writing this kicker, the writer was arrested and immediately sentenced to 40 years' hard labor in a fire prison in the center of the sun.