Smash Mouth React to Their Music Being Used in Lauren Boebert Parody Video
Rep. Lauren Boebert has been given the meme treatment on Twitter after she posted a campaign-style video—but the remix of her clip has provoked a strong reaction from rock band Smash Mouth.
In the days leading up to Virginia's gubernatorial election on November 2, the Republican congresswoman shared a video of herself "going to vote." In the clip, she puts on earphones and plays Bryson Gray's anti-Biden song "Let's Go Brandon." Boebert is then seen ascending the stairs to the U.S Capitol. A banner reading "Let's Go Brandon" is on the side of the building.
The parody of her clip, posted by comedian Gabe Sanchez on Thursday, replaces Gray's track with Smash Mouth's 1999 hit "All Star."
In the Sanchez version, Boebert is seen smiling as the opening lyrics ring out: "Somebody once told me the world is gonna roll me/ I ain't the sharpest tool in the shed/ She was looking kind of dumb with her finger and her thumb/ In the shape of an 'L' on her forehead."
As the gun rights advocate climbs the stairs, we see that the banner has been altered to read: "I gave people diarrhea." This appears to be a reference to a Daily Beast report that pork sliders from her restaurant, Shooters Grill, gave several diners food poisoning back in 2017.
The caption on Sanchez's remix reads: "Lauren Boebert just released a new ad featuring her favorite song. What other songs do you think she listens to?"
Even though the clip is a parody, Smash Mouth—whose current line-up is Paul De Lisle, Michael Klooster, Randy Cooke and Sean Hurwitz— appeared far from impressed with the association.
The official Smash Mouth account shared the parody video on Thursday, adding the comment: "OH F*** NO!"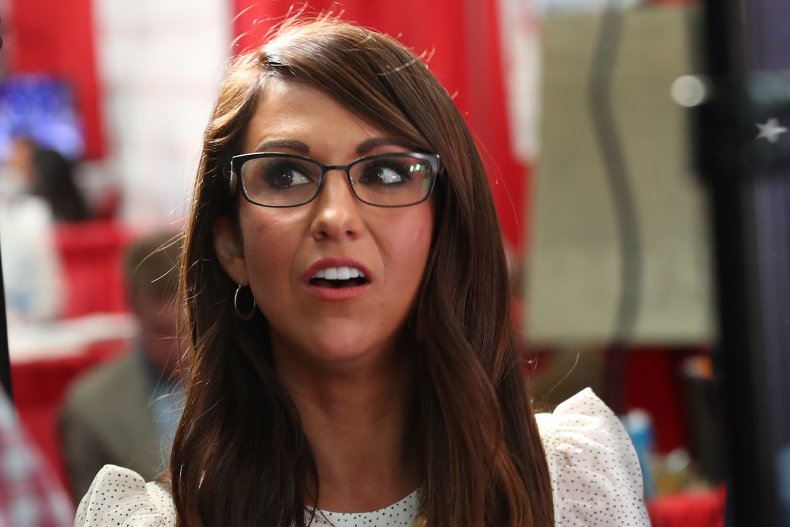 The remixed clip, which has been watched more than 285,000 times, sparked a wave of similar parodies, using various songs to poke fun at Boebert.
Smash Mouth have gone through a major transition in recent weeks, with Steve Harwell quitting the band after 27 years as lead singer.
On October 12, Harwell's representative told the New York Post: "Steve will be retiring from Smash Mouth to focus on his physical and mental health."
The 54-year-old later said: "Ever since I was a kid, I dreamed of being a rock star, performing in front of sold-out arenas and have been so fortunate to live out that dream.
"To my bandmates, it's been an honor performing with you all these years and I can't think of anyone else I would have rather gone on this wild journey with."
He continued: "To our loyal and amazing fans, thank you, all of this was possible because of you. I've tried so hard to power through my physical and mental health issues and to play in front of you one last time, but I just wasn't able to.
"I am so grateful to each and every one of you who has helped Smash Mouth sell over 10 million albums worldwide, put us on top of radio charts and those who have kept 'All Star' relevant as one of the top memes on the internet today."
Confirming that the band would continue without him, Harwell added: "I cannot wait to see what Smash Mouth accomplishes next and am looking forward to counting myself as one of the band's newest fans."
In the days leading up to his departure, a TikTok video of Harwell behaving erratically onstage at New York festival The Big Sip went viral.
He was seen swearing at the crowd, taking a rest against a pole and dropping his beer. He was also accused of making a Nazi salute by the person who shared the video.
A spokesperson for the band said the singer "regrets his actions, but this TikTok video is not an accurate representation of the man Steve is."