'Fearless' Girl Had a Pug Statue Pissing on Her in NYC Because the Patriarchy Is Bitter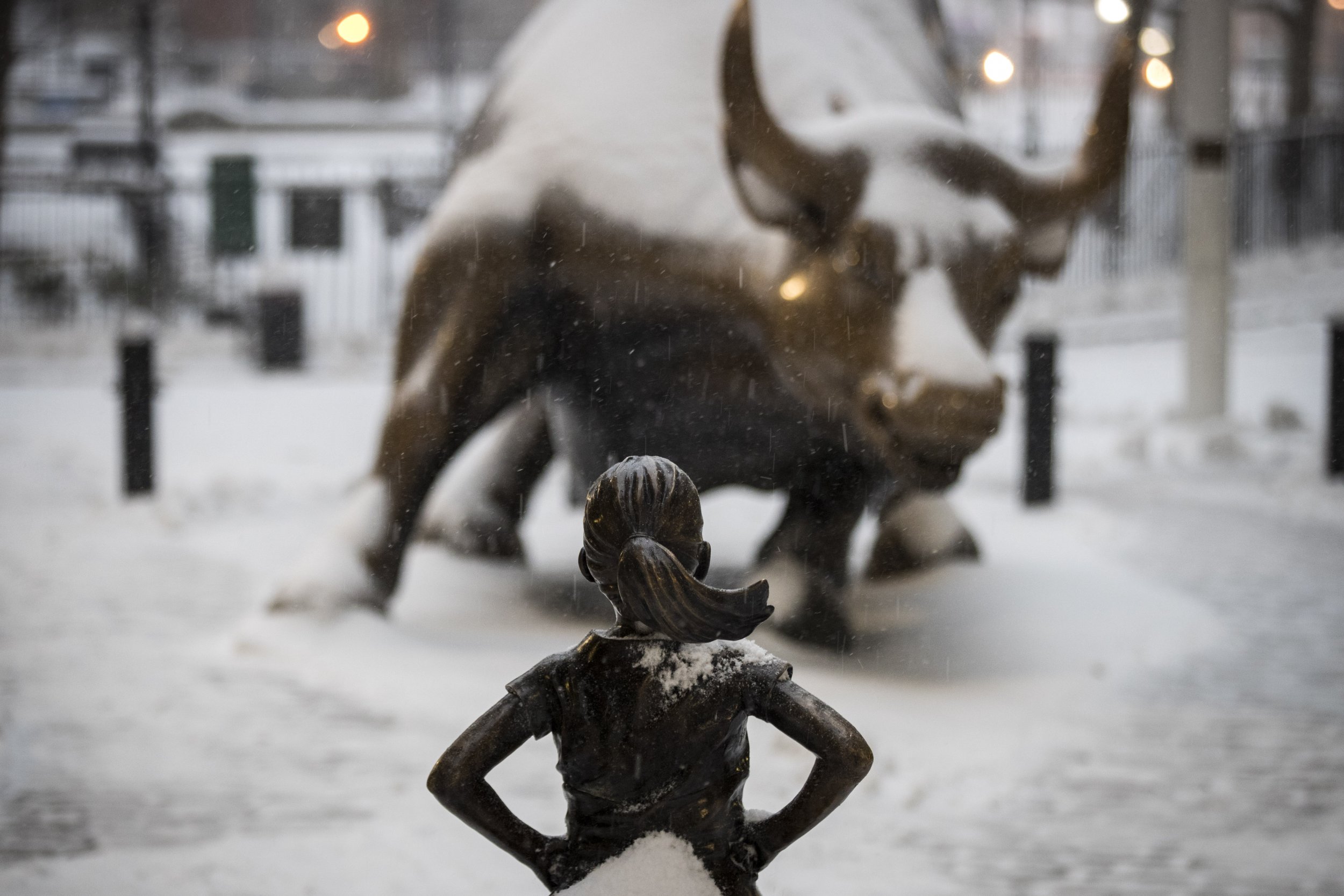 This has turned into a real pissing contest.
A New York City sculptor over the weekend placed a small statue of a dog, leg raised in mid-pee, next to the now-famous "Fearless Girl," a bronze, pony-tailed girl who appeared in March, staring down the iconic "Charging Bull" in lower Manhattan. The sculptor, Alex Gardega, told the New York Post he crafted a "crappy" dog to "downgrade" "Fearless Girl" in the same way he believes she degrades the bull.
"It has nothing to do with feminism, and it is disrespect to the artist that made the bull," he told the Post. "That bull had integrity."
On Tuesday morning, Gardega's "Pissing Pug" was removed, according to NY1.
No one ever said making it in New York City was easy, and "Fearless Girl" has had a tumultuous first two months here. She arrived on International Women's Day in March, thanks to State Street Global Advisors, an investment firm in Boston that's launched a campaign to pressure companies to include more women on their boards.
Designed by sculptor Kristen Visbal, she wears a windblown dress and lace-up shoes, and stands with her hands on her hips, all four feet of her defiantly facing the 7,000-pound beast. A small plaque at her feet says, "Know the power of women in leadership. SHE makes a difference."
"Fearless Girl" immediately went viral on social media and garnered shoutouts from Chelsea Clinton and Jessica Chastain. Instagram has racked up more than 25,000 photos tagged #fearlessgirl, and most of those are people posing with the 50-inch statue. "Fearless Girl" was so popular that Mayor Bill de Blasio extended her stay in Bowling Green Park from one week until February 2018.
But not everyone is a fan of the tiny feminist icon. "That is not a symbol! That's an advertising trick," Arturo Di Modica, the sculptor behind "Charging Bull," told MarketWatchin March. He has criticized "Fearless Girl" as an advertising scam and claimed she distorts the message of his bull. He is suing State Street for trademark and copyright infringement.
Di Modica created the bull in the aftermath of the 1987 stock market crash. After spending two years sculpting the 3½-ton, 16-foot bull in his SoHo studio, he surreptitiously installed it outside the New York Stock Exchange 10 nights before Christmas—without a permit. New Yorkers were enthralled, but city officials were not pleased, so police hauled the bull off to Queens. Soon after, Di Modica collaborated with advocates and the Parks Department, and the bull was permanently installed in Bowling Green, a few blocks from the Stock Exchange, where he's been flaring his nostrils and greeting tourists for the past 28 years.
Gardega has taken Di Modica's side, but his poorly crafted "Pissing Pug" only makes "Fearless Girl" look even tougher, and more essential.
Can't they piss and make up?