'Smash Ultimate' Version 8.1 Update Adds Small Battlefield Stage - Patch Notes
Nintendo released a new update to Super Smash Bros. Ultimate late Tuesday, adding a new stage and adjusting online capabilities for a better experience.
Version 8.1 of Super Smash Bros. Ultimate is available now and if your game hasn't updated on your Nintendo Switch you can do so manually by hovering over the game on the home screen with your cursor. Press the plus button and select software update and via the internet to make sure you are on the latest version.
The new stage arriving in Super Smash Bros. Ultimate is called Small Battlefield, this is a variation of Battlefield that takes away the platforms at the top of the level. The new update also adds the option for players to select any music for Battlefield, Small Battlefield, Big Battlefield and Final Destination.
As for the online user experience, version 8.1, the way matchmaking is done is being adjusted as well as how many participants can be a part of "Elite Smash," a tier for players who rank globally.
Check out the full patch notes below.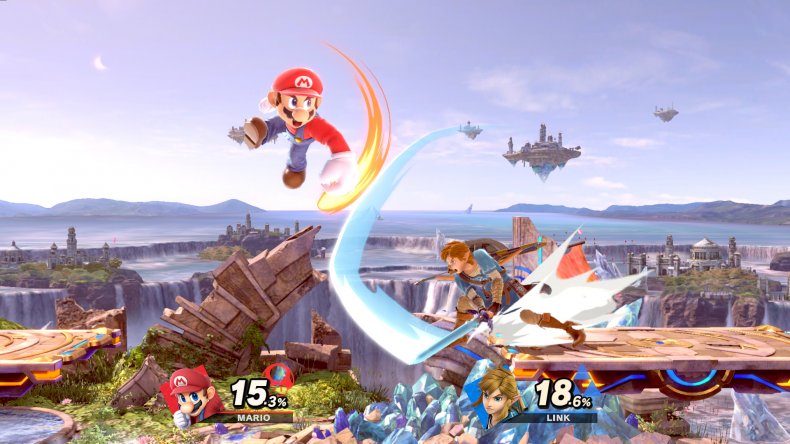 SUPER SMASH BROS ULTIMATE VERSION 8.1 PATCH NOTES
Ver. 8.1.0
Stage

The Small Battlefield stage has been added. You can also set Small Battlefield as a Preferred Rule in Online battles.
You can now select any stage-specific music for the Battlefield, Small Battlefield, Big Battlefield, and Final Destination stages.

Online

The online user experience has been adjusted.
The way matching is determined when using Preferred Rules has been adjusted.
Following a look at the current number of players eligible for Elite Smash, the threshold for entry has been recalculated to allow more players. Additionally, the way initial values for Global Smash Power are calculated has also been adjusted.
Further investigations and adjustments to Online mode are expected.

General

Several issues have been fixed to improve gameplay experience.
Interestingly enough, following the surprise update and new stage, Smash Ultimate fans have taken to social media to ask for classic levels to be added. Rainbow Road from the 3DS version of Super Smash Bros. on Wii U and Poke Floats from Super Smash Bros. Melee have been popular picks from fans wanting to fight on these stages again.
Rainbow Road is of course the most iconic stage in the Mario Kart series. Often the final level, this long, winding stage was often a test of skills for players as there were no railings and probability of falling off was high. For the record, this writer believes the Rainbow Road from the N64 version is the best.
Super Smash Bros Ultimate is available now for Nintendo Switch.
If you can bring back one old stage from Super Smash Bros. past, which would it be? Which Rainbow Road from the entirety of the Mario Kart series is your favorite? Let us know in the comments section.