How to Get Smashburger's New Crispy Chicken Smash Burger For Free
Smashburger is introducing its new chicken burger—the Crispy Chicken Smash—and is giving it away for free on Sunday, January 12. The international fast-food chain is offering its own take on the chicken burger following the popularity of the chicken sandwich in 2019.
The hype surrounding Popeye's Chicken Sandwich resulted in Popeye's running out of buns and asking customers to bring their own, a customer suing the company because he couldn't get a burger, customers storming Popeye's with guns, a lethal fight over the chicken sandwich, and even a Popeye's chicken sandwich inspired holiday sweater.
In August, fast-food rivals Chick-fil-A and Wendy's joined in the chicken burger hype by starting a twitter-war over their respective chicken sandwiches. Chick-fil-A first had a dig at Popeye's, tweeting: "Bun + Chicken + Pickles = all the [heart emoji] for the original."
Popeye's responded with: "...y'all good?" Wendy's then mocked both companies, saying: "Y'all out here fighting about which of these fools has the second-best chicken sandwich."
It seems as though the battle between the chains isn't over, with Popeye's trolling Chick-fil-A as recently as December, by seemingly trying to poach Chick-fil-A's employees for Sunday shifts.
Now, it looks like the chicken-sandwich battle will continue through 2020, with McDonald's testing a new chicken burger in Tennessee and Texas through January 26, before potentially launching nationwide. The love for the chicken sandwich has even gone international, with KFC locations in the UK introducing a vegan "chicken burger" to its permanent menu.
And now, Smashburger wants to "throw its hat into the ring" according to an emailed press release. Smashburger's new Crispy Chicken Sandwich is 70 percent bigger than its original crispy chicken sandwich and is served with lettuce, tomato, and red onion.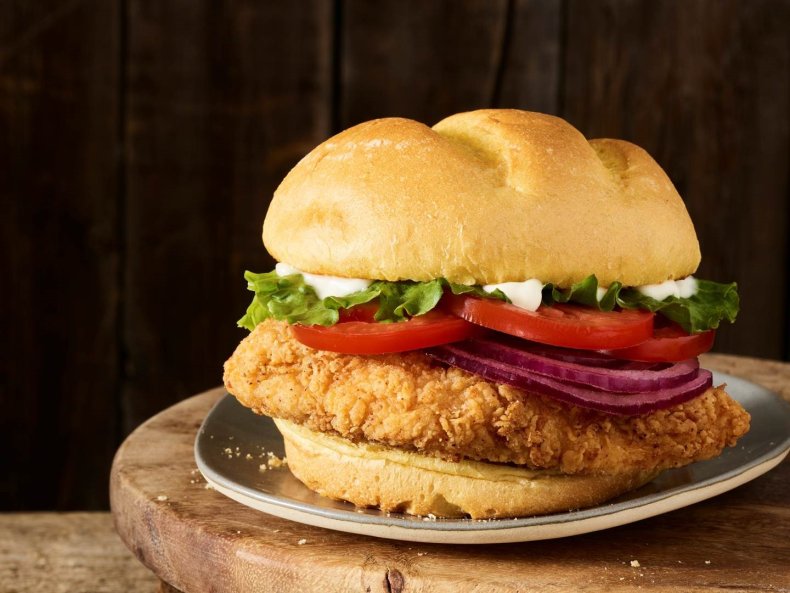 How to get a free Crispy Chicken Smash Burger
To try the new chicken sandwich for yourself, head to your local Smashburger on January 12 and order a Double Burger to receive a Crispy Chicken Smash for free. Both the Double Burger and the Crispy Chicken Smash are $6.99 but prices may vary by location.
Smashburger has more than 300 locations in 36 states and 8 countries – you can find Smashburger in Alabama, Alaska, Arizona, Arkansas, California, Colorado, Connecticut, Florida, Georgia, Idaho, Illinois, Indiana, Iowa, Kansas, Kentucky, Louisiana, Maryland, Massachusetts, Michigan, Minnesota, Missouri, Nevada, New Jersey, New York, North Carolina, North Dakota, Ohio, Oklahoma, Pennsylvania, Rhode Island, South Carolina, Texas, Utah, Virginia, Washington, and Wisconsin.
Other burgers on the Smashburger menu include the Classic Smash; Bacon Smash; Bacon Avocado Club; BBQ, Bacon, and Cheddar; Spicy Jalapeno Baja; and Truffle Mushroom Swiss, plus a kids' hamburger and cheeseburger.
Additionally, if you join the SmashClub you can get triple points on your first purchase to put towards your next Smash Burger.
This article has been updated to correct the number of Smashburger locations, states, and countries.