With over 400 receptors in the nose, humans distinguish an estimated thousands, millions, or even up to a trillion scents, and scent memory. Scent memory also, for better or worse, lasts for what seems like forever. "Visual memory remains 30 percent after three months, smell memory remains 100 percent after one year," says Berlin-based scent artist Sissel Tolaas. "Why not use that?"
In the near future, we will. Tolaas, working with Vienna's Supersense Lab, recently created the Smell Memory Kit, the first commercial product that takes "smell snapshots." So now, along with posting a selfie on Instagram to commemorate that amazing vacation, you will be able to make memories with your nose. "The intention is to give that thing you want to remember—a wedding, a trip—a smell," says Tolaas.
The first 200 limited-edition kits, now available for sale at the online Supersense store, have 26 main categories, from Air, Business and City to XXL, Yes and Zoo. There are subcategories too; in total, 1,000 smells are in the kit's archive. The starter pack ($109) includes a metal capsule and three sample smells in sealed ampoules—tiny glass vials.
When I visited Tolaas in her Berlin lab recently, she held up some of the small glass vials of scents, wafting the kit's individual smells with her manicured hand. One smelled like a citrusy pomegranate, another called to mind suntan lotion and petunias. They can't be described easily and are far from floral—but aren't unpleasant, either. "They're things that don't smell like anything you've smelled," said Tolaas. The point, she says, is that they "allow people to give something a 'smell code' that doesn't [correspond to] a real smell."
To take a "smell snapshot," first find something to remember. Then crack open an ampoule and take a whiff. Later (even much later) you take another sniff of the scent to bring back that moment—that city, that weather, that feeling and who you were with. (If you need to re-up, the 5 milliliter glass ampoules can be reordered online for $11 each.) "Smell is so connected to the emotions in humans, you'll never forget," Tolaas says.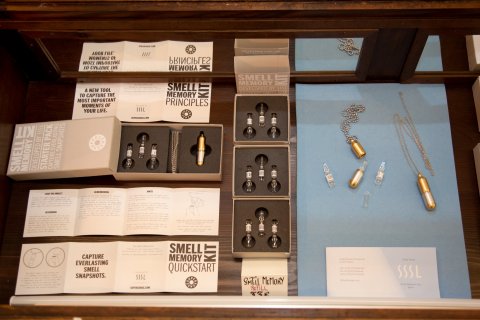 Born in Stavanger, Norway, Tolaas studied art, chemistry, math and linguistics before launching an art career that has focused on pulling our cultural memory of smell out of the mire of old school romantic cliché of fragrances—like the eau de toilette of your first crush, or of mom's cooking in the kitchen. Since 1990, Tolaas has been expanding her smell archive, a sort of Wikipedia of the nose that now includes over 6,000 entries. The work is supported by the International Flavors & Fragrances Inc. (IFF)—the fragrance and flavor production house that, for example, helped create Beyoncé's "Rise" fragrance. IFF finances Tolaas's lab and provides her with access to its technologies; in exchange, she sometimes does research for the company in a consulting capacity.
She is perhaps most well known for creating the pungent smell of World War I, which is on permanent exhibit at the Museum of Military History in Dresden, Germany. "Everyone died out, I only had history books," she said, speaking about how she pulled that together. "It's a disgusting smell, a combination of dead horses, mustard gas, dead people and earth. It's so bad people run to the toilet immediately. But the museum wanted to do it to give a sense of information before this piece of history was covered up."
Each scent in her archive—which she calls the "NASALO" smell dictionary—tells a different story. NASALO, along with every word in the dictionary, is a Tolaas invention. "Taking into account that our societies have developed a language for color, it is remarkable that we have not yet developed one for smell," she wrote in an artist statement for the project. "This is why I began to invent the first words for a language of smells, the NASALO dictionary. Although I made these words up myself, they are certainly not arbitrary." She organizes each smell in her lab in alphabetical order. The smell of concrete, for example, is called "BEETEE" while fast food is named "FAFEES."
Some of her smell archive has been collected as part of her "City SmellScape" project, which has been ongoing since 1998, and includes sources ranging from sewers to concert halls. In 2004, she profiled specific smells in four chosen districts of Berlin. She has also profiled the cities of Paris, Stockholm, Mexico City, Detroit and Oslo, and is currently working on Nuuk and Tel Aviv. Another current project under way is the mapping of the smell of the world's oceans. In 2006, she did a fear-based project shown at the Massachusetts Institute of Technology's List Visual Art Center, where visitors scratched and sniffed a paint-encapsulated wall to smell the sweat of anonymous men with anxiety disorder.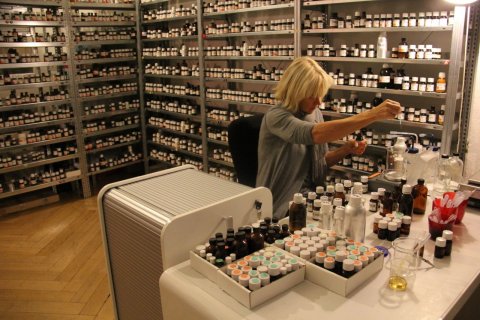 Other artists have worked with olfaction art, like New York artist Martyna Wawrzyniak, who last year placed an ad in an issue of Harper's Bazaar of her own sweat disguised as a perfume ad. Brian Goeltzenleuchter crowdsourced the smells of 10 neighborhoods in Los Angeles for a "scent-scape" map shown last year at the Santa Monica Museum of Art. Meanwhile, Peter de Cupere is an artist who created a project called "NY Smells Like," gathering smells from residents. He also co-created the first smell-recognition iPad app, Olfacio, and invented the first scent piano, the Olfactiano, which plays "scent sonatas."
Tolaas doesn't have an art gallerist representing her work and refuses to build a website. ("You can't put smell on the web," she said.) Maybe one day. Harvard professor David Edwards is at work with oSnap, a smartphone app that can send selected food smells through text messages with an automatic camera.
The Smell Memory Kit is the result of a long-term working relationship between Tolaas and Vienna-based biologist Florian Kaps. After meeting through a mutual friend, Kaps encouraged Tolaas to turn her artwork into a commercial product that could reach a wider audience. Together, they came up with the kit idea, and they have worked on it for the past year. Last June, Kaps and Tolaas co-founded the Supersense Store in Vienna with Andreas Höller and Nina Ugrinovich.
Tolaas says the idea has been stirring around in her mind for years: "It's literally making my 20 years of work into a way for everyone to experience it."
"This product is the first kick in the ass, hopefully, of the people starting to learn the abilities of the nose," said Kaps. "This is one step towards showing people the capabilities of their own noses."