Smithfield Settles With OSHA Over Citation for Company's COVID Safety Measures
The Occupational Safety and Health Administration announced Monday they had reached a settlement with Smithfield Foods over a citation regarding the company's COVID-19 safety measures after a massive outbreak last year, according to the Associated Press.
Under their agreement, Smithfield must pay a $13,500 fine and develop a plan to prevent the spread of infectious disease at their meatpacking plants nationwide.
In 2020, Smithfield's pork processing plant in Sioux Falls, South Dakota, experienced one of the nation's biggest COVID outbreaks, with the Associated Press calling it one of the worst hotspots during the early stages of the pandemic. By June, nearly 1,300 workers had tested positive for the virus, with four people dying from it.
After investigating the situation, OSHA said that Smithfield had not done enough after finding the first cases in late March to curb the spread of the virus. There were no physical barriers or mask requirements at the time. OSHA also said workers were not spaced out appropriately.
However, Smithfield contested this, saying that COVID-19 safety precautions were not clear at the time. The AP reported that Smithfield's spokesman James Monroe called the allegations "baseless."
"Settling with OSHA and avoiding litigation allows Smithfield to continue the good relations it has with the agency, as we have the shared goal of workplace safety," Monroe said.
The United Food and Commercial Workers Local 304A, the union for the workers at the Sioux Falls plant, condemned the settlement. The organization's president, B.J. Motley, said in a statement that OSHA failed to deliver real accountability.
"Our leaders have a responsibility to protect America's frontline workers who have been bravely putting their lives at risk to keep our country's food supply chain strong throughout this crisis," Motley said. "This deal is nothing more than a slap on the wrist for Smithfield and a deeply troubling betrayal of the men and women who have already sacrificed so much in this pandemic."
For more reporting from the Associated Press, see below.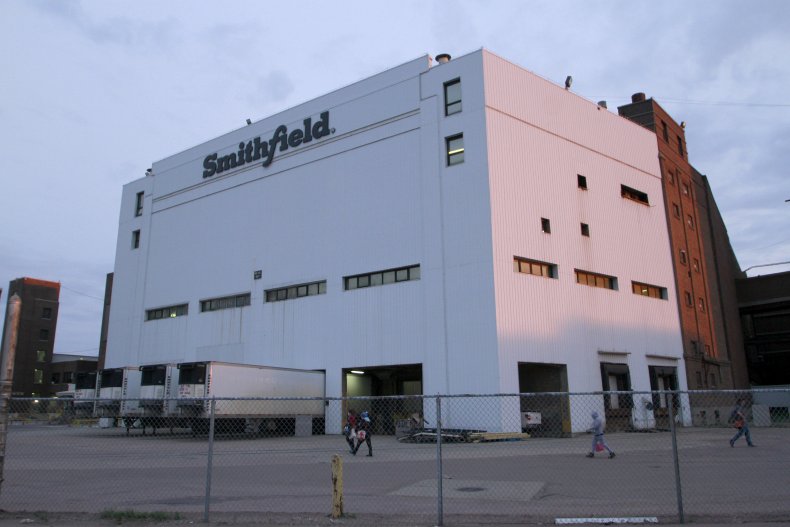 Smithfield has agreed to work with third-party experts to develop a new plan to prevent diseases from spreading in plants, which will include an assessment of medical safety measures from meatpacking plants' administration down to personal protective equipment for workers on butchering lines.
OSHA's regional administrator, Jennifer Rous, warned that a comprehensive plan was necessary.
"What happened at this facility was tragic and we must ensure that all steps in the agreement are followed to prevent a mass outbreak from happening again," she said.
Update 11/16/21, 10:26 a.m. ET: This article was updated to include a statement from the United Food and Commercial Workers Local 304A.