What's Closed? Government Shutdown Update: Smithsonian Museums, National Zoo Go Dark as Donald Trump, Democrats Try to Reach Deal
Tourists kicking off 2019 with a trip to Washington, D.C., may be disappointed to find the doors of the Smithsonian museums and the National Zoo closed to visitors because of the partial government shutdown.
On Wednesday, the Hirshhorn Museum and Sculpture Garden posted on Twitter that Smithsonian museums and the National Zoo were closed because of the government shutdown. Hirshhorn informed its Twitter followers that its social media pages would not be updated other than to inform the public about its operating status.
Once the situation with the government was resolved, Hirshhorn said its operating status would be updated.
The National Zoo and the Smithsonian posted the same message on their own Twitter pages, as well. Although there will be a reduction in the public's enjoyment, the Smithsonian explained that the animals in the zoo's care would continue to be cared for.
"The National Zoo live-animal cameras, including the panda cam, are not broadcasting. All the animals will continue to be fed and cared for at the National Zoo," the Smithsonian said. "A shutdown will not affect the Zoo's commitment to the safety of staff and the standard of excellence in animal care."
Along with closing the doors, museum and National Zoo programming and events were canceled. Smithsonian Associates, a museum-based education program, doesn't receive government funding, but because of the shutdown, events could not be held in any of the affected facilities. The organization was looking for alternate venues to hold upcoming events and explained ticket holders would be informed via email or phone of any changes.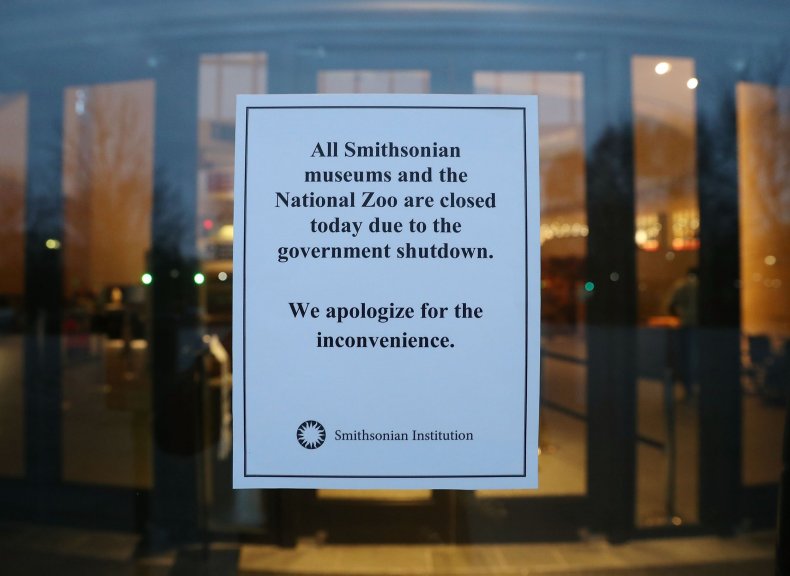 There are a total of 19 museums, galleries, gardens and zoos that operate as part of the Smithsonian organization. Seventeen of those are located in Washington, D.C., or the surrounding area, and include:
African American Museum
African Art Museum
Air and Space Museum
Air and Space Museum Udvar-Hazy Center
American Art Museum
American History Museum
American Indian Museum
Anacostia Community Museum
Archives of American Art
Arts and Industries Building
Freer Gallery of Art
Hirshhorn
National Zoo
National History Museum
Portrait Gallery
Postal Museum
Renwick Gallery
S. Dillion Ripley Center
Sackler Gallery
Smithsonian Castle
Smithsonian Gardens
The Smithsonian's two other properties, the Cooper Hewitt and the American Indian Museum Heye Center, are in New York City.
Almost all Smithsonian museums and the zoo are free and are usually open every day, except Christmas Day.
A partial government shutdown was declared on December 22 after the Senate could not come up with a spending bill that President Donald Trump would sign (the House passed a bill that included $5.7 billion for the border wall). Trump's campaign promise of a wall along the southern border continues to be a sticking point. Democrats and Republicans were invited to the White House on Wednesday for a briefing on border security.
House Speaker-designate Nancy Pelosi's office told USA Today the meeting was scheduled to begin at 3 p.m., and both she and Senate Minority Leader Chuck Schumer were expected to attend.
What's Closed? Government Shutdown Update: Smithsonian Museums, National Zoo Go Dark as Donald Trump, Democrats Try to Reach Deal | U.S.