Wicked Luck: 'Wizard of Oz' Ruby Slippers No Longer on View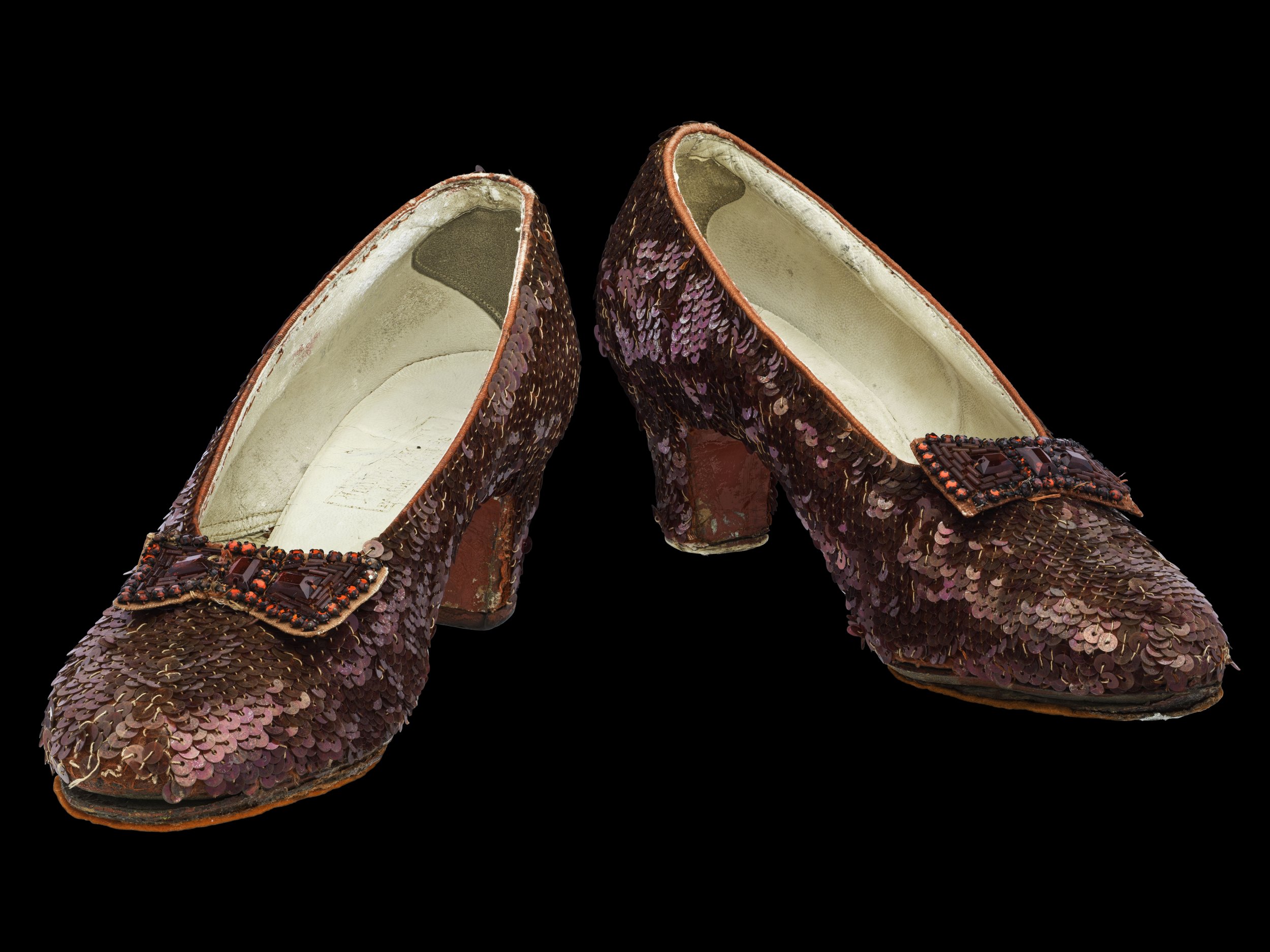 While Dorothy in The Wizard of Oz was unable to remove her ruby slippers, conservators at the Smithsonian did just that early Monday. They unlocked the display case that stored what is arguably the institution's most popular artifact, and took the shoes away for what the National Museum of American History says is a critical conservation effort. The move follows a Kickstarter campaign that raised more than $300,000 to preserve the pumps made famous by Judy Garland.
The Smithsonian has removed its ruby slippers from display before, but in those instances they either went on view elsewhere or were gone only briefly. As the conservation work will likely take about a year, this will be the first time since the institution acquired the shoes in 1979 that they will not be exhibited anywhere for such a lengthy period, according to a museum spokeswoman. Aside from those occasional intervals, it is also the first time since the 1970s that none of the surviving slippers from the 1939 film are on view anywhere.
Related: Dorothy's stolen slippers remain at large
Five pairs of Dorothy's sequined pumps are known to have survived. In 1970, a costume department employee named Kent Warner found four pairs in storage at MGM Studios. He sold two of the pairs, gave one to an auctioneer and kept a pair for himself. An additional pair belonged to a woman in Memphis, Tennessee, who had won the shoes in a contest in 1940.
The auctioneer's pair is the one at the Smithsonian, and the Memphis woman's pair now belongs to a group of Hollywood investors and is in a bank vault. "We were collectors, and for us, that's the ultimate prize," David Elkouby, who is part of that group, told Newsweek in 2015.
The Academy of Motion Picture Arts and Sciences owns the shoes that Warner had kept for himself, and plans to display them when the Academy opens a museum in Los Angeles in 2019. A group that included actor Leonardo DiCaprio and director Steven Spielberg helped to purchase them for the Academy in 2012 for $2 million, the highest price ever paid for any of the pairs. "There are no plans to publicly display them prior to our 2019 opening," Stephanie Sykes, a spokeswoman for the Academy's museum, says by email.
A pair that Warner sold to collector Michael Shaw disappeared from the Judy Garland Museum in Grand Rapids, Minnesota, in 2005. What happened remains a mystery. In 2015, a renewed effort to find the size five-and-a-half shoes—one that involved an underwater dive and a $1 million reward—failed to turn them up. "I have no desire to have them again," Shaw, who had loaned the shoes to the Judy Garland Museum, previously told Newsweek. "After years of bringing joy and happiness to so many thousands and thousands of people by being able to see them, now to me they're a nightmare."
The late actress Debbie Reynolds had purchased the final pair from Warner and sold the shoes at auction in 2011. Garland wore that pair in screen tests, but not in the final film. A Middle Eastern collector likely bought them, according to two memorabilia experts, and those pumps do not appear to be on public display.
"They're an object of intense obsession," Rhys Thomas, an authority on the shoes and author of The Ruby Slippers of Oz, has told Newsweek. "The ruby slippers just command so much interest and overpower the individual who owns them."
The Smithsonian pair might not have survived much longer. "They're really discolored. They've darkened. They've become opaque, and there's cracking," Richard Barden, the National Museum of American History's preservation services manager, said in a video for the fundraising campaign. He added that without the restoration, "the slippers will slowly deteriorate, and we really don't know how quickly they'll go."
For now, it will take more than fans clicking their heels together to see the sequined Hollywood icons. In the meantime, museum visitors will find in the slippers' place the brown fedora that Harrison Ford wore in the 1989 film Indiana Jones and the Last Crusade, which is not typically on view, as well as a whip that was used by his character.