Up in Smoke? Vote to Legalize Pot Becomes Hazy Amid Stalled Stimulus, Democratic Pushback
Democrats really want to legalize marijuana at the federal level—a landmark vote that would be historic. Years ago, such a move would have been virtually unthinkable, given public attitudes toward the drug.
But there is mounting pushback to nix next week's planned vote in the House to give cannabis high praise among rank-and-file members, particularly those in swing districts. The dissent could threaten Democratic leadership's plans to vote on what's dubbed the MORE Act (Marijuana Opportunity Reinvestment and Expungement).
Vulnerable Democrats fear the optics of passing a weed bill amid stalled coronavirus relief on Capitol Hill would irk constituents just weeks before the election—an idea Republicans have already seized on.
"I have not heard from a single constituent during the course of this pandemic that this is something that we ought to be working on," Rep. Anthony Brown (D-Md.), a member of the centrist New Democrat Coalition, told Newsweek. "I do think that the optics could be problematic."
The MORE Act would remove marijuana from the Controlled Substances Act, decriminalizing it at the federal level. However, states would still need to approve the drug to be sold and used. All but eight states have decriminalized marijuana while only eleven and the District of Columbia have fully legalized it. The bill would also wipe clean and seal the criminal records for most cannabis offenses.
Though next week's vote schedule has not been officially changed, rank-and-file members remain in the dark about whether or not the bill will be pulled and postponed amid the intraparty opposition. Meanwhile, leadership members demurred reporters' questions Tuesday about not only the optics, but if and exactly when such legislation will come to the floor.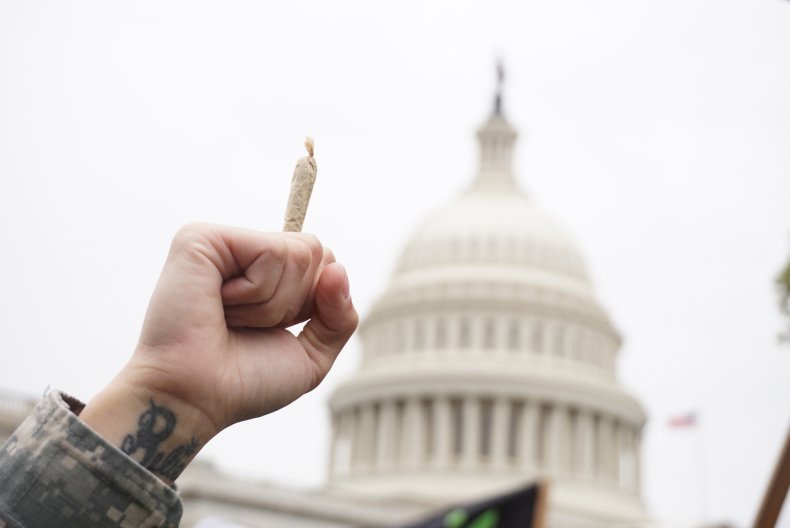 House Majority Leader Steny Hoyer (D-Md.) told reporters on a call that while he's "a support[er] of the MORE Act," "we've got to get" pandemic relief and a stopgap spending bill done "because they're absolutely critical to the welfare of our country." A government shutdown will ensue October 1, if Congress does not pass a continuing resolution (CR).
"There are a lot of bills that are possible which are important bills—good bills," Hoyer continued. "But we're focused on COVID-19 [legislation] and the CR, because that keeps government open, and it gives assistance to millions of people who absolutely need it."
Coronavirus stimulus talks are completely stalled between top congressional Democrats and the White House, prompting House Speaker Nancy Pelosi (D-Calif.) to keep the House officially in session until a deal is struck. But top Democrats quickly rejected a bipartisan relief package unveiled Tuesday while top Senate Republicans signaled openness to the proposal.
The marijuana legislation was not discussed during Tuesday morning's Democratic caucus call, according to Caucus Chair Hakeem Jeffries. The New York Democrat later skirted a question from Newsweek about the opposition from some within the party and blamed Republicans for stalled pandemic aid.
"With respect to some of the other items on the legislative agenda, particularly as it relates to next week, I'm just trying to get to tomorrow," Jeffries said during a press conference. "That's the approach that many of us have taken in the context of a long national nightmare that has been the Trump administration since January 20 of 2017."
Even if the House achieves enough support to pass the MORE Act, which it's expected to, it will not move forward in the GOP-controlled Senate. The companion Senate bill, spearheaded by Vice Presidential nominee Kamala Harris (D-Calif.), hasn't budged in the upper chamber. That's despite the majority of GOP voters saying they like the idea.
Some Republicans, such as Reps. Matt Gaetz (Fla.) and Tom McClintock (Calif.), support the measure. Both of them voted for the bill in the Judiciary Committee. But McClintock has questioned the timing.
Senate Majority Leader Mitch McConnell's office ridiculed Pelosi earlier this week, saying she "won't make time for more COVID relief but apparently she will, again, make time for marijuana." The weed-related provisions in the HEROES Act, which the House approved in May, have been repeatedly blasted by GOP lawmakers.
Jeffries labeled the remarks from McConnell's office as "silliness." He pivoted to criticize President Donald Trump's 2017 tax cuts, which were backed by Republicans and largely benefited wealthy individuals and corporations.
Proponents of the MORE Act argue that it's more than just legislation to decriminalize weed, and that Democrats should do better to brand it as such. It's also about criminal justice reform, said Rep. Alexandria Ocasio-Cortez, because the bill would expunge criminal records for most marijuana crimes.
"This isn't just about decriminalization. It's about expunging the records of people whose lives and whose family's lives have been decimated by the war on drugs and unjust marijuana laws," the New York Democrat told Newsweek. "I think Republicans are just trying to use this 'reefer madness' type of argument as a boogeyman to prevent us from doing this work."