Smoke From West Coast Wildfires Travels Over 4,000 Miles, Seen As Far Away As Hawaii and Ohio
Smoke from the ongoing wildfires across the West Coast has traveled across the country and was recently spotted at high altitudes in the skies over Ohio, as well as Hawaii.
On Wednesday, the National Weather Service in Cleveland took to Twitter to show residents how the smoke from the wildfires has traveled across the U.S.
NWS Cleveland was asked by one Twitter user the likelihood that smoke from the West Coast fires reaches Ohio, to which it replied by saying, "It already has and will continue to filter through the skies across the #MidWest, #GreatLakes and #OhioValley region."
"The skies today are very hazy and kinda a grayish color," NWS Cleveland added in its tweet.
In a subsequent tweet, NWS Cleveland stated that satellite images "from GOES-16 showing low clouds below 1000 feet coming off #LakeErie near and smoke much higher up at 30,000 feet this afternoon."
"High-res #weather forecast model showing the #wildfire #smoke in the atmosphere across the #USA from the #WestCoastFires," NWS Cleveland wrote in another tweet, showing a gif of the smoke traveling across the U.S. over Wednesday and Thursday. "You can see how it originates from the #WestCoast and moves like a fluid depending on the winds high aloft."
In addition to the smoke moving east to Ohio, it also traveled west and was detected in Honolulu, Hawaii.
"If you thought you saw or smelled smoke recently, experimental forecast data suggests that some smoke from California wildfires is near the islands," NWS Honolulu wrote in a tweet, which included a map showing the smoke traveling towards Hawaii and the Pacific Ocean.
In the image below, taken from Airnow.gov, smoke from the wildfires across the West Coast can be seen traveling farther east than Ohio, but meteorologists from the National Weather Service in Boston and in Albany, New York, told Newsweek that they don't think it is likely the smoke will be visible in their respective areas.

"I'm not seeing smoke from the west forecast to reach the East Coast," Steve DiRienzo, warning coordination meteorologist at the National Weather Service Forecast Office in Albany, New York, told Newsweek via email.
Kevin Cadima, a lead meteorologist from NWS Boston, told Newsweek that the city currently had a lot of low clouds, "so, even if we could see [the smoke], [the clouds] would be masking it."
"Right now it doesn't look like there'll be much impact from that," Cadima added. "It's possible it could be faintly noticed, some of the smoke, but this far east, I don't think it's gonna be a big deal."
While speaking to Newsweek, Eric Evenson, incident meteorologist/lead meteorologist at NWS Burlington, Vermont, said, "I can't say definitively that the smoke made it into New York, but I wouldn't be surprised if there was some very high-level smoke from those fires."
"Unfortunately, I think the clouds inhibited us from really seeing that," Evenson added.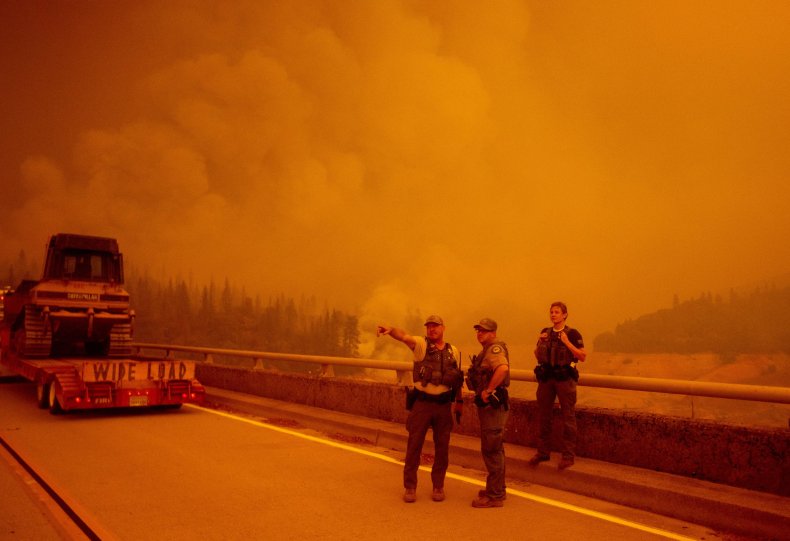 Newsweek reached out to the National Weather Service in Cleveland for comment but did not receive a response in time for publication.
Over the past few weeks, wildfires have ravaged numerous areas across the West Coast in California, Washington and Oregon.
On Thursday, the National Interagency Fire Center reported that there were currently at least 96 active wildfires across the U.S., which have burned over 3.4 million acres.
Updated September 10, 2020, 2:36 p.m. ET, to include a tweet from NWS Honolulu, showing the smoke reaching Hawaii. The headline has been updated to reflect this.