Smoked Salmon Recalled Over Fears It Could Cause Life-threatening Food Poisoning
The U.S. Food and Drug Administration (FDA) issued a Class I recall notice for ten lots of Cold Smoked Salmon distributed by Mill Stream Corporation (Sullivan Harbor Farm).
The notice comes after a review of laboratory certificates found the salmon may be harboring a potentially deadly bacteria—Clostridium botulinum.
Customers are advised to dispose of any products that may be affected by Mill Stream Corporation's voluntary recall, even if the product looks and smells normal, states the notice published on November 6. This is because exposure C. botulinum can cause botulism, a type of food poisoning that can lead to hospitalization and even death.
The products being recalled are whole salmon sides sold in vacuum sealed packets between March 6, 2019 and September 17, 2019.
According to the FDA, the salmon comes in four different sizes (2 pounds, 1 pound, 8 ounces and 4 ounces) and carry the lot numbers 7049, 7050, 7051, 7052, 7054, 7056, 7058, 7060, 7062, 7066 on the back of the packaging.
Customers may have purchased the salmon through retail, wholesale and online orders in the following states: Maine, Massachusetts, Vermont, Rhode Island, New York, Connecticut, Pennsylvania, New Jersey, Ohio, Utah, Iowa, Tennessee, Minnesota, Colorado, Florida, Arizona, Wisconsin, Washington, Georgia, Illinois, Virginia, Michigan and Texas.
While there have been no reported cases of any illness caused by Mill Stream Corporation's Cold Smoked Salmon as of yet, anyone who develops a set of symptoms that include dizziness, double-vision and difficulty speaking or swallowing are advised to seek medical attention immediately.
Other signs to look out for are difficulties breathing, abdominal distension, constipation and weakness.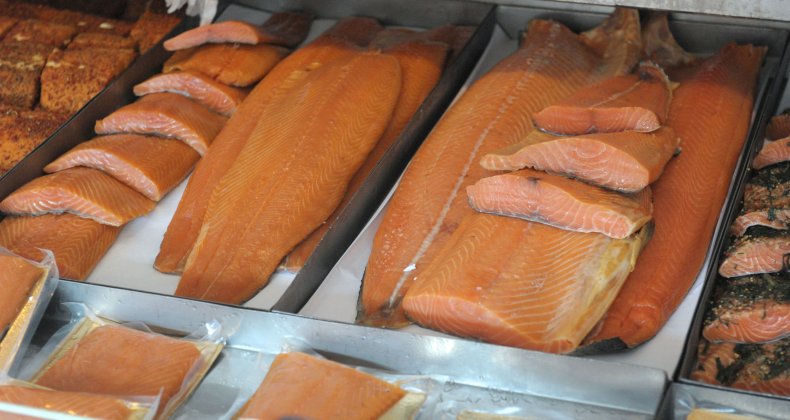 The risk was brought to the company's attention when a re-review of laboratory certificates found that the product's water phase salt (WPS) levels had been reported incorrectly.
"Because the WPS is under 3.5 percent the product must remain frozen until ready to consume. Product stored in the refrigerator after thawing has the potential to be contaminated with Clostridium botulinum," the recall notice states.
What is botulism?
Botulism is a rare but serious foodborne illness caused by the bacteria C. botulinum. According to the Centers for Disease Control and Prevention (CDC), most people who develop botulism have to be hospitalized. A person may have to spend days, weeks and occasionally months at the hospital before they can be discharged.
There are approximately 200 people who are diagnosed with botulism in the U.S. each year and so long as they receive the correct treatment, fewer than 5 in 100 patients will die.
Symptoms tend to develop between 18 and 36 hours after exposure but can develop any time between six hours and 10 days.
Those most at risk of contracting foodborne botulism are people who brew their own alcoholic drinks or eat home-canned and home-fermented foods that have not been prepared safely. People who receive botox injections can contract iatrogenic botulism if the dose is too large for their body or they have an underlying nerve or muscle condition.
C. botulinum is a relatively common bacteria that does not often make people sick. According to the CDC, the problem occurs when it is put under certain conditions and produces "one of the deadliest toxins known." Hence some concerns that it could be used in bioterrorism.