Many smokers use tobacco and cannabis to relieve their stress and anxiety. But, far from improving the mood of its users, a new study has shown that people who use these two substances together are more likely to suffer anxiety and depression than non-users and those who use tobacco by itself.
As cannabis legalization expands across the U.S., the use of both tobacco and cannabis together is beginning to rise. However, as well as the physical impacts smoking can have on our lungs and cardiovascular system, researchers have found that the combination can also be linked to poorer mental health outcomes.
"Use of either tobacco or cannabis are related to poor mental health," Nhung Nguyen, an assistant professor at the University of California in San Francisco who led the study, told Newsweek. "Thus, co-use, or using both substances, might potentially have additive effects on mental health." Nguyen is a behavioral scientist whose research program focuses on reducing substance use.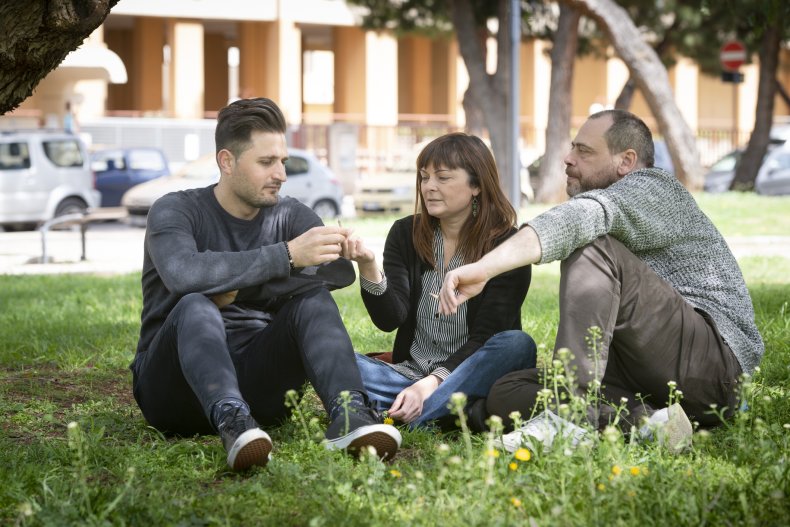 To quantify these effects, Nguyen and her colleagues analyzed data from 53,843 adults who had participated in online surveys as part of the COVID-19 Citizens Health Study between 2020 and 2022. Of these participants, 4.9 percent reported smoking tobacco only, 6.9 percent reported using cannabis only, and 1.6 percent reported using them together.
Over a quarter of participants in the latter group reported experiencing depression and anxiety compared to just over 10 percent of non-users. The study was published in the journal PLoS One on September 13.
"In our study, the likelihood of anxiety for co-use were higher than that for tobacco-only use, but were not significantly different from cannabis-only use," Nguyen said.
This study alone cannot determine causation, and it could simply be that people are more likely to combine tobacco and cannabis when they are already feeling depressed and anxious. Nguyen also pointed out that the shared genetic or environmental factors that encourage co-use may also predispose individuals to depression and anxiety.
However, there may also be pharmacological effects at play here. "The current evidence suggests that co-use is associated with exposure to more toxicants (like carbon monoxide), an increased likelihood of psychiatric and psychosocial problems (like bipolar and anxiety disorder, personality disorder), greater tobacco/cannabis use and dependence, and poorer cessation outcomes for tobacco and cannabis than those who use single substances," Nguyen said.
"[Therefore] the use of tobacco and cannabis may lead to a toxic effect and neurological changes that prompt or exacerbate anxiety and depressive symptoms, particularly during periods of withdrawal, when individuals stop using these substances."
Exactly how these substances interact is still unclear. "There is mixed evidence on interactions of pharmacological effects of nicotine and THC (the main psychoactive constituent of cannabis), indicating both synergistic and counteracting effects," Nguyen said.
"The combination of tobacco and cannabis can increase the release of certain neurotransmitters like dopamine, resulting in a more pronounced euphoric effects and increased feelings of pleasure [while you are smoking them]. Conversely, the stimulant properties of nicotine may counteract the sedating effects of cannabinoids."
However, while dopamine plays an important role in our experience of pleasure, too much dopamine can result in anxiety, insomnia, poor impulse control and hallucinations.
"The impact of the co-use on health in general, and on mental health in particular, is not fully understood," Nguyen said. "More attention is needed toward this emerging public-health issue because if we only address use of single substance in isolation, we miss opportunities to address multiple substance-use issues simultaneously."
Uncommon Knowledge
Newsweek is committed to challenging conventional wisdom and finding connections in the search for common ground.
Newsweek is committed to challenging conventional wisdom and finding connections in the search for common ground.
About the writer
Pandora Dewan is a Newsweek Science Reporter based in London, UK. Her focus is reporting on science, health and technology. Pandora joined Newsweek in 2022 and previously worked as the Head of Content for the climate change education start-up, ClimateScience and as a Freelance writer for content creators such as Dr Karan Rajan and Thoughty2. She is a graduate in Biological Sciences from the University of Oxford. Languages: English.
You can get in touch with Pandora by emailing p.dewan@newsweek.com. or on Twitter @dewanpandora.