Snake Falls on Mississippi Woman's Head as She Opens Her Front Door
A Mississippi woman had a surprise when she opened her front door last week and a snake fell on her head.
Christina Mitchell arrived at home from work on Thursday at 4 p.m. when she stopped to look at her pitcher plant, which is suspected to have attracted the snake, near her door.
Mitchell said she opened her front door and felt a "thump" on her head. "I looked down and the snake had landed at my feet in the house," she told the Enterprise-Journal.
It appears as though the snake had been lodged on top of the door jamb. The 10-inch long reptile, which is thought to have been a non-venomous eastern rat snake, then slithered into the kitchen and hid behind a box.
Mitchell quickly called her husband for help and took a broom to push the snake outside. Mitchell said the snake did "his striking pose because it was just a scared little rat snake.
"He tried to bite at my broom whenever I put him outside. He probably thought that was really rude. We kind of had a stare-down."
While the pitcher plant may have attracted the snake, Mitchell is willing to risk another snake encounter to keep her plant: "I just love my pitcher plant. I feel like I'll just take my chances and open my door really slow from now on."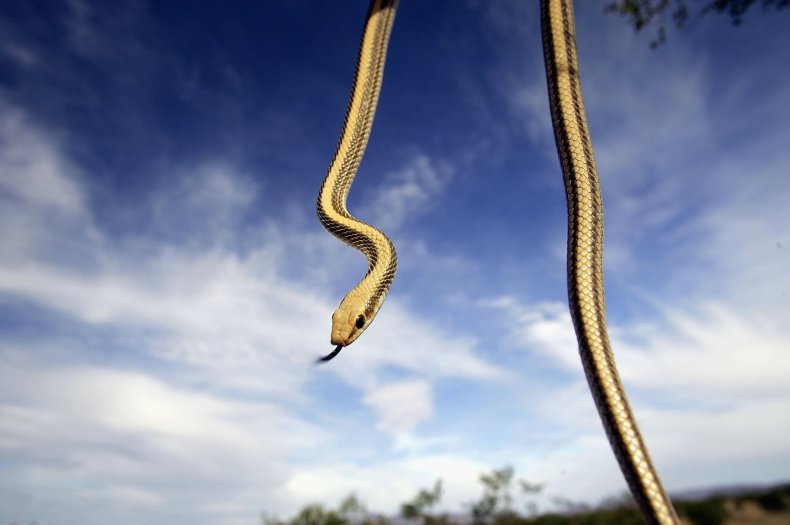 Fully-grown eastern rat snakes generally grow between a meter to two meters long and have shiny black scales on their back, with a light-colored belly. Their throats and chins are white and their heads are wider than their necks and bodies.
The National Wildlife Federation says the species are excellent climbers and can be found around buildings hunting for rodents, amphibians, and young birds, which explains why the snake may have been on top of Mitchell's door.
This species of snake is often mistreated by humans who are frightened of them, although the snakes are usually very shy and likely to freeze or slither away at the sight of danger, according to the federation.
Mitchell said she did not harm the unwanted visitor and added that she likes snakes.
While the species of snake has not been confirmed, Mitchell said that it did not look like any of the venomous snake species found in Mississippi, which includes copperhead, coral snake, cottonmouth, and rattlesnake species.
The Mississippi Department of Wildlife, Fisheries, and Parks says that of the 55 species found in the state, only six are venomous.
The MDWFP encourages Mississippians to leave snakes alone should they encounter them as approximately 75 percent of all bites by venomous snakes occur "when an individual is trying to kill or otherwise harass the snake.
"Snakes are not aggressive," the department said. "Snakes do not chase people and they bite only when they are threatened. When approached most flee, or lie motionless in an effort to blend into their surroundings and escape notice."