Man Killed by Snakebite Hours After Funeral of Brother Killed by Snakebite
A man who had just attended the funeral of his brother, who was killed by a snakebite, has also died after being bitten by a snake.
Govind Mishara, 22, went to the funeral of his brother, Arvind Mishara, aged 38, on Wednesday in Bhawanipur village, India. Arvind died of a snakebite on Tuesday, Officer Radha Raman Singh told PTI, an Indian news agency, on Thursday, according to a report by The Indian Express.
"Govind Mishara was killed after being bitten by a snake in his sleep," Singh said. "One of the relatives of the family, Chandrashekar Pandey, who was in the same house, was also bitten by a snake."
He added that Pandey was rushed to a hospital after the incident and remains in a critical condition.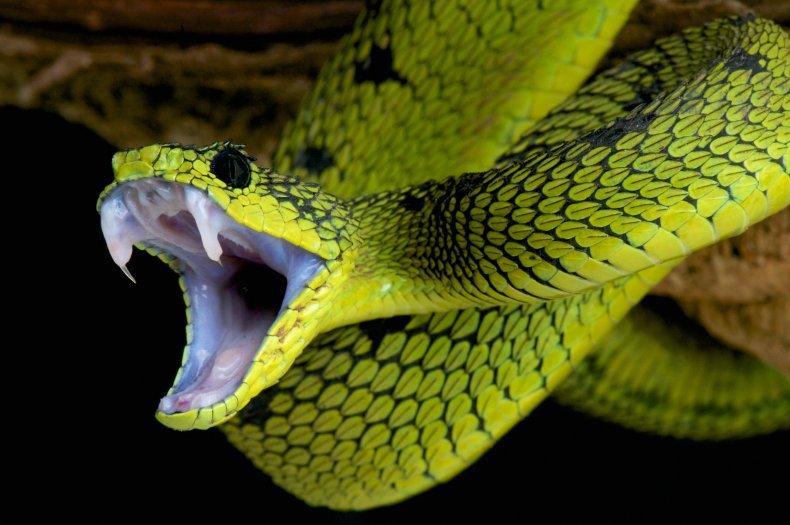 Pandey and Govind Mishara had come to the village to attend the funeral. Police didn't say whether they are investigating the deaths, or whether they are considered suspicious.
Newsweek has contacted the Balrampur Police Department for comment.
According to the World Health Organisation (WHO), snakebite is a neglected public health issue in many tropical and subtropical countries.
"About 5.4 million snakebites occur each year, resulting in 1.8 to 2.7 million cases of envenomings (poisoning from snakebites)," a report from May 2021 said.
"There are between 81,410 and 137,880 deaths and around three times as many amputations and other permanent disabilities each year."
The report added that in Asia up to 2 million people are poisoned from snakebites each year.
The report also stated that the underreporting of snakebites also distorts the official data from governments.
"A very large community-level study of snakebite deaths in India gave a direct estimate of 45,900 deaths in 2005, which is over 30 times higher than the Government of India's office figures.
"Revised estimates based on verbal autopsies and other data now suggest that as many as 1.2 million Indians died from snakebite envenoming between 2000-2019, (average of 58,000 a year)."
In a separate WHO report on snakebites in India, the government agency said incidents go unreported because "victims seek treatment from non-medical sources or do not have access to health care."
The report also noted that antivenoms are an effective treatment, but many people lack access to them or cannot afford to pay for them.
"Many families sell possessions or go into debt in order to obtain antivenom after someone is bitten," the report said.
"Difficulties in ensuring proper regulation and testing of antivenoms also affect the availability of good quality, effective products."