A mom got the fright of her life after finding a snake in the toilet in the early hours of the morning, as she battled it armed with a wooden spatula and gardening gloves.
Medge Owen, from North Carolina, dubbed the situation "terror on the toilet," after her daughter, Jozy, 19, woke her up in the middle of the night, informing her of their uninvited guest.
With Jozy's dad out of town, in Turkey, and pest control not answering their phone in the small hours, it was up to the pair to go to mano a mano with the snake.
Owen, an obstetric anesthesiologist, donned a pair of gardening gloves, and raided the kitchen for a wooden spatula, as the pair devised how to capture the snake.
The 59-year-old told Newsweek: "I had been rather sleep-deprived from work on the prior few evenings, so my first thoughts were, "all I want to do is get a good night's sleep, and now I have to deal with a snake in the house....really!" I actually do dislike spiders more than snakes, so glad it wasn't some kind of giant tarantula.
"We knew we had to either catch it or take the risk of having it loose in the house, which was a more terrifying option."
She shared a TikTok clip detailing the dramatic events, which can be seen here, with Jozy filming the brown snake coiled around the toilet seat.
"He sees you, his head's moving," she tells her mom, as the pair chat about what's the best approach.
"Do I get something else to grab his head?" Owen queries, as she asks her daughter for a pillowcase and trash can.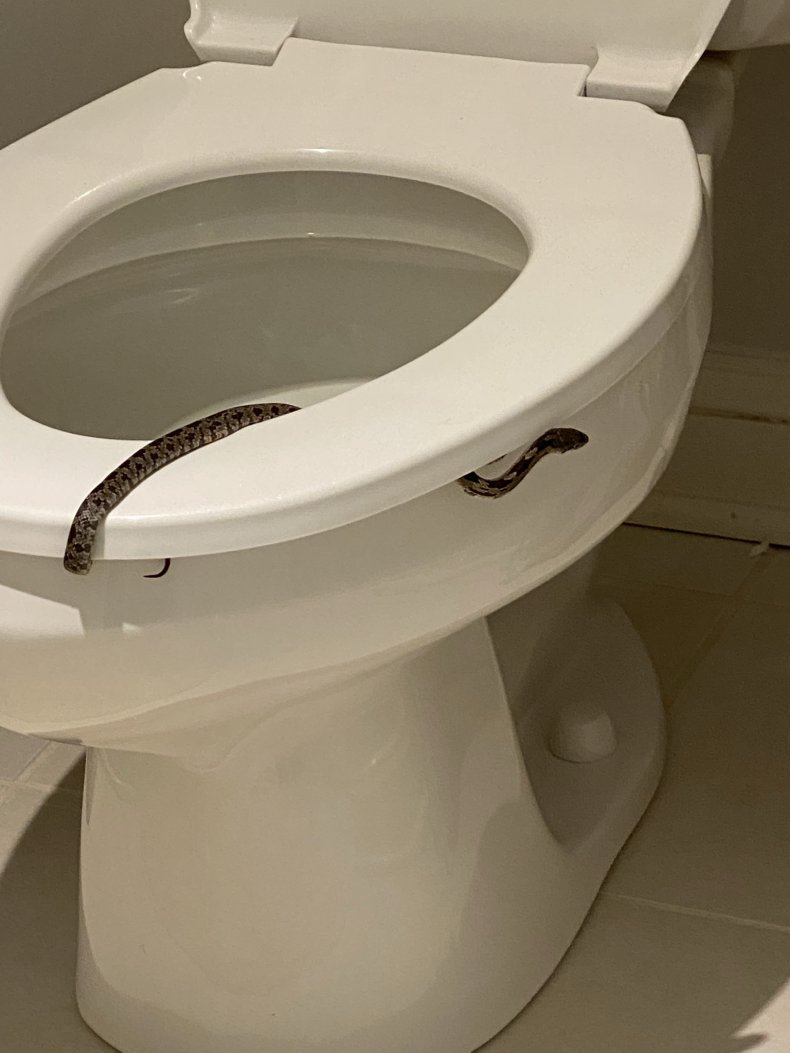 "Mom you're losing his body," Jozy exclaims, as Owen replies: "Get the pillowcase Josie, or the trash can underneath it. No, just get the trash can. Careful."
She loses her initial grip on the snake, prompting Jozy to instruct "he's coiled, mom. You have to step away a little bit," although the species—and whether or not it was venomous—wasn't identified.
Owens asks: "Should I push him into the toilet? And then what? I should have just flipping grabbed its head."
Eventually she manages to maneuver the snake into the trash can, as she declares victoriously: "Got him. Don't you dare come up."
Owen confirmed to Newsweek a snake exterminator came out the next day, and theorized it was a juvenile rat snake, around one-and-a-half years old, which thankfully isn't venomous.
"We walked it up the street and released it into a wooded field. We've never had a snake in the house before, and were very surprised to find it wrapped around the toilet seat at 2 a.m." she added.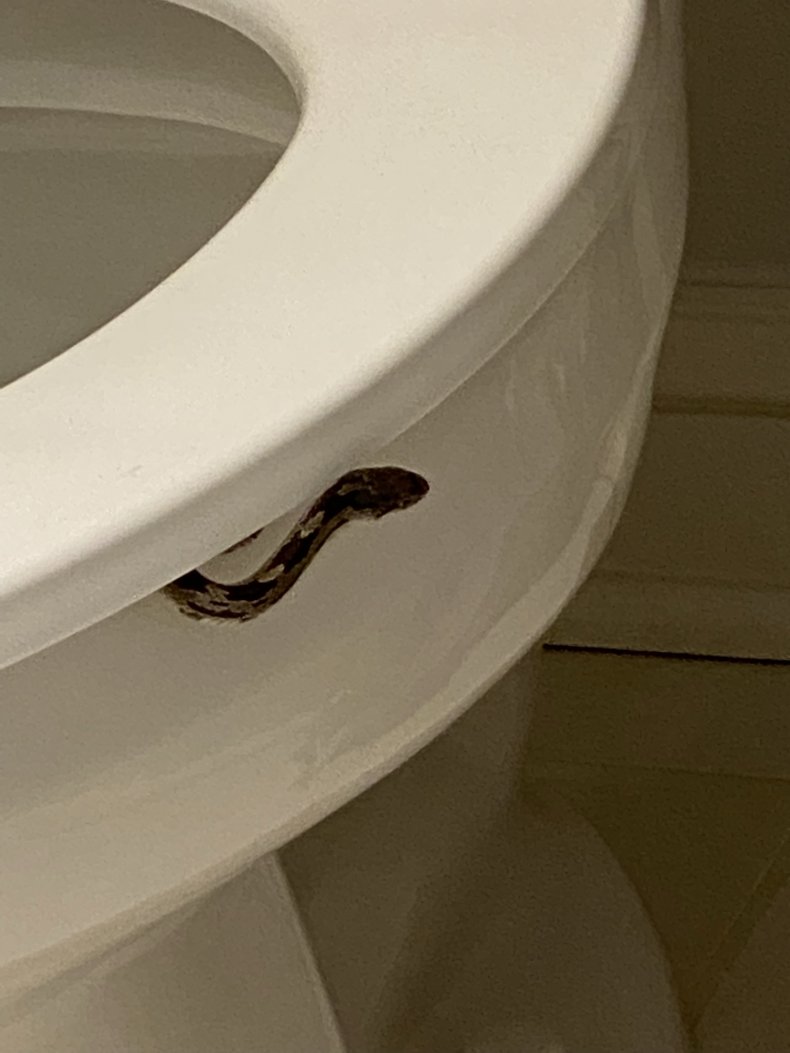 The clip, shared to the site last month, went viral amassing more than 10 million views. It proved so popular Owen shared three more videos on the snake, including a full re-enactment with her daughter, while she talked fans through her "snake catching" outfit.
"So now I'm going to demonstrate a DIY snake catching outfit. It's very important to cover your arms, so I would highly recommend a heavy duty sweatshirt. Second you're going to need some steel toe reinforced boots, and this is because the first time I caught a snake it bit my toe.
"I do like to add a little fur accent as a fashion statement. Step three, a pair of heavy duty garden gloves. Gotta first check to make sure there's no spiders.
"Step four you need a spatula and I would recommend an ordinary kitchen spatula. But with a widebody, that's thin, so you can pin it down.
"Step five, you need a receptacle, so the dang thing can't come out. Step six, I'm ready for battle," she joked.
The daring capture has amassed thousands of likes and comments, as littleyumyum_4 simply said: "The boots and gloves hahaha."
"Imagine going to the bathroom and the lights were off and you sit down," Mayayvonnebronaught thought.
Quinlansmith5 simply commented: "Sell the house."
And Mmarissamarrie praised: "Is nobody gonna talk about how brave that mom was? Cause I would've been out that house."
Newsweek reached out to Owen for comment.
Update 8/25/21, 2:23 a.m. ET: This embedded video in this article was updated.
Update 8/26/21, 7:52 a.m. ET: This article was updated with video, comment and photos from Owen.