Florida Woman Finds Slithering Python in Washing Machine: 'The Thing Kept Hissing'
It was an average laundry day for a woman in Florida recently—that is, until she opened her washing machine and found an unlikely visitor relaxing inside: a python snake.
Emily Visnic, a Connecticut native who moved to West Palm Beach in January, thought it was merely an item of clothing with a snakeskin print resting in her washing machine. But when she reached into the machine, she was stunned to discover it was indeed a massive snake.
"I looked down and I saw something snakeskin and I was like, 'Huh. What did I put in here that was snakeskin?' And I reached down and it started slithering and oh my gosh. I screamed so loud. It was a huge python," Visnic told Florida's CBS News affiliate on Friday.
Visnic was completely unaware of how the reptile got into her studio apartment, let alone the washing machine. "It's kind of mysterious and that's what I'm so curious about. How the hell did it get in my washing machine?" she continued, adding that she thought the snake was too big to have slithered through the laundry machine's pipes.
Just a day before Visnic found the snake in her apartment, another resident reportedly warned the building managers about the snake.
"The neighbor directly below me, I guess the day before, had gone down to the front desk and said, 'This is going to sound crazy, but I'm hearing hissing,'" Visnic recalled.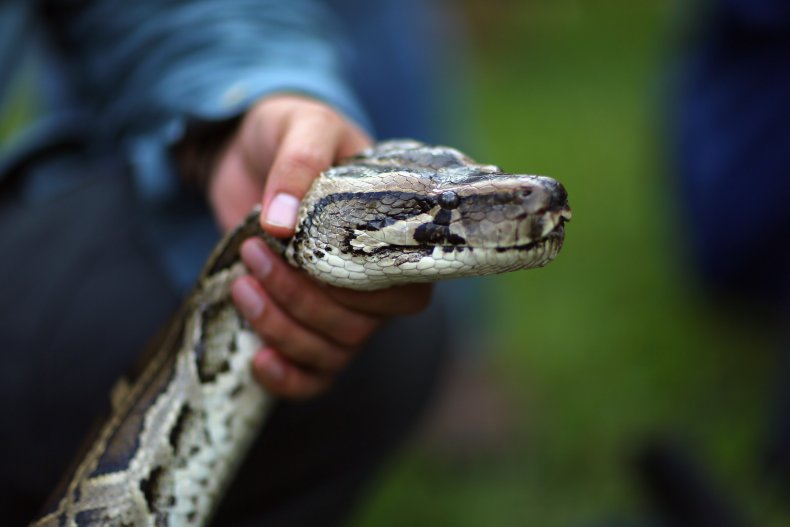 Although animal control was contacted, Visnic's building maintenance were the ones who removed the snake from her washing machine. She was unsure of what happened to the animal after maintenance retrieved it.
As shocking as it was for Visnic to find a python in her washing machine, the exotic creatures aren't necessarily all that uncommon in Florida anymore. In fact, the Florida Fish and Wildlife Conservation Commission revealed in late July that snake-catchers removed 5,000 Burmese pythons from the Everglades—about 90 miles away from West Palm Beach, where Visnic lives.
One of the largest snake species on the planet, Burmese pythons are native to the jungles of Southeast Asia. Wildlife officials in Florida believe they arrived in the Everglades after either escaping zoos or being released by pet owners. And while they can thrive in marshy habitats like the Everglades, the snakes pose a great threat to the other animals native to Florida.
"Each invasive python eliminated represents hundreds of native Florida wildlife saved," said "Alligator Ron" Bergeron, a member of the South Florida Water Management District's governing board, in a statement. "Florida is doing more than it ever has to remove pythons from the Everglades and protect this ecosystem for generations to come."