Snakeskin Football Created Ahead of Super Bowl to Promote Florida Python Challenge
In part to help reduce a massive population of python snakes in the Florida Everglades, the state's wildlife managers have created a contest to help hunt and kill the Burmese pythons destroying mammals and birds in the wildlife.
The Florida Python Challenge was created ahead of this season's upcoming Super Bowl in Miami, and Gov. Ron DeSantis helped raise awareness of the challenge by holding a football made of python skin.
Newsweek subscription offers >
DeSantis spoke of the different categories involved in the snake hunt for the python, one of the five-largest snake species on Earth.
"Who gets the longest? Who gets the heaviest? Who gets the most? We want to get that competitive spirit going," DeSantis said in the Miami Herald.
The Python Bowl will take place from January 10-19. Winners will be announced at a Super Bowl Live event in South Florida on January 25.
Rodney Barreto, chairman of the Super Bowl Host Committee and one of the commissioners for the Florida Fish and WIldlife Conservation Commission, said more python footballs will be made and given away to VIP guests.
Newsweek subscription offers >
The python challenge began in 2013 and was held every three years, culminating in agencies removing more than 3,600 snakes. DeSantis, who helped promote the Florida Python Challenge on Thursday, said python hunters will be given access to more federal lands. The Department of Interior said it will allow python removal in an extra 150 miles of secondary trails at Big Cypress National Preserve.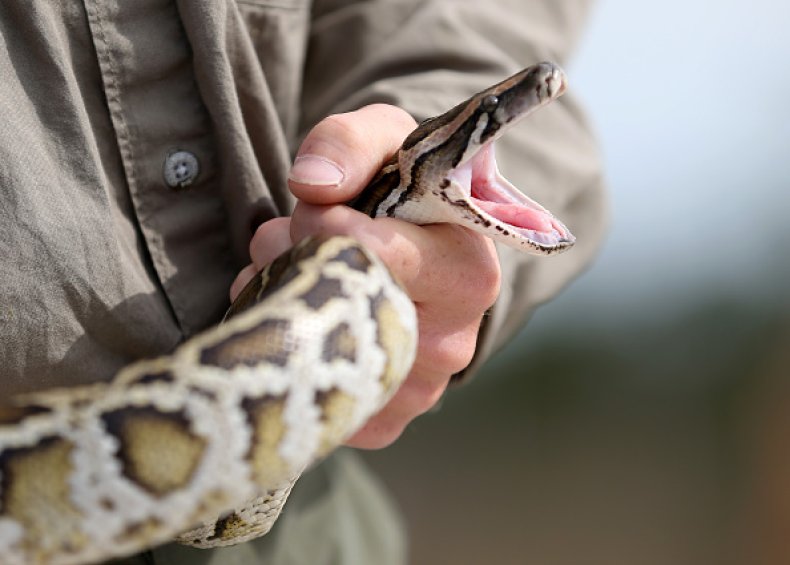 The great invasion of Burmese python in South Florida began during the 1980s when people imported them as pets from Southeast Asia. After these "pet owners" realized the difficulty in taking care of pythons as "pets," they released them into the wild of the Everglades.
And then in 1992 when Hurricane Andrew ripped the roof off a breeding facility, many python snakes escaped and found their way into the Everglades.
In this report from July in which a man caught a 16-foot-long python from underneath a house, "Alligator Ron" Bergeron, who captured the snake, said pythons prey on all kinds of mammals in the wild.
"They're actually eating possums, raccoon, rabbits, even bobcats," Bergeron said.
Researchers estimated last summer there are still nearly 300,000 pythons in the Everglades, and that they can grow beyond 20-feet long in their natural habitat. Most in the Everglades are about 8 to 10 feet in length.
Python snakes have no predators, and females can lay up to 100 eggs during reproductive cycles.
Now, the snakes have begun a migration east into the outer suburbs of Miami and Fort Lauderdale.
More details of python removal can be found at FLPythonChallenge.org.
Snakeskin Football Created Ahead of Super Bowl to Promote Florida Python Challenge | News