How to Turn On, Off Snapchat Map: Location Information Revealed in New Explore Feature
While some might find it cool to open up Snapchat and see where their closest friends are at any given moment using Snap Map, the feature presents some safety concerns.
Snap Map was introduced in June, but a new update makes the map more descriptive and gives users even more information about where their friends are. Last week, Snap added a new feature called "Explore" which Snap calls, "your tour guide to what's happening on your Snap Map!"
Essentially, when a Snapchat user's friend on the app travels somewhere, for example, the Arc de Triomphe in Paris, the app will display a little card that shows information about that location. If the friend flies to another city, the app will note that as well. Images that went along with the blog post about the update showed the map with the words, "Tommy flew from Tucson to Chicago" with the option to chat Tommy along with his location.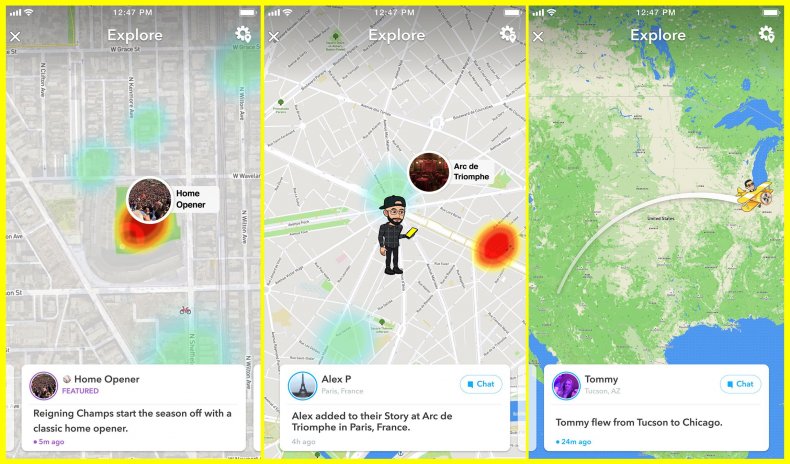 Users who don't wish to share their location can turn off location sharing. Those users who have never used the Snap Map or who have put themselves in "ghost mode" won't be visible on the map.
How to turn Snap Map on or off:
The Snap Map only updates when users open the app up and turning off the location is easy.
Users can simply press the gear or wheel icon in the corner of their map screen. This will pull up the options to change the location sharing settings.
Users can choose to share with "My Friends," which includes everyone the user has ever added on the app and those the user adds in the future. Another option is to share location with "Select Friends," or only specific friends. The final and most private option is for users to share with "Only Me" also known as "Ghost Mode." This mode shares location with no Snap friends at all.
Any snap that a user submits to the "Our Story" for their area though will show up on the map, a feature they should be aware of.
​