Is Snapchat Over? Kylie Jenner Possibly Caused $1.3 Billion Loss in Value, But It's Not Dead Yet, Expert Says
Was it the Kylie Jenner effect? Or just blind coincidence?
Snap Inc., the parent company of social media app Snapchat, lost $1.3 billion in market valuation Thursday, according to publications including Bloomberg. What's curious about the massive stock market drop is that it came just a day after Kylie Jenner, one of Snapchat's most prolific users, seemingly declared the app was over.
On Wednesday, Jenner tweeted: "sooo does anyone else not open Snapchat anymore? Or is it just me... ugh this is so sad."
Jenner's growing disinterest in Snapchat appeared to come after Snapchat changed elements of its design in an app update earlier in February. Like Jenner, millions of users were unhappy with the change, and over 1 million people signed a Change.org petition pleading with Snap to reverse its update.
It seems unimaginable that Jenner, 20, alone could cause such a drop in Snap's market value. But don't underestimate Jenner or anyone in her famous family.
Jenner, her model sister Kendall and their half-sisters, Kim, Kourtney and Khloe Kardashian, are among the most influential social media users in the world. Jenner alone has 24.5 million Twitter followers and 104 million Instagram followers. When she announced the birth of her first child, daughter Stormi, earlier in February with a touching YouTube video, it quickly went viral. In two weeks it amassed 59 million views.
So if Kylie Jenner declares that Snapchat is beyond relevance to her millennial fans, that's a problem for Snapchat. But is it fatal?
Don't hold an e-funeral for Snapchat just yet, social media expert Nik Hewitt told Newsweek.
"Right now, there's not much alternative to Snapchat for Generation Z, and while a small percentage of users will be influenced by [Jenner], it won't be the nail in the coffin," said Hewitt, who is head of social media at Tank PR.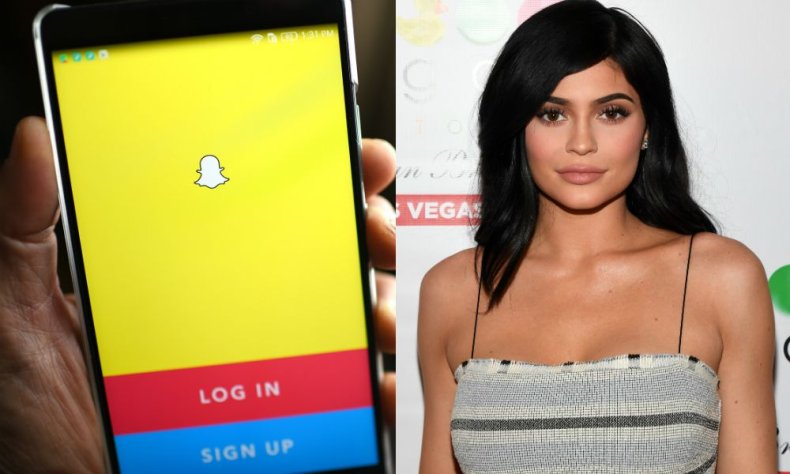 "People are part of communities: If your friends are still there, you need to be, too. It'll take more than one 'influencer' to change opinion. But as a major user, she's got a point if she's noticing less engagement," Hewitt explained.
With Instagram launching Instagram Stories, a feature similar to Snapchat's stories, Hewitt said it was imperative that Snapchat listen to its users in order to retain custom—or risk losing them to the Facebook-owned rival.
"Instagram has, to some degree, stolen some of Snap's customers away for a more educated and graphical experience," said Hewitt. "Snap is reliant on its users actually using the service to generate ad income. Shares have already taken a dive from this. If you don't have the functionality and the trust of the users, what do you have? Major users complaining publically, it seems."