It's been a tough week for Snapchat users. After Sunday night's mega Google outage that took down popular sites like YouTube, Gmail, Discord and more Snapchat still hasn't entirely recovered. Though users are generally able to login and use most of the features of the app, problems with posting and viewing stories or getting old stories to go away persist. While Snapchat Support tweeted Sunday night that they were looking into various problems with the app, there's been no update provided since that time. In times when information is sparse FUD (fear, uncertainty and doubt) abounds and unfounded rumors get their starts.
Though it is unclear how the rumor got started, murmurs that Snapchat is shutting down at the end of June have taken the internet by storm. We've searched for the originator and while no clear culprit has been found, it may have sprung from a fake news article posted last summer. The article alleges that Snapchat's CEO Evan Spiegel announced the app would be shutting down due to "copyright and legal issues with Facebook, Instagram, and Musical.ly." Users are warned that all data inside the app would be lost upon shutdown. Alarmed by the rumor, droves of worried Snapchat users have reached out to Snapchat's Official Twitter Support channel to see if service is shutting down. The response: no, Snapchat is not shutting down.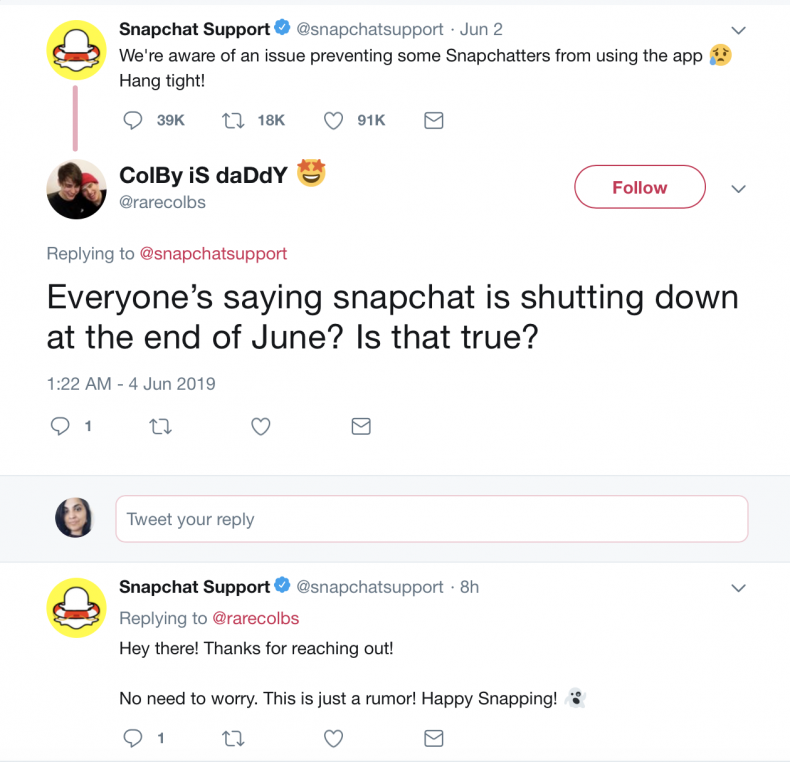 Newsweek reached out to Snapchat for details on what happened with the app and when remaining issues would be resolved. A spokesperson for Snap Inc. confirmed Tuesday that issues stemming from the Google outages this weekend have been resolved and that Snapchat services are back to normal.
If you see people spreading rumors that the social network is shutting down, take a moment to share this post and stop the ongoing madness.
Do you love using Snapchat? What's your favorite feature of the app? Share your thoughts in the comments below!