Snapchat Update: What Are Snappables, New AR Games in App?
Snapchat is taking a step into the world of augmented reality. The self-proclaimed camera company that started out as a social media platform allowing friends to send disappearing photos to one another announced a new feature—"Snappables"—on Wednesday.
Snappables are lenses that allow users to play a game either alone or with friends in the app using just the movement of their faces.
The new lenses can be found alongside the regular lenses in the app. Users simply need to tap a face on their screen when the front-facing camera is open to launch lenses and then swipe through to see them all and choose one. If they're using the regular camera, users should tap the background to open the world lenses, according to Snapchat. The Snappables will appear to the left of the capture button on the screen, Snapchat said in a release.
Users might look silly if they play Snappables in public. A trailer for the lenses shows people blowing kisses, lifting their eyebrows and making faces at their phones in order to play.
The Snappables will be controllable through touch and motion in addition to facial expressions and movement.
The lenses are starting to roll out to users on iPhone and Android devices this week. Once that happens, users will be prompted to try them out when they open lenses. The lenses offer something that Snapchat's competitor, Instagram, hasn't yet: Not only is Instagram behind Snapchat when it comes to AR, it doesn't offer users the option to interact with their friends in an AR environment the way Snapchat's new Snappables will.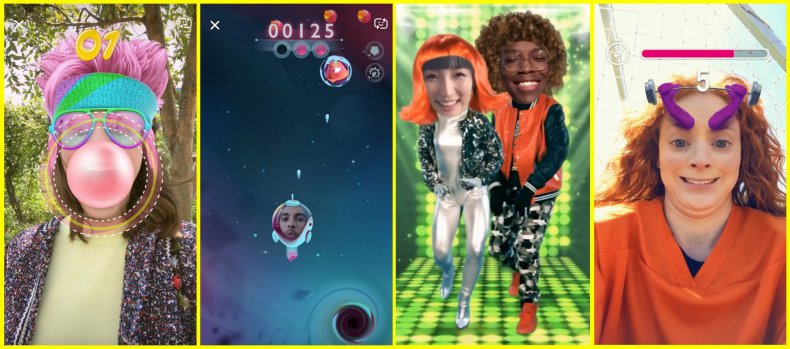 ​​
Snapchat Update: What Are Snappables, New AR Games in App? | Tech & Science