Snapchat Update: New Voice Recognition Lenses
The latest new feature added to Snapchat Wednesday is a new lens that integrates voice recognition software.
The first of the lenses will start appearing in the Snapchat app for users starting Wednesday, but they'll be on a rotating carousel, like all of the lenses in the app are, a Snap Inc. spokeswoman told Newsweek.
Voice recognition software that's integrated into the lens will trigger an animation from the lens when the user says the specific word for the filter. The filters are designed to recognize certain pre-selected words, like "love" or "yes," according to the Snap Inc. spokeswoman.
When they first roll out the lenses will have some on-screen direction for users so they know how to use them. But they should be fairly self-explanatory.
The face lenses will appear just as any lens in the app would. When a user is swiping through the lens options on the front-facing camera, they'll see the lens appear with the prompt. Or upon saying whatever word sets off that lens, they'll see the design associated with the word or phrase appear.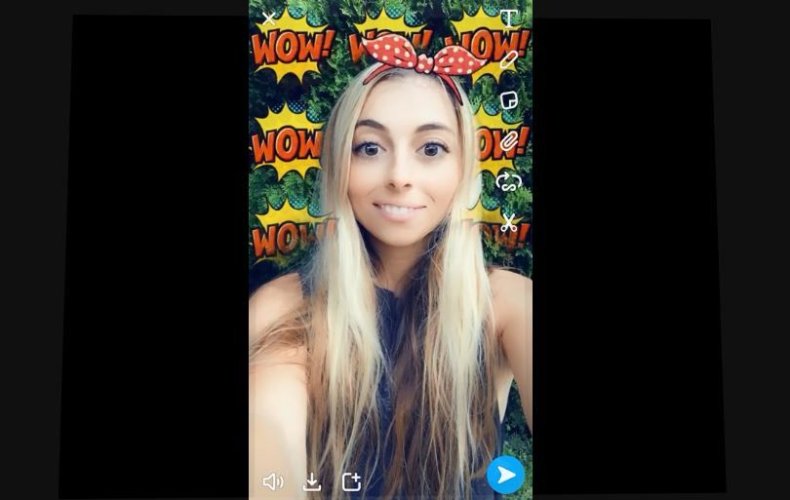 Saying the word "hi" prompts animated birds to come onto the screen and repeatedly say "hi" together. The word "love" causes a bunch of hearts to appear along with some jazzy music while the word "wow" brings up a background of the word animated like a wallpaper backdrop.
There will be a small group of English words the lenses recognize at first but, the technology may later be expanded to include more.
These voice commanded lenses come just a few weeks after Snapchat introduced the lens explorer in the app that allows users to see and use thousands of lenses every day. Those lenses were built by actual users who then uploaded the lens into the app.
They can be accessed through the lens tile in the app. It contains more than 100,000 lenses that Snapchatters have used more than 2.5 billion times, according to the company. It's unclear whether the sound commands will be something that's integrated into the lenses that users can make on their own or whether it will strictly be something Snap creates for users.
Snapchat users looking for the new voice recognition lenses should update their app to make sure they're using the latest version that would include the feature.