Sneak Peak at 'The Man in the High Castle' Season Two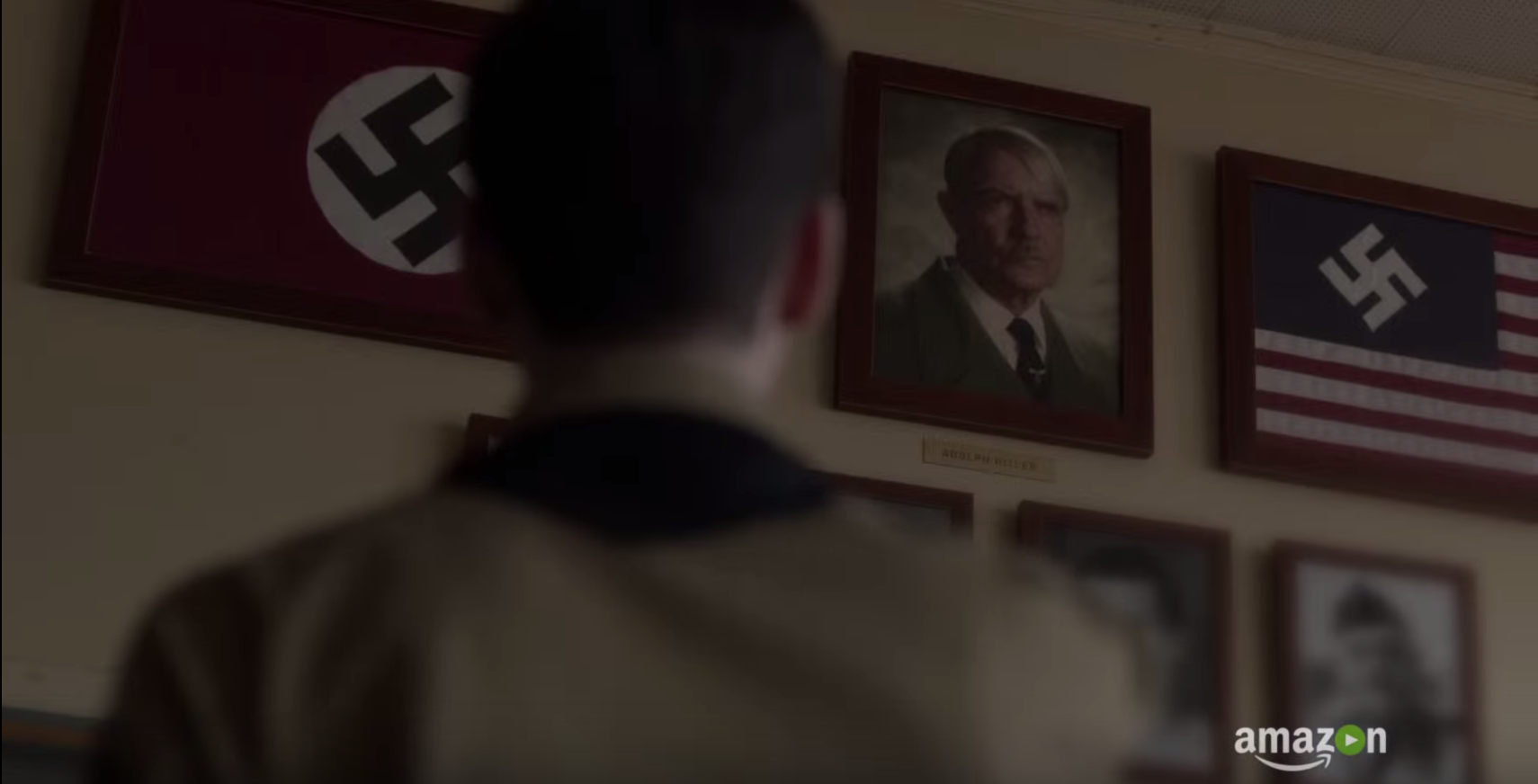 The final moments of The Man in the High Castle's first season left viewers with brighter, more cheerful images than the typically bleak show had previously offered.
A devastated Mr. Tagomi, the trade minister of the Pacific States of America, walks through Japanese-controlled San Francisco as schoolchildren pass by reciting words back to their teacher. A faded billboard with illustrations of soldiers that reads "National unity is our virtue" looms high above Tagomi and his bleary demeanor. He heaves himself down onto a bench, where he clenches a heart-shaped necklace tightly in his fist and closes his eyes, still ensconced in the bleak alternate reality a decade and a half after the Axis powers defeated the Allies in World War II.
When he opens them again, there are miniature American flags on the concessions cart and a larger one flying atop a flagpole, a newspaper announcing an American arms blockade imposed on Cuba and Chubby Checker shouting "Let's twist again!" The sun is shining above billboards that now advertise Hershey's, Chevrolet and a live Mary Wells show in vivid colors, Tagomi silhouetted against them, before the screen goes black.
"I was looking for such an answer in the first episode to why that happened," Cary-Hiroyuki Tagawa, who plays Tagomi, said of trying to understand the meaning of that scene, speaking at a San Diego Comic Con panel on Thursday. Answers, however, will not immediately be forthcoming when the show's second season premieres on a yet-to-be-announced date. The strategy, it seems, is "not overblowing it and letting it work itself through several episodes and build through another dimension."
Executive producer David Zucker said that this other reality, which seems to reflect the true course of history, "plays a role to the extent that it informs the character and the stories," and another speaker at the panel emphasized it was not a dream, Gizmodo reported.
In other words, the second reality viewers glimpsed in Season 1 might remain just as cryptic in Season 2.
Last July's Comic Con panel for The Man in the High Castle included a preview screening of the show's second episode (the first had been released roughly six months earlier as part of Amazon's pilot season), and both episodes and the panel were streamed live via Entertainment Weekly's website. Thursday's panel remained closed to those off-site and offered neither full preview episodes nor a premiere date.
But there were a few things to glean about what's to come on the alternate-reality series based on Philip K. Dick's novel of the same name. Season 2 certainly won't be all sunshine and rock 'n' roll. It'll be back to dark color palettes and even darker storylines, if a short preview clip released Thursday is any indication.
Viewers find one of the protagonists, Juliana—an American from San Francisco who became involved with the resistance after her sister was shot on the street by Japanese authorities—stuffed into the trunk of a car. At the tailend of last season she helped orchestrate an escape from the Nazi embassy and got Joe, an American SS agent with whom she became close when he posed as a member of the resistance, on a boat and out of the hands of the actual resistance. The driver appears to be a newcomer to the show, but the passengers inside the car are the same resistance contacts who watched Joe slip through their fingers. Juliana manages to break the trunk open and leap out of the moving car just as it's passing Kempeitai soldiers. A gunfight ensues.
Another short teaser, which Amazon also posted to YouTube on Thursday, is no less dramatic. It's a garbled montage that visits several returning characters, with snippets of speech and other sound effects (a plane flying overhead, a page turning) breaking through a tense, crescendoing drum roll.
An EW interview with several actors who play returning characters offered more evasive responses than tangible information. But viewers did have a chance to hear from Bella Heathcote, who will portray new character Nicole Becker, a filmmaker in Berlin with whiffs of Leni Riefenstahl.
The Man in the High Castle turned heads during its first season. It became Amazon's most-watched pilot ever, the company announced a month after it premiered last January, and later became the most-streamed original show on Prime, Amazon said a month after the full season was released in November. It sports an average 4.5-star rating from more than 80,000 customer reviews on Amazon. Recently, the show garnered four Emmy nominations for Outstanding Production Design for a Narrative Contemporary or Fantasy Program (One Hour or More), Outstanding Cinematography for a Single-Camera Series, Outstanding Main Title Design and Outstanding Special Visual Effects.
It's not a huge surprise that the nominations are clustered in the visual realms of design, cinematography and effects, all of which were meticulous throughout the first season. It's somewhat expected, too, that the show failed to get nods in other, higher-profile categories.
After an extraordinarily promising start with the pilot in particular, in which the script was tightly crafted and every scene was gripping, some of the latter episodes began to fall short, as if production was rushed. Perhaps the show will find stronger footing with a new season.