Sneak Peek Look into Billboard Latin Awards 2019 Rehearsals: Ozuna, Anitta, Karol G & More Prepare for Las Vegas Ceremony
The 2019 Billboard Latin Awards is Thursday, which means some of the biggest names of Latin Music are prepping to bring a show-stopping performance to the Mandalay Bay Center in Las Vegas.
Tune into the Billboard Latin Awards on Telemundo Thursday at 7 p.m. ET. Red carpet coverage will begin at 6:30 p.m. ET.
In photos and video obtained by Newsweek, get a sneak peek look into the star-studded performance lineup.
Thursday's ceremony will include performances by Marc Anthony, Nicky Jam, Romeo Santos, Luis Fonsi, Ozuna, international superstar Luis Fonsi, popular Puerto Rican reggaeton singer Yandel, Colombian reggaeton star J Balvin, influential reggaeton heavy hitter Nicky Jam, Spanish modern flamenco sensation Rosalía, Jamaican reggae singer and record producer Sean Paul.
The show will also feature performances from Regional Mexican, norteño singer Javier Rosas, Spanish Latin pop/trap singer and record producer El Guincho, Regional Mexican artist Adriel Favela, Latin Pop Puerto Rican singer and songwriter Pedro Capo, Puerto Rican singer and songwriter Kany García, Colombian singer and songwriter Fonseca, and prolific Dominican bachata singer Raulín Rodríguez. They join previously announced performances by Anitta, Anuel, Bad Bunny, Banda MS, Becky G, Carlos Vives, CNCO, Karol G, Marc Anthony, Ozuna, Reik, Romeo Santos, Sebastian Yatra and Wisin.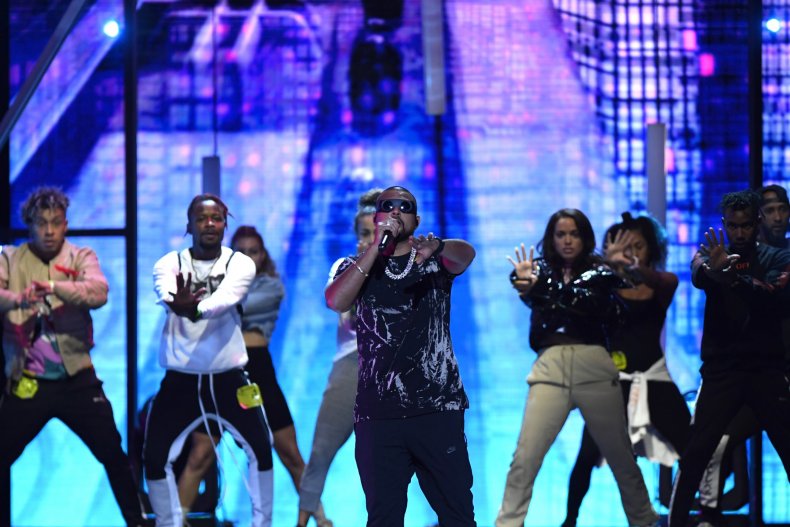 Along with the Billboard Latin Awards regulars, Ozuna, J Balvin and Nicky Jam, this year's ceremony will celebrate the growth of female artists, such as Anitta, Becky G, Karol G and Natti Natasha.
"In many ways, we've been building our own path," said Karol G, who is scheduled to perform during Thursday's ceremony, according to NBC News. "There was a lack of habit of listening to us and listening to our lyrics in urban music ... But the fact is that the doors have opened up for us now."
For the first time in at least six years, women are vying for the coveted Best New Artist win, with Karol and Natti Natasha competing for the honor, according to Billboard.
"If we're all going to be about girl power, it's more about acting the part and not just talking about it," Becky G said during a panel before rehearsals.
The "Sin Pijama" singer also spoke with ETOnline about rehearsals and how she and Anitta will "kill" Thursday's performance of their collaborative song "Banana."
"It's going to be so much fun ... we were blocking while learning the choreography," Becky G said. "We're just going to have fun, I'm going to leave it at that. We're going to kill it."