Sneaker Stories, From Industrial Revolution to Michael Jordan, Run-DMC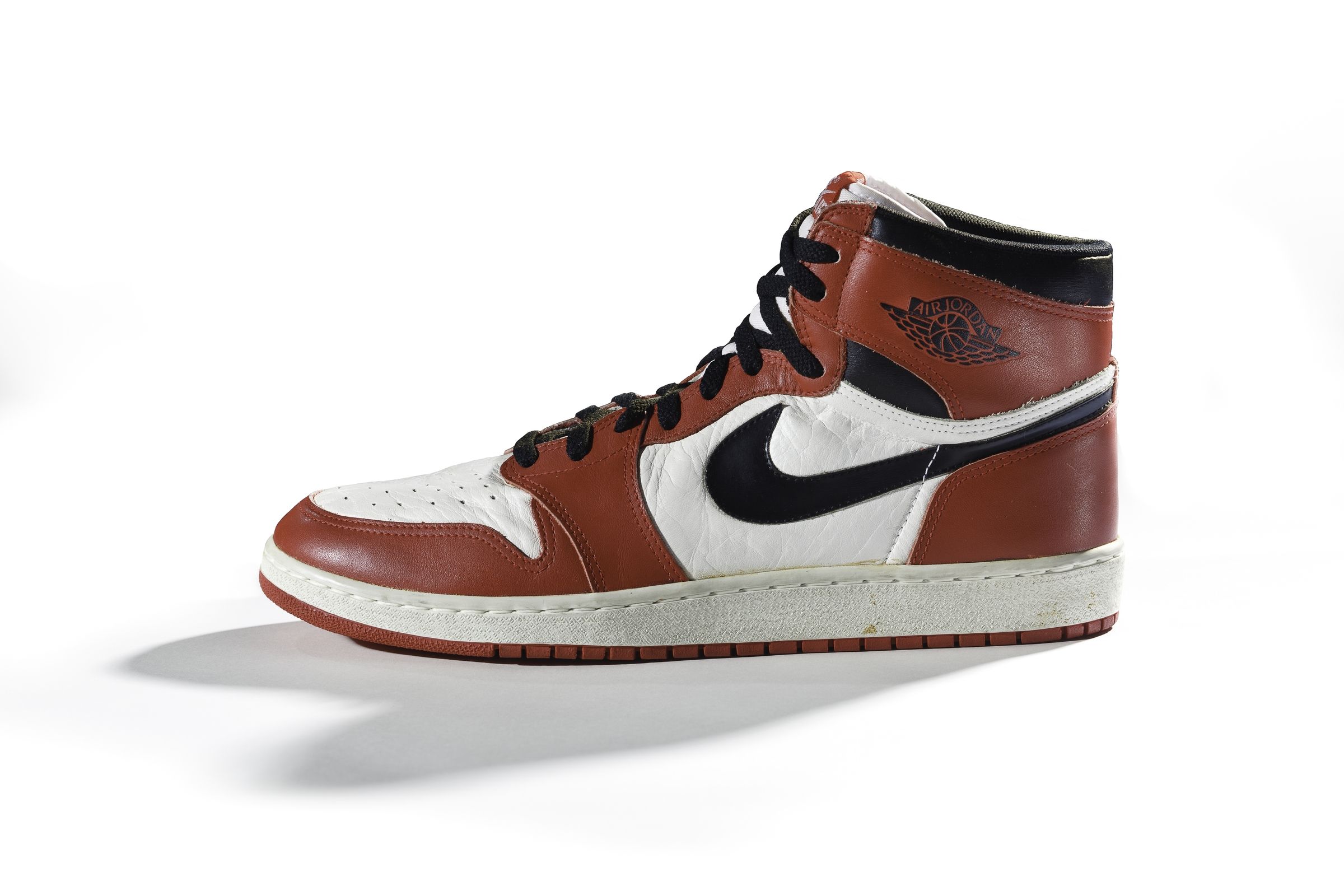 As train passengers pulled into the Eastern Parkway-Brooklyn Museum subway station on a recent July evening, they were greeted by larger-than-life, two-dimensional footwear. Catching the eye were pairs of Chuck Taylor All Stars in high resolution against stark white backgrounds in a string of Converse advertisements that lined each platform. Whether planned or happenstance, the posters were a fitting prologue to the new exhibit being previewed just above ground.
The Rise of Sneaker Culture, which opened Friday at the Brooklyn Museum, explores the evolution of the sneaker from its emergence in the mid-19th century through industrialization, world wars and into present-day culture.
"Sneakers have become a global obsession and possession," Arnold Lehman, director of the Brooklyn Museum, told the crowd that had gathered for a sneak peak event two days ahead of the opening. "The Rise of Sneaker Culture, which showcases more than 150 incredible examples, is the first exhibition to explore the complex social history and cultural significance of the footwear now worn by billions of people throughout the world."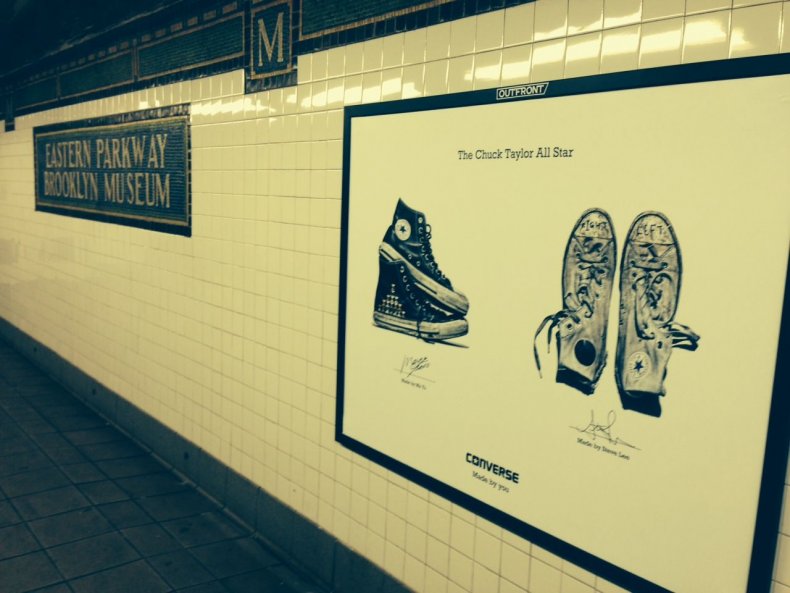 Like many of those who had flocked to the preview, Lehman had carefully selected his footwear that evening. Yellow sneakers from Japanese designer Yohji Yamamoto stole the show beneath his suit and tie as he stepped away from the podium and rested on his cane. Around the room, there were classic white, navy-striped Adidas; gold sneakers with platform heels; bubble gum pink Converse with black laces; white and red high-tops with the black Nike swoosh; and myriads more.
The crowd of museum members was one of the first to see The Rise of Sneaker Culture. Elizabeth Semmelhack, a shoe historian and senior curator at the Bata Shoe Museum in Toronto, first created a smaller version there in 2013. The American Federation of the Arts picked it up as a traveling exhibition and a new, expanded version makes its debut at the Brooklyn Museum, and is open through October 4. Its next stops include the Toledo Art Museum in Ohio (December 3 through February 28), the High Museum of Art in Atlanta (June 12-August 14, 2016) and the Speed Art Museum in Louisville, Kentucky (September 9-November 27, 2016).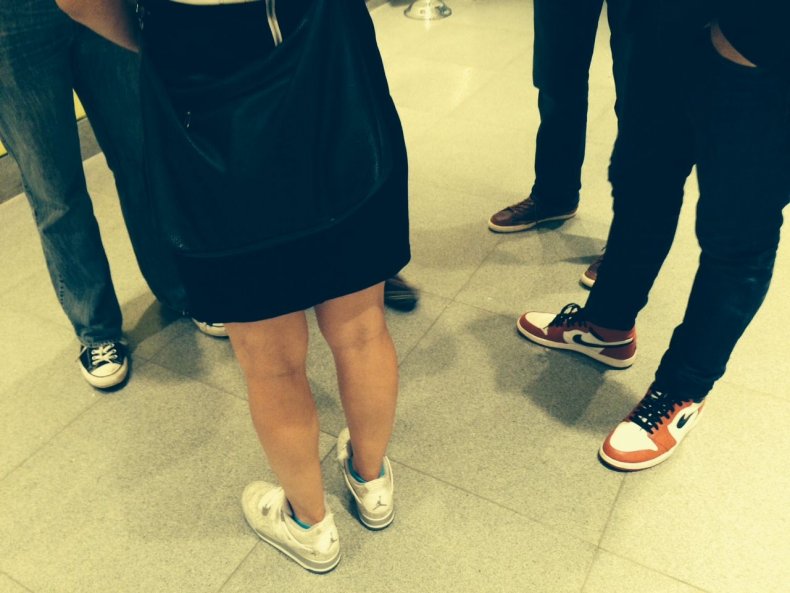 Up on the fifth floor of the Brooklyn Museum, the exhibit begins in a small room painted in silver, the title of the exhibit protruding from one wall in oversize yellow block letters. The centerpieces, both literally and figuratively, are the glass cases filled with sneakers. Descriptions, along with static images and television screens, line the walls. The same setup greets visitors in the main gallery off to the left—a large rectangular room with two rows of sneaker-filled cases running parallel down the middle and additional artifacts on the walls.
"My question always with footwear is why has this been innovated and why did anyone care?" says Semmelhack, who has also researched the history of the high heel. The appearance of the sneaker is intrinsically tied to innovations around rubber. Though the thick sap that serves as its basis had been used in Central and South America for centuries, it was only when Charles Goodyear in the mid-1800s figured out how to make the material stable in heat and cold that it could become widely used in industrial settings.
The technological advances of the Industrial Revolution—like this "vulcanization" of rubber—begat social changes that made room for the sneaker. Upper middle class industrialists expressed their newfound status by participating in leisure activities like tennis and croquet, and by using the equipment and donning the footwear that went along with them.
"A lot of people assume that sneaker went from humble to prestigious. I'm arguing that it started out prestigious" and was later democratized, Semmelhack says. The earliest sneakers may have looked humble, she adds, but they were worn by the privileged. Industrialization also planted the seed for the spread of the sneaker, when concerns grew about the physical and moral implications of factory work and cramped living conditions, Semmelhack says. Exercise and fresh air became seen as an "antidote to urban ills."
In the interwar period, a "focus on physical perfection also eventually took on political meanings, becoming central to discussions of nationality and race," reads one exhibit description. "From Japan to Italy, these unsettling ideologies found expression in large outdoor demonstrations of physical fitness and gave a loaded political agenda to competitive games, such as the 1936 Olympics." On the wall nearby, a black-and-white film excerpt shows Jesse Owens running at those Games.
It's ironical, Semmelhack points out, that the rise of fascism and other extreme ideologies furthered the democratization of the sneaker. As advances in manufacturing improved and made production less expensive, sneakers became more ubiquitous. By the baby boom after World War II, she says, sneakers had become a symbol of childhood, and particularly boyhood.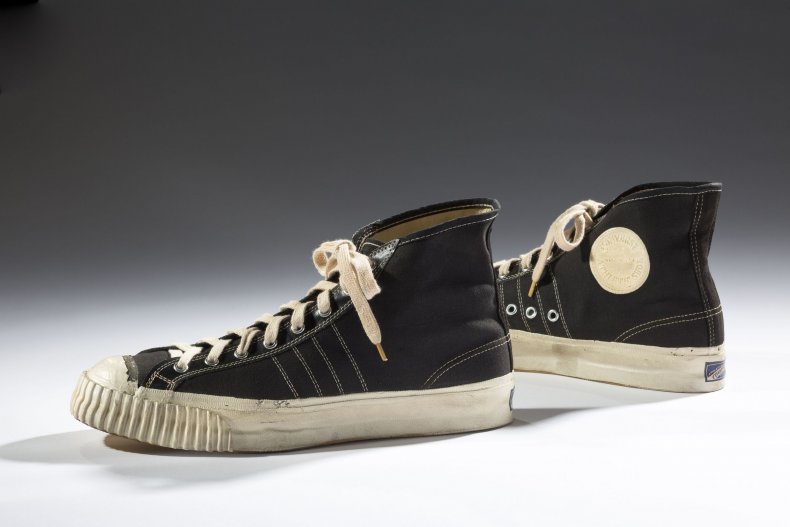 From here, the exhibit follows the return of the sneaker to status and prestige, as the "me generation" of the 1970s became obsessed with self-improvement through fitness and conspicuous consumption. During this period, "on urban basketball courts the cults of personality and fashion combined, transforming basketball shoes into a means by which masculine individuality could be flaunted both on and off the courts," reads one label. Nike signing Michael Jordan and Adidas signing Run-DMC in the 1980s brought sneaker culture to a wider audience, primarily a male one.
"Men historically have had herd mentality of dress," Semmelhack says, pointing to the three-piece suit. "As men begin to break free of that mold of suited sameness, they're stepping into the vocabulary of fashion," she says. The evolution of the tech geek, for example, offers an alternative model of success and dress. "What sneakers are doing is increasing literally the vocabulary with which men have to work with. [They] can be wearing the exact same outfit but the fashion statement they're making is so different, expressed through the shoe alone."
Adam Devine chose to attend the museum's Wednesday evening member preview in a white button-down shirt and a dark gray vest. His tie, featuring diagonal stripes in shades lurking between blue and green, matched the bright teal Converse laced up on his feet. Devine, who works in a warehouse, says he's often clad in a pair of Converse, because they're flat, strong and allow him to lift a lot of weight. But because the event was "an opportunity to spiff up," he chose a fresh pair for the occasion.
In the small back room where Devine stood, the 2005 documentary Just for Kicks played on one wall and a small table was set up with paper and colors. "What's your sneaker story?" each small slip of paper asked in bold letters. Devine scanned the responses that had been added so far along another wall:
"I used to embroider daisies on my chucks."
"NB 993 most comfy sneaker of all time."
"Puma Clydes ca. 1993 = my college experience!"
"My sneaker inspiration was punky brewster and the mix matched converses. One purple other yellow total game changer for me at age 5."
"I remember how big of a deal Pumps were," Devine said, referring to the coveted Reebok Pump. His family didn't have a lot of money growing up, he explained, but somehow his mother had managed to find him a pair in a second-hand shop at a steep discount. "It meant a lot," he said, to be able to slip those on. It was "like currency," he said. "It's amazing what something as utilitarian as a shoe can buy you."
Semmelhack focused on masculinity and men's footwear for the current exhibition because "I do think sneaker culture is predominantly male," she says. "At the moment I think women are allowed to flirt with sneaker culture yet are not fully enfranchised in it," she adds. Though she says women remain on the sidelines of sneaker culture, she believes that's beginning to change. "If I did this exhibition again in five years, you would see a slightly different end," beyond the creations that currently wrap up the show, from designers like Louis Vuitton, Christian Louboutin and Prada, and artists like Damien Hirst and Kehinde Wiley.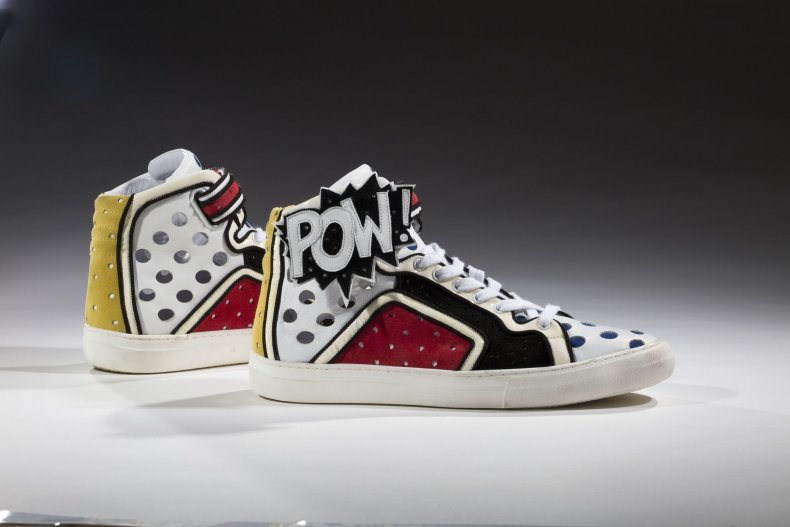 That new ending, yet to be curated, might include sneaker devotees like Dashawna Smith, who passed by the "What's your sneaker story?" display shortly before Devine. Her custom neon yellow Nike Huaraches were hard to miss, even amid the sea of sneaks. The sock-like material and ventilation holes were the perfect choice on a rainy day, she said, but they also had a great look: "Some brightness on your feet can bring sunshine to everyone else."
Smith, who has channeled her passion for footwear into classes at Brooklyn Shoe Space, explained that her love affair with the sneaker began as a child. She was raised Muslim, and always wanted to wear sneakers under the hem of her saris. Sneakers were then, and are now, a creative outlet and "a way not to look like everybody else," said Smith, who estimated that she owns 80 pairs. Choosing a sneaker to step into every morning, she explained, is a way of expressing herself.
Sneaker Stories, From Industrial Revolution to Michael Jordan, Run-DMC | Culture