Zachary "Sneaky" Scuderi is the ADC for League of Legends pro team Cloud9. The 24-year-old has been a staple of the franchise for the last half-decade, winning multiple North American LCS championships and representing NA at multiple World Championships.
"I've been at it for awhile," he admits. During that time he's become one of the most mechanically gifted players to ever grace the Rift, known for his top-tier laning, unparalleled macro play and a fair share of Barons stolen from across the map. It doesn't matter if he's playing Jhin, Kai'Sa, Jinx or Ezreal, the meme king never wants to let his fans down.
Thanks to his success on the big stage, Sneaky has grown an organic audience streaming on Twitch. Fans come to his channel four or five times a week by the thousands to watch Challenger-level League play, banter and even cosplay. "I'm pretty proud of how consistent I've been able to be," Sneaky told Newsweek.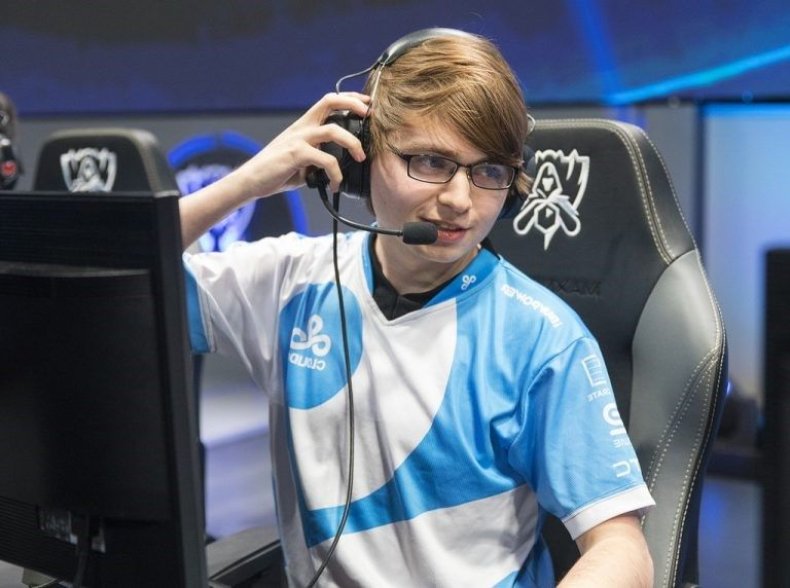 Playing the same game for hours on end at a professional level can get stressful and tedious, but Sneaky loves the professional grind. At the moment, he only plays on stream, since it allows him to go for hours in one burst without a break. "My own motivation for playing League would drop quite a bit if I wasn't a pro," Sneaky said. "When you're playing pro, you have a lot to work towards, you're always playing as a team, learning new stuff every patch, how best to play with your teammates. If that was gone, I'd be playing solely to climb the ladder and having fun."
Since Cloud 9 got knocked out of the NA LCS Spring Playoffs, Sneaky has had a lot more time to stream. At the beginning of the offseason in April, Sneaky was streaming League eight to nine hours a day. He says he'd normally play other games to circumvent the MOBA grind, but nothing grabbed his interest. As the weeks went by, he lowered his streaming hours to about four or five hours a day, realizing he needed to take it down a notch.
There's a growing trend of esports players retiring and becoming full-time streamers. Imaqtpie, Voyboy and Dyrus were all titans in their heyday, and have all retired their jerseys to collect subscribers and donations on Twitch. Sneaky isn't ready for that life yet, seeing his popularity as tied to his team identity and esports prominence. Without C9, Sneaky believes that his numbers would drop over time as newer streamers emerged who could also compete at the highest level. "If I did retire, it wouldn't be an instant fall-off," Sneaky chuckled. "As just a streamer, you can't prove yourself internationally, or even regionally anymore."
To keep his fans happy, Sneaky does more than just stream. He's started cosplaying as female League champions, like Star Guardian Soraka and Pizza Delivery Sivir. His modeling has been so successful that he's started a Patreon to give fans access exclusive pictures and Polaroids, for a nominal fee. So how did a League of Legends pro end up as a cosplayer?
Two years ago, a fan asked Sneaky on stream if he would be willing to wear a maid outfit on camera. "Sarcastically, I said yeah, since there was no way he could get it to me," Sneaky said. Soon he opened a P.O. Box, allowing fans to send the promised gift (which they did, in droves). For his 2016 Halloween stream, he decided to surprise his fan base and give them the kawaii that they had been clamoring for.
A few months later at the World Championship in China, a journalist asked Sneaky if he would break out the maid costume again if they made the quarterfinals. "I didn't have it with me, because why would I bring that outfit to China, but (C9 top-laner) Impact tells me that they could get me a new one," Sneaky said. After making it to quarters, he posted another photo shoot with all the costumes his fans got him and eventually streamed with the outfit on.
"People took it pretty nicely, they thought it was pretty funny and I enjoyed the reactions," Sneaky said.
What started off as a joke snowballed like a Zed with 10 kills. His engagement went through the roof, which made Sneaky want to share more. Normally, he's very quiet on Twitter, but cosplay allows him to speak directly to his audience and offer content at the same time.
For Sneaky's next cosplay, he decided to go even wilder. In December 2017, he unveiled Star Guardian Urgot, a custom idea combining League's ugliest champion, Urgot, with the glamorous Star Guardian Ahri. The pics were taken by Sneaky himself, propping up his phone up on a chair while pointing at a mirror. That post broke all expectations, inspiring him to try even harder.
Sneaky's girlfriend Esther Lynn has been an integral part of his cosplay success. "She's been crazy helpful," Sneaky said. "She's helping me push it forward, she's really good at photography, picking angles.and sewing." When Sneaky showed off his Elementalist Lux outfit, he did so with professional pictures, courtesy of Lynn. That extra bit of polish was crucial to the success of the tweet, according to Sneaky.
Cloud 9's owner, Jack Etienne, is a fan of his star marksman's cosplay work. "I thought it was hilarious and awesome," Etienne said. "He's really serious about doing things that make his fans have a good time and get what they are looking for."
Etienne vividly remembers his first encounter with this side of Sneaky. "He was just getting a coffee next to me, in normal clothes and sweats, and my Twitter goes off. He had just posted the photo shoot and I had never seen it before. I was like 'woah dude, you can't just walk into a room after posting that and not prepare me for these pictures.' He was 'like, they're pretty sweet.' The way he did it was so casual."
Sneaky broke the internet when he unveiled his Pizza Delivery Sivir. Lynn's photoshoot quickly went viral, amassing millions of interactions on Twitter and reaching an audience far beyond the world of esports. "There were a bunch of people who had never seen my content seeing me," Sneaky said. Not all of it was positive. A vocal minority directed homophobic slurs at the streamer, but he shrugged it off, saying he doesn't get "triggered" very easily.
"Most of the time I know they are just seeing something new to their eyes so of course their first reaction is 'what is this?'" Sneaky said. "It's cool that I get to expose close-minded people to stuff that might make them more open-minded in the future. That seems like a pretty good direction for the human race."