'Can America Vote Right Now?' SNL Skewers Debate With Alec Baldwin as Trump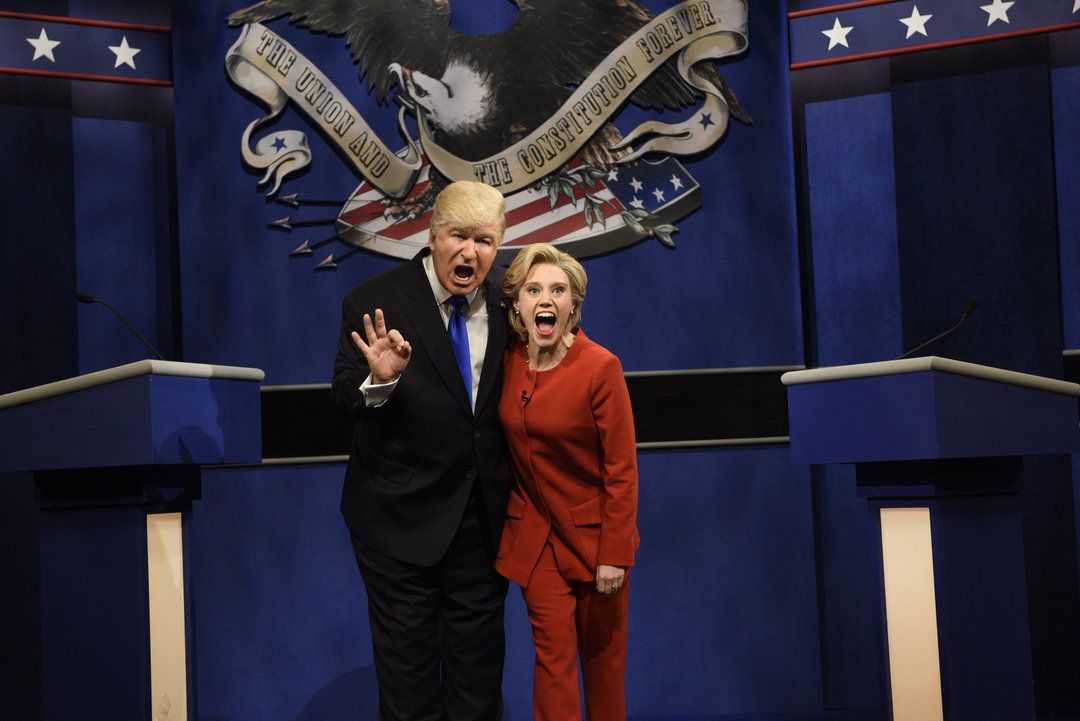 Hillary Clinton's ambition and preparation, Donald Trump's sniffles and penchant for walking into Clinton's rhetorical traps—nothing was safe as "Saturday Night Live" opened its 42nd season this weekend by skewering last week's presidential debate.
Alec Baldwin made his debut as fellow New Yorker Trump, while cast member Kate McKinnon reprised her role as the Democratic nominee and "Weekend Update" anchor Michael Che played debate moderator Lester Holt in the cold open to the episode hosted by Margot Robbie with musical guest The Weeknd.
Baldwin's Trump tried to make the case that Clinton's temperament should be questioned instead of his, as the sketch satirized Clinton's apparent strategy of coaxing Trump into making unforced errors.
"She's the one with the bad temperament. She's always screaming, she's constantly lying, her hair is crazy. Her face is completely orange, except around the eyes, where it's white. When she stops talking her mouth looks like a tiny, little butthole," said Baldwin, in full Trump coif and orange skin.
"Secretary Clinton, you have two minutes to respond," Che's Holt says.
"That's OK, he can have my two," McKinnon's Clinton says, prompting Baldwin's Trump to launch into his vision of black America:
"The thing about the blacks is that they're killing each other. All the blacks live on one street in Chicago. All on one street! I went there this morning, it's called Hell Street. And they're on Hell Street, and they're all just killing each other, just like I'm killing this debate."
Che's Holt: "Secretary Clinton, did you have a response?"
"Not a response, more of a request," she says, as she shimmies. "Can America vote right now?"
Clinton wasn't safe from satirical barbs in the sketch, either. Her desire to better relate to voters was spoofed as overly calculated, with Che's Holt asking if the Democrat has better judgment than Trump.
"Yes, of course I do," McKinnon's Clinton said. Donald Trump has terrible judgment. He makes bad decisions. He's spent his life cheating middle-class laborers. Laborers like my own human father, who made, I guess, drapes...or printed drapes or sold drapes...something with drapes. And he is relatable, and I am also relatable."
Later, McKinnon's Clinton randomly interjects with "Alicia Machado!," in reference to Clinton's criticism of Trump's treatment of the former Miss Universe, which dominated news cycles for days after the debate.
"She is a strong, beautiful political prop that I almost forgot to mention tonight even though we already made a web video about her," McKinnon's Clinton says.