'Are You Not Entertained?' 'SNL' Tackles Trump Hot Mic Scandal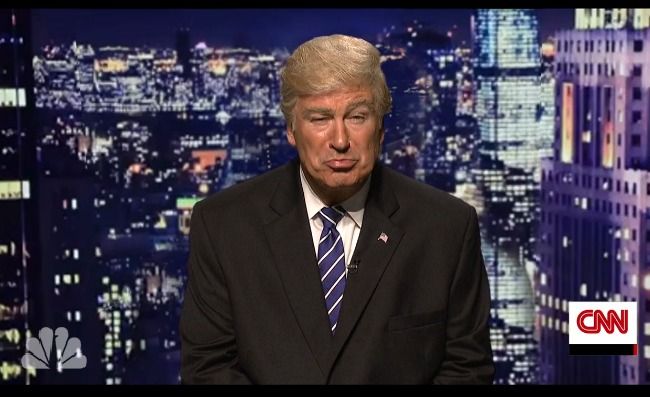 "Are you not entertained?"
Alec Baldwin channeled Ridley Scott's Gladiator to thoroughly skewer Donald Trump's latest—and perhaps worst—scandal on the cold open to Saturday Night Live, featuring a jubilant Hillary Clinton and an unrepentant Trump. Baldwin, making his second appearance as the GOP presidential candidate, offers a lecherous and vile Trump who can only bring himself to "apple-igize" about 2005 comments caught on tape showing him bragging about his ability to sexually harass and assault women.
"If you give me a chance, I can promise I can do a whole lot more than just grab it," Baldwin's Trump says, in reference to his captured comments on Access Hollywood about doing "anything" to women, even grabbing them "by the pussy." "I can also bop it, twist it and pull it," Baldwin's Trump says.
GOP leaders have been running for cover since the tape emerged on Friday, with Trump's own wife and running mate issuing statements critical of the candidate. When Baldwin's Trump is informed that even Mike Pence has condemned the leaked comments, he flips his feelings for the Indiana governor. "Mike Pence is a loser. I hate his guts. I call him puny Pence."
Much like the real Trump, Baldwin's composite later tries to change the subject by expressing sympathy for the victims of Hurricane Matthew to close out a segment on CNN. But a hot mic captures the "real" Trump.
"Now let me tell you something, OK. I wish that I was that hurricane tearing through all of that hot Miami pussy. I would just destroy it," Baldwin's Trump says.
Cecily Strong as CNN anchor Brooke Baldwin: "We can still hear you!"
"Then I apple-igize."
SNL portrayed Clinton as downright giddy over Trump's latest implosion, barely able to hold back her laughter as she expresses her disgust with the tapes.
"It's a very bad day for our country. And for all women, minus one," Kate McKinnon's Clinton says, winking to the audience.
"I would like to address all of the women out there who heard Trump's comments and are still voting for him: Uh, my babies—your brain broke. I love ya, but bish, you cray," McKinnon's Clinton says.