'Bad Hombres' and 'Nasty' Women Comments Get the 'SNL' Treatment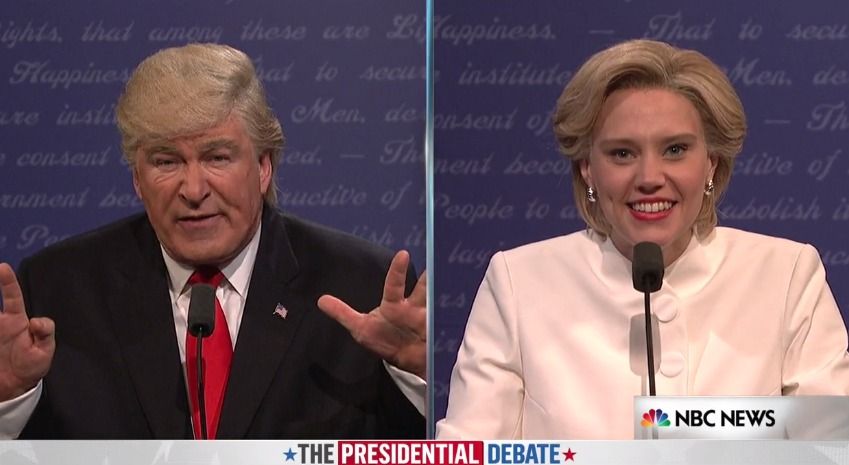 "Saturday Night Live" saved its funniest barbs for Donald Trump's allegations of media bias, as the NBC sketch comedy show satirized the third and final debate in the cold open to the show Saturday night.
Host Tom Hanks, playing debate moderator Chris Wallace of Fox News, asked Trump, played by Alec Baldwin, whether he would accept the results of the election. Trump's performance in Wednesday's debate was overshadowed by his refusal to say definitively whether he'd honor the polls.
"I will look at it at the time because frankly, this whole thing is rigged," Baldwin's Trump says. "Even the media, every day I turn on the news and all of the newscasters are making me look so bad."
"And how do are we doing that?," Hanks' Wallace says.
"By taking all of the things I say and all of the things I do...and putting them on TV."
Trump's follow-up Thursday, in which he said he would respect the results "if I win," also made its way to the faux debate, with Hanks making Baldwin repeat his words in an attempt to lock Trump into a declaration.
Hanks: "Donald repeat after me...'I Donald Trump.'"
"I, the best ever, Donald Trump," Baldwin's Trump says.
"Promise to accept the results of this election," Hanks' Wallace instructs.
"Promise to accept the results of this election...If I win. Got you, loser (trademark)," Baldwin says.
Hillary Clinton saw a strong primary challenge from Senator Bernie Sanders, whose supporters see the former secretary of state as not sufficiently progressive on issues. Her reputation for calculated centrism didn't escape the "SNL" writers.
"Americans have an important decision to make. Between the two of us, who do you trust to be your president: the Republican or Donald Trump," Kate McKinnon's Clinton says.
The two phrases uttered during the debate that inspired instant social media memes—"bad hombres" and "nasty woman"—also made their way into "SNL's" treatment.
McKinnon's Clinton exclaims "Ooh, I've got bingo!," after Trump labels certain Mexicans "bad hombres," and shows her bingo card, filled with the most likely Trump utterances. Baldwin's Trump goes on to call Mexican President Enrique Pena Nieto "Mr. Guacamole," who has twin children, "Chips and Salsa."
The "nasty woman" comment took on its own life after the debate, with women reclaiming the insult and using it to speak about their treatment by men. It was seen as a gift to Clinton, and an unforced gaffe by Trump, enabling her to appear relatable to the average woman.
But "SNL" took a more cynical view.
"That's exactly the kind of language that has poisoned and debased this election, and if you agree, go to HillaryClinton.com and buy a limited edition 'Nasty Woman' mug," McKinnon's Clinton says.