'Pee Pee' Puns, Obamacare, Putin: 'SNL' and Baldwin Take on Trump's Press Conference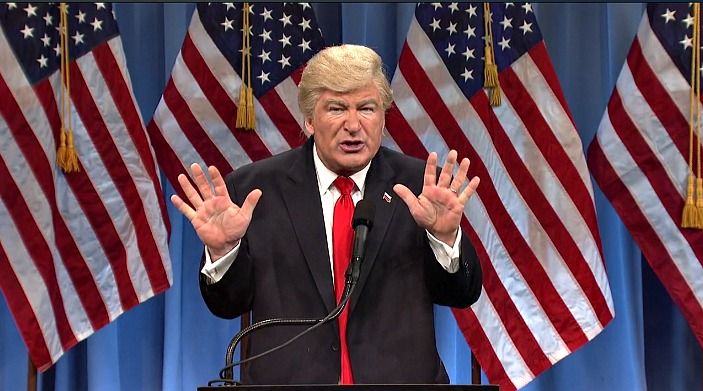 In Donald Trump's America, the jokes seem to write themselves.
The president-elect gave "Saturday Night Live" writers a tall task this week: how to parody a press conference that already offered its own macabre humor, from "golden shower gate" to Trump's plan to barely-not-really separate himself from his businesses to his insults directed at the media? The sketch show, which returned this weekend with Alec Baldwin as the president-elect in the cold open, took on the presser's circus atmosphere methodically, offering a take that was actually more restrained than the real-life version.
RELATED: Trump a witless 'Manchurian Candidate' on SNL
"Pee pee" talk dominated the sketch, in reference to unverified accusations published by Buzzfeed that Russian intelligence may have evidence of sexual antics involving Trump, prostitutes and urination.
"No, I'm not talking about the pee pee because it didn't happen. And it wasn't as cool as it sounds," Baldwin's Trump says. "I am going to bring back a thick stream of jobs...The biggest, strongest, steadiest stream you've ever seen. This country will be literally showered with jobs. Because I am a major whiz with jobs. This is a golden opportunity for me as president to make a big splash."
Trump has mostly acknowledged the U.S. intelligence assessment that Russia was behind the hacking of political operatives in an attempt to hurt Hillary Clinton's candidacy, although the president-elect still downplays the severity of the incident by blaming the Democrats' cyber security or suggesting hacking is just par for the course in 21st century politics. On "SNL," a reporter gets Trump to finally state that Russia is responsible—before a shirtless Vladimir Putin, played by Beck Bennett, shows up posing as "American journalist Wolf Blitzer.
"Are you sure Russia was behind the hacking?," asks Bennett's Putin, holding up a videotape labeled "Pee Pee Tape."
"I mean, maybe," Trump says. "It was China. I mean Canada. It was Meryl Streep."
The fate of Obamacare, with conflicting messages from Congressional leaders and Trump on the timetable for repealing and replacing the health care law, and what to replace it with, was an easy target.
"I do have a replacement plan," Trump says. "I just read about it this week, it's a terrific plan, just great. It's called the Affordable Care Act."
A reporter points out that Obamacare is the Affordable Care Act and people could die if 20 million are thrown off the rolls with no replacement.
"Listen sweetheart, I'm about to be president. We're all going to die," Trump says.
The president-elect explains how he will turn his businesses over to his sons, "Beavis and Butthead," before lawyer Sheri Dillon, played by Cecily Strong, is introduced before a stack of papers.
"I mean, look at all these papers. If he wasn't divesting how would there be so many damn papers," Dillon says, before lifting the display to reveal it's a prop. "Oh that's right, they're fake."
The spectacle of Trump wrongly conflating CNN's reporting with Buzzfeed's and telling CNN reporter Jim Acosta his network is "fake news" was muted in comparison to its real-life example. Baldwin's Trump tells Acosta, played by Bobby Moynihan, that he "tried to watch your network last night, and it was some crazy blond woman spouting lies."
"That was (Trump adviser) Kellyanne Conway," Acosta says.
The sketch aired just six days before Trump will take the oath of office in Washington, a prospect "SNL" reminded the audience is "real life. This is really happening.
"On January 20, I, Donald J. Trump will become the 45th president of the United States. And then two months later, Mike Pence will become the 46th."