'SNL Cast Should Appreciate' Dave Chappelle's Work, Claims Media Lawyer
Dave Chappelle is returning to host Saturday Night Live for a third time, but his appearance on the show has caused outrage among some of the show's fans.
The comedian, 49, is beloved by many but faces vocal opponents who have criticized Chappelle's comments and jokes about the transgender community.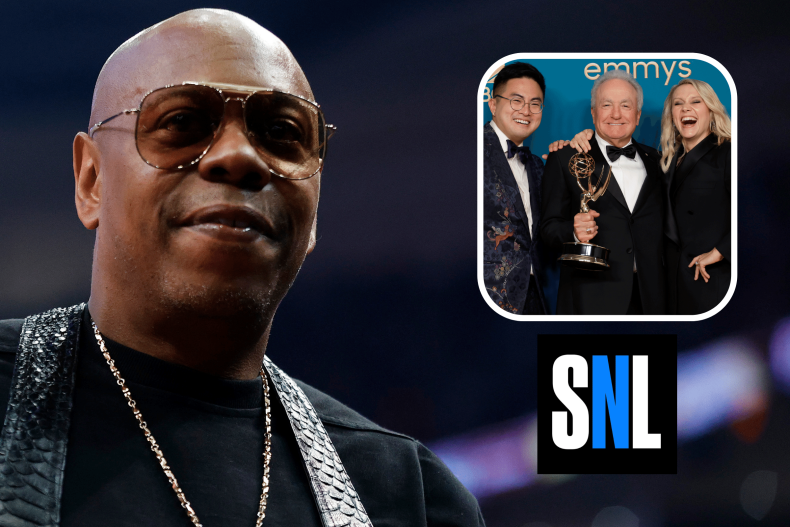 It has led to several accusations of transphobia and transphobic rhetoric, which in July, led to Chappelle having his performances at certain venues canceled. In November 2021, students protested when The Duke Ellington School of the Arts in Washington D.C. was set to be renamed in Chappelle's honor.
For the third time, Chappelle will host a post-election episode of Saturday Night Live, with his previous two attempts providing memorable moments and reactions to results.
The announcement of Chappelle's return, revealed during Amy Schumer's episode on Saturday, incited strong reactions online.
"You have your first non-binary cast member ever and then you book an proud and open transphobe," Twitter user @SeanAltly wrote, referring to featured player Molly Kearney who prefers the pronouns they/them. "What a disappointment," @SeanAltly added.
While many reacted with anger online, there were many more voicing their excitement for Chappelle's return to Studio 8H in Rockefeller Center, New York City.
"Dave is a polarizing figure, but that is what makes him great," media law analyst Andrew Lieb told Newsweek. "He likes to walk the tightrope of what is acceptable to trigger his audiences' emotions."
Lieb is managing partner of Lieb at Law, P.C. and also host of his own podcast The Lieb Cast. While some online pointed out Chappelle's track record with the LGBTQ+ community may be an issue, especially as there are members of the community in the cast, Lieb believes he will be respected upon arrival.
"As fellow comedians, the SNL cast should appreciate his work and understand that when you walk the line, sometimes you slip too far. That's just part of the gig," Lieb said.
Amy Schumer's Kanye Joke
During the last episode of SNL, host Schumer made a subtle dig at Kanye West's alleged antisemitic remarks, implying he was a "Nazi."
Despite the strong accusation, Lieb says that, legally, Schumer, 41, is in the clear.
"Amy Schumer has absolutely nothing to worry about from her Saturday Night Live monologue as far as a defamation claim is concerned.
"Not only did she not state any false statement of material fact, which is required for a defamation claim, but even if she had, the context of a comedy show would have insulated her from a claim.
"Case law is very clear that the context of a statement is relevant to know if a claim is actionable, and satire can never be passed off as truth, which is required for a claim to be successful," Lieb said.
Saturday Night Live returns to NBC on November 12, 2022.