'SNL': De Niro's Mueller Grills Stiller's Cohen and Vows to 'Catch All You Little Fockers'
Robert de Niro and Ben Stiller parodied their roles in the hit comedy Meet the Parents in a surprise appearance in Saturday Night Live's cold open.
But instead of a father grilling a prospective son-in-law, De Niro played Special Counsel Robert Mueller putting Trump attorney Michael Cohen through a lie detector test about the $130,000 payout to porn star Stormy Daniels.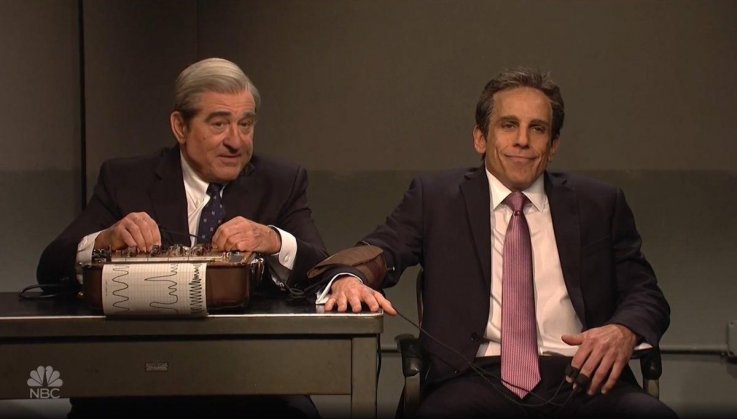 Reprising the famous interrogation scene in the 2000 movie, Stiller's Cohen tries to squirm out of the test as he wants to avoid letting on that his boss knew about the payouts.
"It was supposed to be a surprise for Stormy, like a gift," said Cohen of the payout, obviously rattled by the questions. "Like a rock through the window with a note tied to it that says, 'Stop talking.'"
"So you've threatened people," Mueller asked.
"Not necessarily," Cohen replied.
"Let's just say I've cut a lot of letters out of a lot of magazines. Just trying to milk some information out of people," he said.
Later in the skit, Mueller revealed his codenames for Trump's inner circle.
Trump's old codename was "Putin's little b---h" but was recently changed to "Stormy's little b---h." Trump's daughter, Ivanka Trump, is codenamed "girlfriend," and Cohen is codenamed "dead man walking."
When Cohen got testy, thw sketch closed with a warning to Trump's team.
"I don't know what rights you think you have. You broke the law and we're going to catch all you little 'fockers,'" Mueller said
Cohen's office was raided by FBI agents last week, reportedly seeking information on hush money payouts made to Daniels. Daniels alleges she had an affair with Trump in 2006.
'SNL': De Niro's Mueller Grills Stiller's Cohen and Vows to 'Catch All You Little Fockers' | U.S.