Saturday Night Live's cold open tackled the murder trial of Derek Chauvin, the former Minneapolis officer charged in the death of George Floyd.
The episode began with a parody of a news show called "Eye on Minnesota" hosted by anchors played by Ego Nwodim, Kenan Thompson, Kate McKinnon and Alex Moffat.
As they discussed the trial, it became apparent the white anchors had very different ideas about the trial's outcome than their Black counterparts.
"Watching this trial brought back so many bad feelings from last summer," Nwodim said. Thompson added: "I felt myself getting angry all over again."
Moffat then stated that "the video footage alone should tell you everything you need to know about what happened... and hopefully, justice will be served."
McKinnon added: "Sounds like we all agree: there's no way Derek Chauvin walks away from this."
But Nwodim and Thompson were skeptical. "Wellll….," they both said.
"Wait a second, you guys aren't buying into Chauvin's defense, are you?" Moffat asked. "Of course not," Thompson replied.
Nwodim added that the defense's bid "to make a case that George Floyd's drug use was somehow responsible is just deplorable."
Thompson said "it was a clear act of desperation to create doubt where there is none."
"Exactly," McKinnon said. "And there's no way the jury's gonna fall for that."
Again, Thompson and Nwodim are not so sure. "Wait, so what are you guys trying to say?" Moffat asked.
"Look, y'all seem like good people," Thompson said. Nwodim added: "Let's just say we've seen this movie before."
"That's fair, I think skepticism of the legal process is valid," McKinnon replied. "Historically, police have gotten away in other cases like this."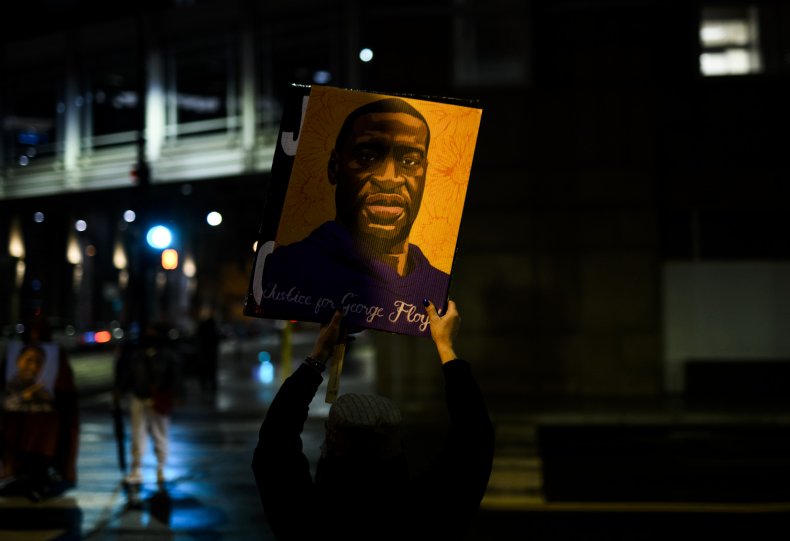 "Historically?" Thompson asked Nwodim."She means every single time," Nwodim told him.
McKinnon continued: "After all the protests that happened last summer, there's no way this doesn't go the way we hope."
"She means well, she means well," Thompson muttered, as Nwodim says she "doesn't know what she's talking about."
Moffat then asked: "You guys can at least admit this country has made a lot of progress recently?"
"For who?" Thompson asked. "When?" added Nwodim.
"Look, I wanna choose my words carefully here, so to quote Thomas Jefferson..." Moffat then said. "That's a bad start!" Thompson interrupted.
The white anchors then turn to the weatherman, played by Chris Redd, for his opinion.
"Look I don't want to get fired but obviously it's an open and shut case," he said. "That being said, he's a white cop in Minnesota so I'm gonna guess probation with pay, tops."
Later, the anchors discuss the possible fallout when the trial concludes.
"The last thing we want is another riot," Thompson said.
"And I think we can all agree that no matter how bad things are, destroying property is never the answer," Moffatt added.
Once again, the Black anchors disagree.
"It's just property." Thompson said. "There's insurance," added Nwodim.
The four then move on to discuss the issues they do agree on.
"There's a glaring discrepancy in the way Black people are treated by police," Nwodim said, to words of agreement from the white hosts.
They also agreed with Thompson when he said: "We need concrete solutions to fix this problem."
"And we start with reparations," Nwodim added, prompting Moffat to balk. "Now wait just a minute!" he said.
As the program moved onto other news, McKinnon says: "More sad news this week... unfortunately, we lost royalty yesterday."
"Yes. The rapper DMX died," Nwodim said.
"I was talking about the Prince," McKinnon responded.
"Girl, Prince been dead," Nwodim tells her.