SNL Takes on Donald Trump's Feud With Greta Thunberg: 'I'll Come at You Like a Plastic Straw Comes At a Turtle'
Saturday Night Live took a swipe at President Donald Trump's recent feud with teen climate activist Greta Thunberg in the show's latest edition, showing Kate McKinnon's "Thunberg" telling the commander-in-chief to "grow up."
The opening sketch began with three average families discussing the state of the world before cutting to a character called Sam the Snowman, played by Aidy Bryant.
"You see, [these families] have one important thing in common. They live in states where their votes don't matter because none of them live in the three states that will decide our election," Bryant joked in the sketch.
"They'll debate the issues all year long, but then it all comes down to 1,000 people in Wisconsin who won't even think about the election until the morning of. And that's the magic of the electoral college," she said.
At this point, SNL cast member Kate McKinnon appeared as Thunberg.
"Hello, my name is Greta Thunberg and I also have a Christmas message," McKinnon said. "In 10 years, this snowman won't exist. Her home would be a puddle. Santa, reindeer, the North Pole, all of it, gone. The ice caps will melt and the elves will drown."
"So merry 'may be our last' Christmas to all and Donald Trump, step to me and I'll come at you like a plastic straw comes at a turtle. I can't believe I'm saying this to a 70-year-old man but, 'grow up!'"
The sketch refers to an incident earlier in the week in which Trump mocked the teen activist after she was named Time magazine's Person of the Year for 2019.
"So ridiculous. Greta must work on her Anger Management problem, then go to a good old fashioned movie with a friend! Chill Greta, Chill!" Trump wrote on Twitter on Thursday.
In response, Thunberg subtly responded to the president by changing her Twitter bio.
"A teenager working on her anger management problem. Currently chilling and watching a good old fashioned movie with a friend," Thunberg's bio now reads.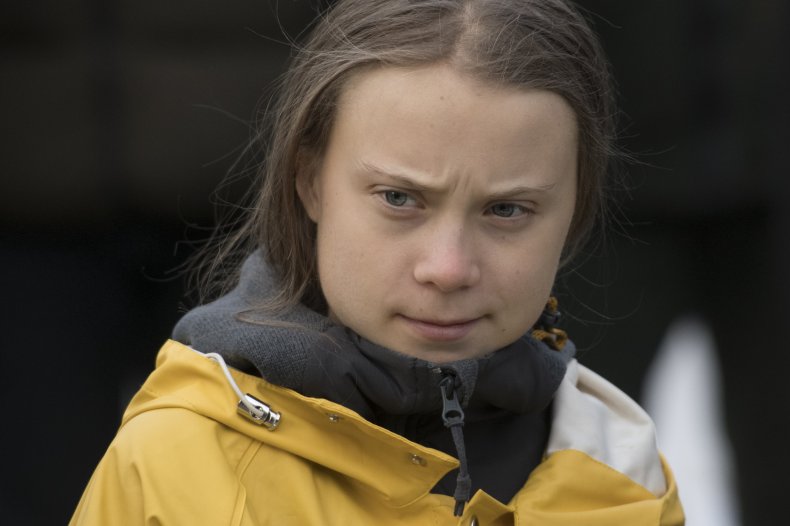 Newsweek has asked the White House and Greta Thunberg for comment.
It was not the first time that Trump had commented on the teen activist. Following a U.N. climate change summit in September, when Thunberg made an emotional speech, the president tweeted: "She seems like a very happy young girl looking forward to a bright and wonderful future. So nice to see!"
Thunberg rose to prominence after she started taking time off school on Fridays to protest outside the Swedish parliament in August 2018. These solitary strikes sparked a global movement, which now involves millions of people around the world calling for climate action.