Is 'SNL' Live Tonight? Will Ferrell Appears As Host, Season 43 To Resume With Donald Glover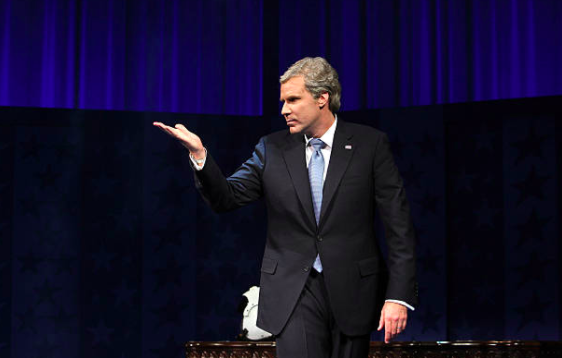 Saturday Night Live will still air Saturday, but it's not a new episode. NBC will air a repeat where former cast member Will Ferrell served as the host. It originally debuted January 28, 2018. He revived his popular impression of former president George W. Bush.
Ferrell, as Bush, apologized for the Trump presidency from his "Oval Office." "I know what you're thinking: What the heck is the handsome devil doing back in the Oval Office? The truth is this is just a set. I had it built in my basement in Texas—so I could pretend to be still be president sometimes," he said.
"According to a new poll, my approval is at an all-time high," Ferrell-as-Bush said. "Donny Q. Trump came in and suddenly I'm looking pretty sweet by comparison. At this rate I might even end up on Mount Rushmore, right next to Washington, Lincoln—and I want to say Kensington."
To those who still wished he were president, Ferrell-as-Bush said: "I just wanted to remind you guys I was really bad—like historically not good" and "Don't forget: We're still in two different wars that I started. What has two thumbs and created Isis? This guy!"
Even though Ferrell's Bush voted for Jill Stein, he said he felt bad from "Donny." "We have a lot in common: We're both the exact same age, even though I was president like 40 years ago," he said. "We both won the election despite losing the popular vote. Though back in my day we didn't let Russians rig our elections—we used the Supreme Court like Americans."
Next week, SNL will be back May 5 with actor Donald Glover, who will serve as the host and perform as the musical guest under his pseudonym Childish Gambino. After Glover, comedian Amy Schumer will host the May 12 episode with musical guest Kacey Musgraves and then Tina Fey will host the May 19 episode, which is the finale of Season 43, with rapper Nicki Minaj. Hopefully, Minaj will join Fey for one of the skits.
Saturday Night Live airs at 11:30 p.m. EDT on NBC.