'SNL' Mocks Betsy DeVos After Awkward '60 Minutes' Interview: We Need Crocodile Crossing Guards
President Donald Trump's education secretary Betsy DeVos found herself the subject of a Saturday Night Live sketch after bumbling her way through a 60 Minutes interview last weekend.
SNL's take on DeVos' painful interview saw Kate McKinnon play the education secretary, who commented in the original, genuine interview that she "avoids talking about all schools in general, because schools are made up of individual students attending them."
DeVos also appeared to struggle to answer questions about education in her home state of Michigan, prompting widespread criticism as well as a character cameo on SNL.
Asked about the challenging 60 Minutes interview, McKinnon's character responded: "I think the problem is that the words that were coming out of my mouth were bad and that is because they came from my brain."
And asked about charter and state schools, with the education secretary being a big supporter of the former, McKinnon's DeVos said: "I don't like to think of things in terms of school. It should be up to the states."
"In Wyoming, for example, which has many potential grizzlies, there should be a school for bears. And in Louisiana, crocodile crossing guards," she added.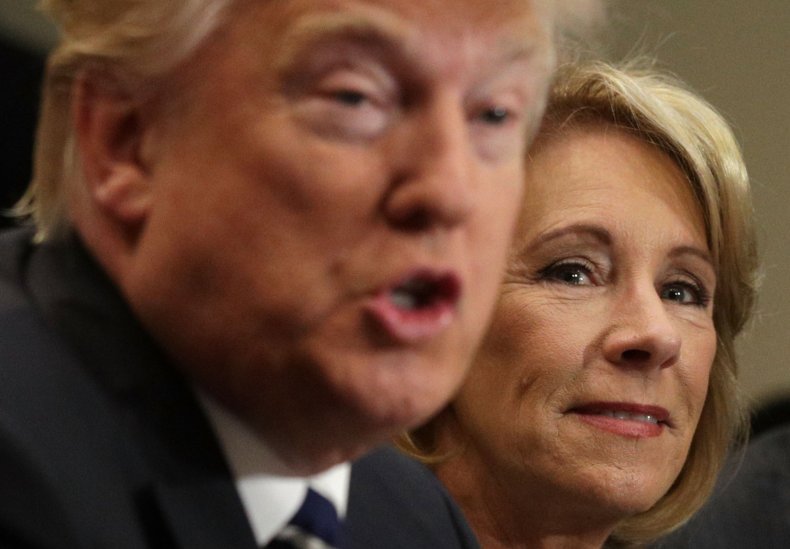 But while SNL poked fun at what appeared to be DeVos' lack of basic knowledge on her remit, the education secretary found herself the subject of serious criticism following the interview, with numerous suggestions on social media that she did not appear to know enough about education, and one Democrat actually referring to her in a tweet as "rich, white and dumber than a bag of hammers."
Teachers have also criticized the education secretary recently after she suggested that schools were behind the times, and tweeting a picture of a classroom—prompting actual teachers to respond with pictures of their classrooms, suggesting the education secretary herself was behind the times.