Saturday Night Live mocked pro-Trump network Newsmax's coverage with a sketch introducing its latest television offering—a sports network that refuses to acknowledge the New York Jets ever lose.
The sketch opens with a voiceover that claims "millions of real Americans are switching from Fox News to Newsmax because Newsmax tells them the truth... that Donald Trump could still win this election."
The conservative cable network saw its viewership skyrocket after the president urged his supporters to watch the channel, which refused to declare Joe Biden the winner of the 2020 presidential election and aired unsubstantiated theories about voter fraud.
SNL's voiceover explains that due to its recent success, Newsmax has launched Sportsmax, described as "the network for real Jets fans, giving you the truth about America's favorite football team."
Alex Moffat, playing Sportsmax anchor Robert King, appears and explains that "a lot of mainstream sports networks like ESPN" are saying the Jets have not won a single game this season.
Beck Bennett, portraying analyst Drew Mataraz, says "the truth is, the Jets have already won 11 games this season."
"Sure, sure… take us through that," Moffat says.
As a breaking news chyron declares "Jets undefeated," Bennett's character says: "Now the experts tell you the Jets lost 18-10 to the Bills back in October. Sounds like a done deal, right? No, not so fast!"
He then pulls up a chart that shows the game's numbers. He says "something very suspicious" happened because the Jets had been up 3-0 after the first quarter, but then the Bills "started getting all these points out of God knows where."
"Either the Jets won three to nothing or this whole game is rigged," he declared.
Timothée Chalamet, who hosted last night's episode of SNL, and Pete Davidson then appear as Jets experts Deluca and Delvecchio.
Casting doubt on the NFL's integrity when it comes to scoring games, Chalamet's character tells the anchors: "Listen, I have in my hand here sworn affidavits from 500 Jets fans who swear they witnessed the Jets win."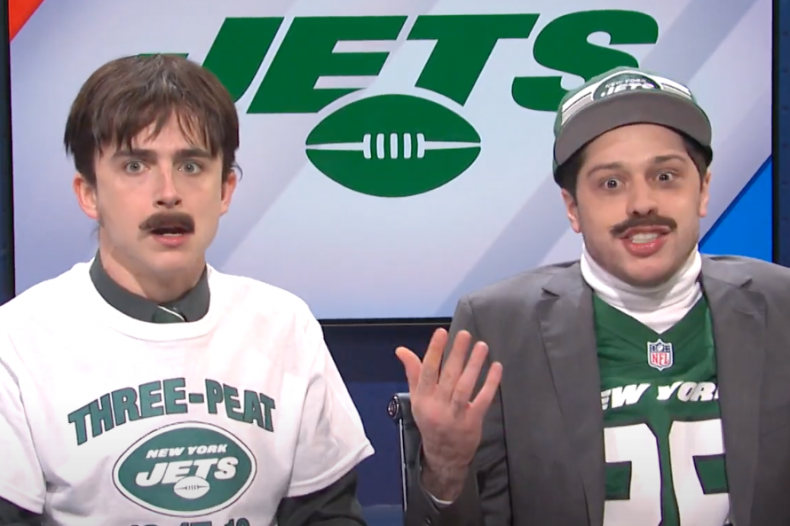 Davidson's character adds: "There's eight million Jets fans out there! Eight million! They have nothing to gain by lying about this!"
Chalamet's character continued: "Let's look at this logically, OK? Only a really bad team would only score three points in a football game, and the Jets are the greatest team ever. So something's not adding up here!"
"You see? The whole house of cards collapses," adds Davidson.
Chalamet adds: "Long story short, the Jets are going to the Super Bowl! That's a promise!"