SNL: Mueller is Unable to Commit to Collusion Probe in Saturday Night Live's The Bachelor Finale Parody
In a parody of the dramatic season finale of reality show The Bachelor, Saturday Night Live kicked off its show with Robert Mueller breaking some hard news about the Russia probe.
In the cold open, Kate McKinnon's Mueller breaks some tough news to Cecily Strong's disappointed contestant — who rather than looking for love is seeking revelations that could force President Donald Trump from office.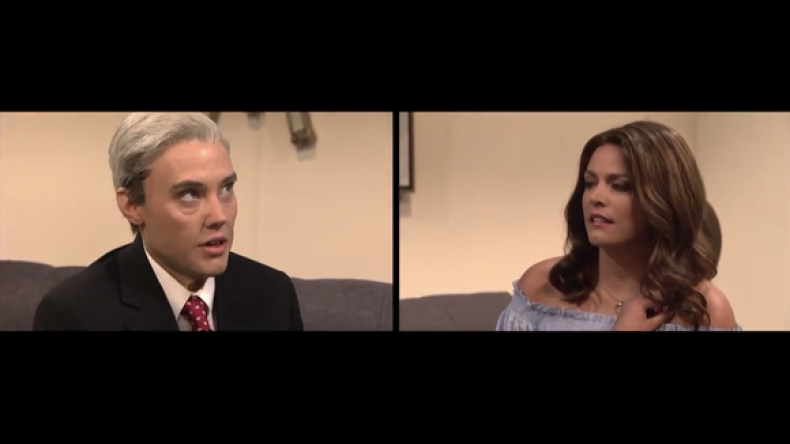 "I've been struggling a little bit over the last few months just, like trying to figure this whole thing out and like grasp everything, and the reality is that I don't — I don't think that I can give you everything that you want right now, you know, and I think you sense that," McKinnon's Mueller tells Strong.
"So ... what, you don't have Trump on collusion?" Strong's character asks.
"I'm just trying to be honest and tell you that I can't commit to collusion right now," McKinnon's Mueller replies.
Mueller tries to comfort Strong's distraught contestant.
"If it makes you feel any better, the Kush is cooked," she said, referring to Trump's son-in-law and senior adviser Jared Kushner, whose White House security clearance was recently downgraded.
The sketch poked fun at the finale of ABC's reality show The Bachelor, in which Arie Luyendyk Jr. split up with his short-lived fiancée, Becca Kufrin.
"I have to wait two more years for him to be out of office," Strong asks, mortified.
"Honestly, probably six," Mueller replies.
The skit alludes to Special Counsel Robert Mueller's investigation into allegations Trump colluded with Russia to win the 2016 presidential, and may have obstructed justice by actions including the firing of FBI director James Comey.