Is 'SNL' New This Week? How to Watch after Monumental Election Episode
Is Saturday Night Live new this week? Well, no, but they aren't leaving you high and dry either. After a week of scrambling and living up to election hype, your beloved Saturday Night Live staples have this Saturday off.
The November 14 episode will be a rerun, as will the episodes airing on upcoming weeks, according to the current Saturday Night Live (SNL) schedule. In fact, there aren't any new SNL episodes announced at this time. That means, there's no telling when the sketch comedy series will return. All we know right now is that old SNL episodes will air each Saturday night at 11:30 p.m. ET.
In the meantime, if you'd rather skip the commercials, dedicated fans of the show can catch up on the 46 seasons that have aired so far through NBC's streaming service Peacock. If you're looking to binge-watch the SNL episodes you love, or the ones you haven't seen yet, Peacock has you covered. In addition, the reruns on television, which will likely be recent episodes, may be worth watching.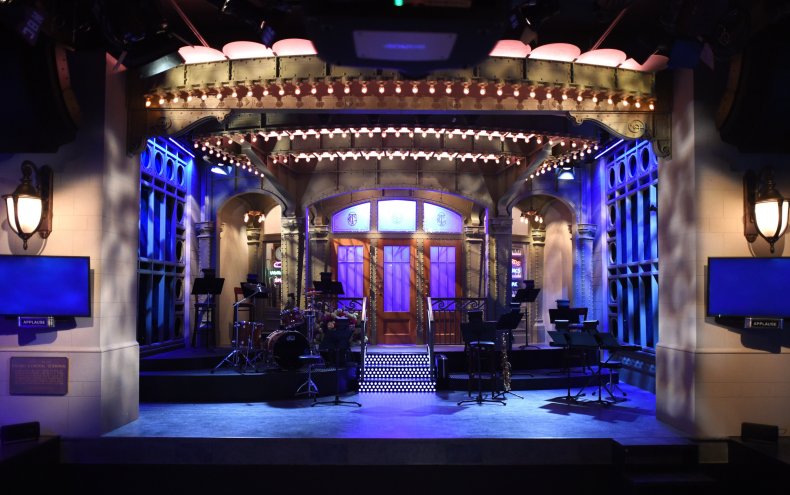 Last Saturday's election episode was one for the history books. It seemed Americans knew the episode, which often opens with political sketches, would center around the tumultuous election. On Wednesday, it was revealed the episode, which was the sixth of Season 46, brought in over nine million viewers. That's the best the show has done, ratings wise, in three years. The last most-successful episode was Melissa McCartney's hosting in May 2017.
Comedian Dave Chappelle was the host of the election episode while Foo Fighters appeared as the musical guest. Social media conversations centered around the innovative episode and the political statements made throughout.
Even celebrities who have been on the SNL stage themselves contributed to the conversations. Musician Halsey tuned in as the episode aired on
November 7 and claimed the episode made her "tingly."
Things on the episode appeared to shift from how they've been in the last four years. Alec Baldwin continuously reprised his role as President Donald Trump, though he said he's excited to lose that job. "I don't believe I've ever been this overjoyed to lose a job before!" Baldwin tweeted after Biden was elected. "It will be comforting when we have a President who doesn't Tweet twice as much as I do ... They're gonna need an enormous shipment of tissues sent to Mar-a-Lago."
Biden's post-election appearance was played by Jim Carrey, though not everyone was thrilled about it. Even the Los Angeles Times published a commentary piece with a Google headline that read "'SNL' Owes Fans Better Than 4 Years of Jim Carrey as Biden."
Fans will just have to see when SNL returns, and which beloved hosts and musical guests will make them laugh once more.