'SNL' Mocks Fox News Coverage of Russia's Ukraine Invasion—'Why Do We Hate Putin?'
Saturday Night Live (SNL) parodied Fox News' coverage of the ongoing Russian invasion of Ukraine by lampooning hosts Tucker Carlson and Laura Ingraham.
The show opened with a segment titled "Fox News Ukrainian Invasion Celebration Spectacular," with a tongue-in-cheek voiceover commenting it was filmed live at former President Donald Trump's Mar-a-Lago resort in Florida.
Shortly afterward, the camera cut to Kate McKinnon, as Ingraham, and Alex Moffat as Carlson with the pair saying they were hosting a fundraiser for Russia's elite, the "real victims of this invasion." A video of the skit can be seen here.
Moffat and McKinnon alluded to Ingraham and Carlson's previous comments on Fox News which some perceived to be favorable to Russian President Vladimir Putin.
Moffat, as Carlson, took the issue head-on, commenting: "I kept asking 'why do we hate Putin?' Aren't liberals in America even worse?"
McKinnon's Ingraham then added: "Tonight, we're going to make it up to you. We're raising money for the real victims of this invasion. The oligarchs.
"Because we need to think about the babies, their sugar babies. Who will pour vodka in their mouths? So many horny mouths to feed."
Moffat tried to encourage donations, commenting: "So, please, open your wallets and because this is Fox News either send money or take out a reverse mortgage."
He then made reference to the recent collapse of the Russian currency and said: "So far we've raised over 8.3 billion rubles, which comes out to almost $12."
James Austin Johnson also made yet another turn as Donald Trump who was manning the phone lines and parodied the former president's habit of going off on a tangent during his speeches.
Moffat then introduced Bowen Yang as Steven Seagal a "great American patriot, so great that he left America and became a Russian citizen
Yang as Segal said: "Putin and I are, as they say in ancient Japan, Eskimo brothers."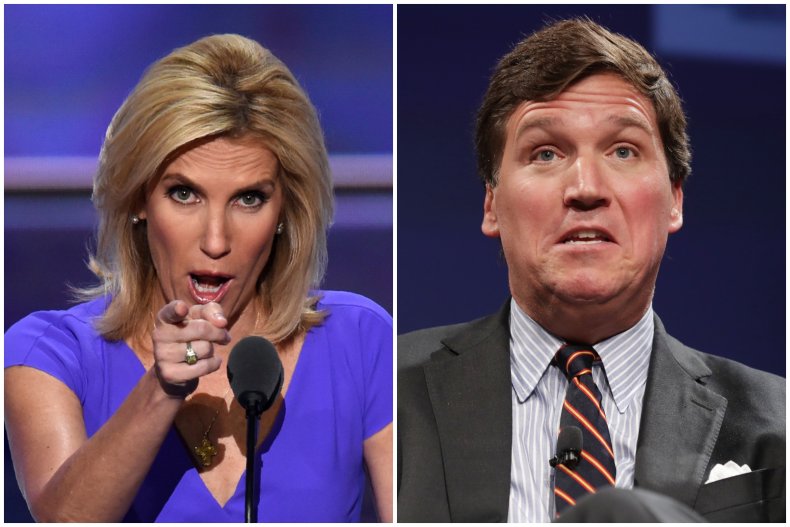 The segment ended with James Austin Johnson singing "a little song from me to you"—aimed at Putin.
He sang: "Your looks are laughable, unphotographable. Yet you're my favorite work of art."
Kremlin-backed media outlets have run translated clips of Carlson, apparently in a bid to push out Putin-approved messaging.
Earlier this week, Carlson and retired Colonel Douglas Macgregor discussed the situation in Ukraine.
Macgregor said: "What is happening now is the battle in Eastern Ukraine is really almost over, all the Ukrainian troops there have been largely surrounded and cut off…and if they don't surrender in the next 24 hours, I suspect the Russians will ultimately annihilate them. The game is over."
Russian news network VGTRK appeared to agree with Macgregor, saying Ukraine should surrender as fighting was "hopeless."
Before Putin ordered the invasion of Ukraine on February 24, Carlson found himself on Russian TV screens after he questioned why so many Americans have a negative opinion of Putin.
"Has Putin ever called me a racist?" Carlson asked. "Has he threatened to get me fired for disagreeing with him?" Carlson rhetorically asked. "Has he shipped every middle-class job in my town to Russia? Did he manufacture a worldwide pandemic?"
"Vladimir Putin didn't do any of that, so why does permanent Washington hate him so much?" Carlson asked.
After the SNL show aired, a Fox News spokesperson referred Newsweek to earlier comments Carlson made about Russia and Ukraine.
Carlson said in a clip he shared on Twitter on February 24, the day of the start of the Russian invasion: "Vladimir Putin started this war. So, whatever the context of the decision he made, he did it. He fired the first shots. He is to blame for what we are seeing here in Ukraine."
The Fox News host then shared his concern about Americans becoming involved in any conflict in Ukraine given Russia's nuclear arsenal.
In the same Twitter post, Carlson said: "Now that shooting has started in Ukraine, it's entirely possible, no matter what they tell you, that Americans could wind up getting hurt.
"Preventing this will require wisdom, farsightedness and emotional control—all of which are in short supply in Washington, especially now."
Update 3/06/22, 12:10 p.m. ET: This article was updated to include a comment from Fox News as well as mention of an additional clip.