'SNL' Parody of Johnny Depp-Amber Heard Trial Sparks Backlash Online
Saturday Night Live's parody of the Johnny Depp-Amber Heard defamation trial over the weekend has sparked a backlash online, with social media users accusing the show of trivializing domestic abuse.
Depp, 58, filed a $50 million lawsuit against his ex-wife Heard, 36, after she wrote in a 2018 op-ed for The Washington Post that she was a domestic abuse survivor.
While Heard didn't name Depp in the article, his lawyers have argued that it was clear she was referring to him. Heard is countersuing for $100 million for nuisance.
The fourth week of the trial concluded on May 5, after Heard's two days of testimony, in which she emotionally alleged that she had been beaten and sexually assaulted by Depp during their ill-fated relationship, which ended in 2016.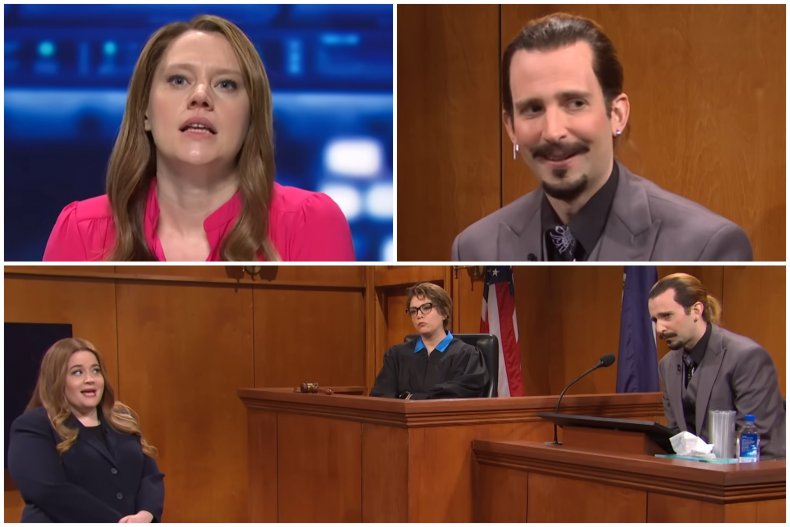 For his part, Depp had earlier testified that he, too, had been physically abused by his Rum Diary co-star Heard, who he accused of throwing a large bottle of vodka at him, resulting in injuries that included the severing of part of his fingertip.
Depp and Heard have each denied the other's allegations of domestic abuse.
During Saturday night's installment of the long-running NBC show, cast member Kate McKinnon portrayed MSNBC anchor Nicolle Wallace.
Joking that the viewers had all tuned into the cable news network because "you had nowhere else to place your anger," McKinnon's Wallace then ran through the biggest headlines currently dominating the news cycle.
"Tonight, political fall out from the recent January 6th subpoenas, updates on the Russian helicopter taken down by Ukraine, plus a nationwide shortage of baby formula," she said.
"But we start of course with the Johnny Depp-Amber Heard cuckoo trial," she went on. "Look, I know it's not the most pertinent story of the moment but with all the problems in the world, isn't it nice to have a news story we can all collectively watch and say, 'Ooh, glad it ain't me'?"
The show then cut to a parody of the trial's live coverage, where Aidy Bryant played the prosecuting lawyer, who questioned Kyle Mooney's Depp on the stand about the alleged events that took place during his marriage to Heard.
Covering Depp's courtroom claims that Heard had deliberately defecated on his bed, the judge, played by Cecily Strong, permitted video evidence of the actor's staffers discovering the feces, because "it does sound fun, and this trial is for fun."
After the video was shown, where jokes were also made about Depp's allegation about his severed finger, the judge remarked: "OK, I think I've seen enough. This trial has given me a lot to consider.
"On one hand, I believe Mr. Depp's story, but on the other hand, your constant little smirk lets me know that this is not the first woman you've made so mad that she pooped in your bed."
The judge later quipped: "I'm just so glad this ain't me."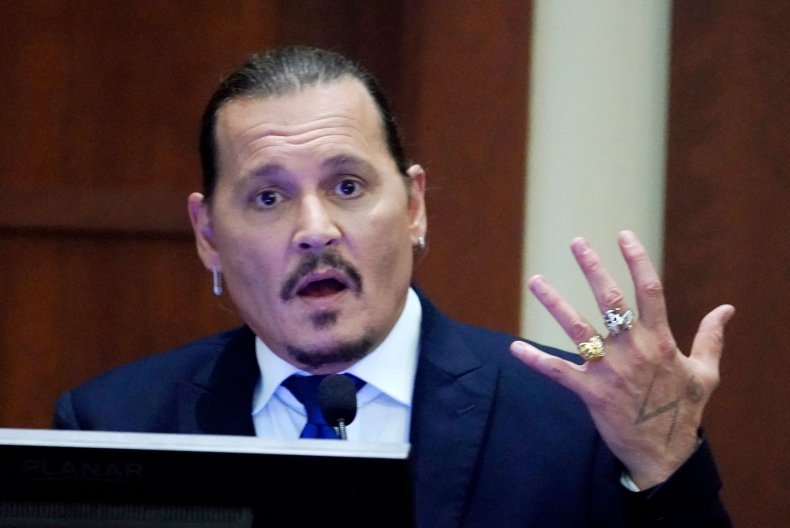 SNL's sketch sparked a strong reaction on Twitter, where sex and culture critic Ella Dawson accused the show of repeating claims from Depp that she branded "false."
"I realize we have much bigger fish to fry today, but SNL's cold open made fun of the Depp/Heard defamation trial and it repeated false claims that Heard cut off Depp's finger and defecated in his bed," she wrote. "The premise of the sketch was that the trial is 'fun' and for public amusement.
"Domestic violence is not a joke. Rape is not a joke. Abusers using the legal system to continue to terrorize their victims is not a joke. Abusers using accusations of defamation to silence their victims is not a joke."
"In twenty years people are going to look back at this trial and all of the media coverage and be disgusted," Dawson added. "Some of us are already disgusted."
Honest Trailers co-creator Andy Signore was also critical of the long-running show's parody, though his detractions appeared to be for different reasons.
"Leave it to #SNL [to] be not only late, but also ignorant and unfunny as they make fun of the Johnny Depp trial," Signore tweeted, adding that they "didn't even have the balls to have any cast member play crying Amber Heard. let alone get any of the other trial players right. Lame #JusticeForJohnny."
The Daily Beast's senior entertainment editor Marlow Stern also chimed in on the sketch, opining: "Very strange/unfunny sketch of the johnny depp-amber heard trial on SNL tonight that seemed guilty of much of what it was parodying."
Another Twitter user blamed the parody on supporters of Depp, accusing them of "openly mocking [and] sensationalising domestic violence."
"The grotesque SNL skit "parodying" the Depp v heard trial is a direct result of the behaviour of Depp supporters on the internet," they wrote. "This phenomenon of openly mocking & sensationalising domestic violence & s*xual assault on social media is bleeding into every cultural space possible."
While some Twitter users complained that the comedians didn't go far enough in their portrayal of the trial, one compared it to the widespread outrage that had been expressed after Will Smith slapped Chris Rock onstage at the Oscars in March.
"Every comedian in the world was acting like a slap was the worst thing a person could do a few weeks ago but skits about domestic abuse are apparently fine," they stated.
This is the second time the former couple has battled it out in court since divorcing. The first came after Depp lost a 2020 libel case against British tabloid The Sun, which had labeled the actor a "wife-beater" in reference to Heard's allegations of domestic abuse.
Depp and Heard's trial resumes on Monday, following a weeklong pause due to a previously scheduled engagement for Judge Penney Azcarate. Heard is facing cross-examination following her testimony.