Singer Billie Eilish recently hosted Saturday Night Live on December 11. She brought the laughs, especially in a now-viral sketch involving herself and Kate McKinnon in a hotel advertisement. Fans are loving the performance, and one viewer called it "the best sketch hands down."
Eilish has been on the show before as a performer, but this was her first time as the host of the popular program. She's both an actress and singer known for her many songs that including Bad Guy and Lovely.
The sketch, which is part of season 47, episode 8, is called "Hotel Ad," and it's been viewed over 2.4 million times on YouTube. The sketch is an ad for a less than mediocre hotel called Business Garden Inn and Suites and Hotel Room Inn.
Eilish played Kathlyn, and McKinnon is Kathreen as they stand together as the hosts of the hotel for the spoof. "Other hotels provide relaxation, luxury, and romance," McKinnon stated.
Then, Eilish's character took over. "Our rooms provide every comfort required by law."
They go on to show different items the hotel rooms come with in a very unappealing way, such as a bar of soap in plastic and a chair for a suitcase. "And small stain in place you have to touch," Eilish added about the room's amenities.
SNL has been on the air for 47 seasons with 920 episodes in total according to IMDb. It's won 86 Primetime Emmys and many other awards as well. Numerous big names have hosted the show before, including Owen Wilson, Elon Musk, Regina King and Betty White.
In the viral sketch, the hotel workers even mentioned the hotel hot tub, which they insisted is always taken up by an 8-year-old boy wearing goggles. Things get even more interesting though when concierge Doreen (Aidy Bryant) who is "having a hard month every month" apologized for crying earlier as she didn't sleep that well because of her dogs who took over the bed and her "feral cat" that bit her.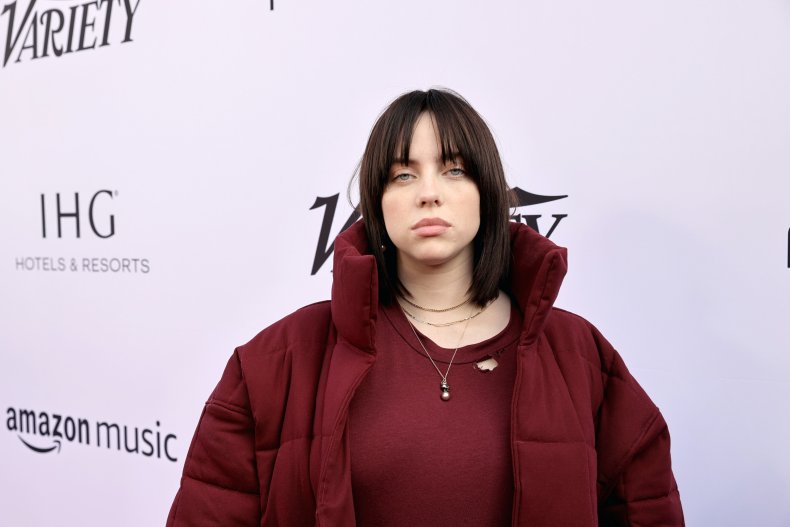 During the sketch, both Eilish and McKinnon have to keep themselves from laughing. "Situated between the DMV and a darkened Sonic, it's the location that will make your Uber driver say, 'You sure?'" McKinnon commented. Eilish did laugh a little bit after that comment in a hilarious moment captured on camera.
There's even a character named Trevor, played by Eilish's brother, Finneas. McKinnon's character referred to him as the "bellhop/valet/night manager/in-house doctor." He admits he'll drop the guests' bags, scratch their car, and even "offer" to get guests cocaine and then "flake."
People really seem to like Eilish and McKinnon's hotel sketch. "Billie trying not to laugh is everything," a YouTube user said.
"Kate and Billie could barely hold in their laughter," a viewer wrote. "This is great."
One YouTube user clearly liked the sketch, as did many others. "The best sketch hands down," they said. "Kate was so trying to break Billie."
"Nailed it," another user pointed out. "As someone in a limited-service hotel, this is embarrassingly accurate."
A viewer thought Eilish was "made for this kind of sketch" in particular. "This has me dying laughing, the dry humor is so good," they also said. "And Billie trying not to laugh is incredible."
"The entire episode was great, but this sketch was the icing on the cake," said yet another viewer. "What a hilarious closer."