Kate McKinnon, Pete Davidson's SNL Farewells Go Viral
Clips of Kate McKinnon and Pete Davidson's Saturday Night Live sign offs have gone viral online as fans lament losing two of the show's brightest stars.
News that SNL would be losing the two as cast members came ahead of Saturday night's broadcast. Aidy Bryant, who joined with McKinnon a decade ago, and Kyle Mooney, who started in 2013, are also leaving the show after the end of the 47th season.
McKinnon has won two Emmys during her 10 seasons on the show, during which she has given SNL some of its most popular characters and been lauded for impressions including Dr. Anthony Fauci, Hillary Clinton and former Attorney General Jeff Sessions.
She was given an emotional send-off as she revisited one of those fan-favorite characters for a last time in the show's cold open: Ms. Rafferty, a woman who has been abducted by aliens numerous times.
The sketch ended with Rafferty boarding a spaceship to join the aliens and leave Earth permanently.
"Well, Earth, I love ya. Thanks for letting me stay a while," McKinnon said, holding back tears as the audience cheered. Then, for the final time as an SNL cast member, she added: "Live from New York, it's Saturday night!"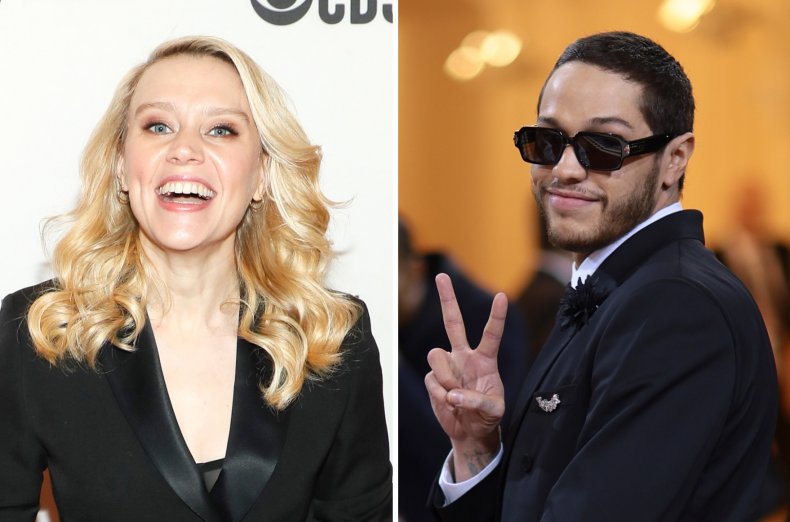 After eight seasons, Davidson bid a heartfelt goodbye to the show during an appearance on "Weekend Update," from which his commentaries often went viral online.
Davidson, who has arguably become known as much for his dating life as his comedy, began with a reference to his public feud with girlfriend Kim Kardashian's ex. "Hello, Colin and Che and millions of people only watching to see if I bring up Kanye," he said.
"I never imagined this would be my life," Davidson went on, adding that when he joined the cast at the age of 20, he was "a skinny kid and no one knew what race I was."
"Now everyone knows I'm white because I became hugely successful while barely showing up to work," he joked.
He went on to thank SNL for "always having my back and allowing me to work on myself and grow."
Becoming visibly emotional, he also thanked SNL producer Lorne Michaels "for never giving up on me or judging me—even when everyone else was—and for believing in me and allowing me to have a place that I could call home with the memories that'll last a lifetime."
Many viewers took to Twitter to share their reactions to the veteran cast members departing SNL.
"After going through so much with this batch of #SNL players, I'm really taking these cast exits hard," wrote Gennefer Gross. "Aidy Bryant, Kate McKinnon, and Kyle Mooney have brought me comfort and laughter in the darkest times and I wasn't ready to say goodbye."
"Kate McKinnon starting to cry at the end of her last SNL opening skit ever ... I'm crying with her," wrote Bre Offenberger.
Alexis Benveniste added: "Kate McKinnon was the best part of SNL — hands down. 10 awesome years."
Eric Dittelman added: "Sad that all these #SNL cast members are leaving... until I realized they'll all inevitably be back to host next season!"