'SNL' Welcomes 'President Clinton' to 'Worst-Ever Presidential Debate'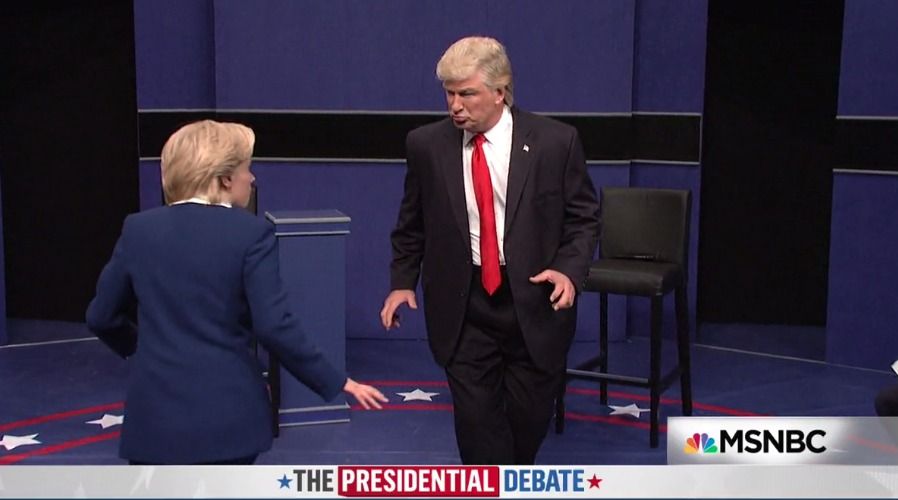 The presidential election is just about wrapped up after Donald Trump's numerous sexual assault allegations, at least as far as Saturday Night Live is concerned.
SNL opened the show this weekend with "President Hillary Clinton" facing off with GOP nominee Trump in a sketch satirizing the "worst-ever presidential debate," in a parody of last Sunday's town-hall forum. While Clinton was dinged for her attempts to seem relatable and authentic, Trump easily got the worst of the sketch's barbs—which didn't escape the real Trump's notice.
The candidate tweeted Sunday morning that he had "watched the Saturday Night Live hit job on me. Time to retire the boring and unfunny show. Alec Baldwin portrayal stinks. Media rigging election!" Apparently, Trump believes the sketch comedy show is now in league with the New York Times, Washington Post and CNN in conspiring against him, which has been his defense in the face of at least nine allegations of sexual assault and harassment.
Numerous exchanges could have set The Donald off, such as his response to a question from a black audience member named James as to whether the candidates can be devoted to all people.
"That is a great question, Denzel," said Baldwin as Trump.
"Just last month I was in Detroit, and everywhere I looked there were violent, crazy people and a lot of them had guns, and they were saying horrible things, like 'Trump for president.' Also, speaking of black men, you know who else should be in jail? Hillary Clinton. She's committed so many crimes she's basically a black," Baldwin's Trump said to gasps from the crowd.
Or perhaps Trump wasn't fond of Baldwin's response to a question about being a positive influence on children. "I love the kids. I love them so much I marry them."
He couldn't have laughed at Baldwin saying of Trump's sexual misconduct accusers: "They need to shut the hell up."
The actual debate featured the spectacle of Trump inviting four women who have accused Bill Clinton of misconduct to sit in the audience, which the Clinton campaign has largely ignored. Kate McKinnon, however, used the stunt to burst into fake tears. "Mistresses...Bill, how could you. How will I go on with the debate? No, I'll never be able to remember my facts and figures no. Oh, Donald, no!," she exclaimed. "Get real. I'm made of steel, this is nothing. Hi girls!"
The actual debate also featured Clinton and Trump forced to say something nice about each other. Clinton focused on Trump's kids and abilities as a father, but McKinnon went a different route.
"Donald Trump and I disagree on almost everything but I do like how generous he is. Just last Friday he handed me this election."