Watch: 'SNL' Searches for a Republican to Put 'Country Over Party'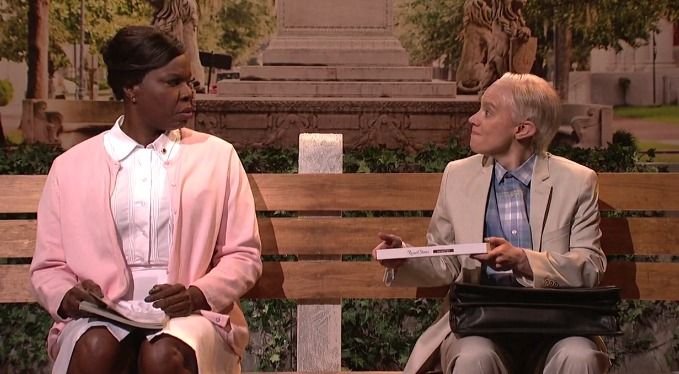 When the history of our political era is written, who will stand out as the Republican who stood up to Donald Trump? "Saturday Night Live" says the identity of the "patriot who put country over party" is still very much in question.
"SNL" took aim at what it sees as a spineless GOP in a sharp, faux movie trailer on this weekend's edition, hosted by Octavia Spencer and with musical guest Father John Misty. Elsewhere, go-to political impressionist Kate McKinnon channeled Forrest Gump in the show's take on Attorney General Jeff Sessions's very bad week in the cold open to the episode.
"It was a country in chaos. A nation divided. Lead by a president with unchecked power. Until one Republican decided enough was enough. A patriot who put country over party. Who finally stood up for the nation's founding values. A man by the name of: TBD," said a voiceover to the trailer, which featured contemporary news reports on anti-Semitic threats, Trump's immigration plans, Russia allegations and the president's refusal to turn over his tax returns.
RELATED: Trump takes the travel ban to People's Court on 'SNL'
The trailer follows the age-old hero trope of the brave outlier who stood up for what's right at a time when no one else would. It's a timely question, as the never-Trump movement that outright rejected the president's candidacy has largely slipped away, with most Congressional Republicans turning to light criticism of specific Trump initiatives while otherwise embracing his agenda.
Spencer, shown in a park with a child, is asked about the identity of a statue. "That's the man from long ago who stood up to Donald Trump," said the Oscar-winning actress—only to reveal a statue with a box over its head. "Looks just like him," she said.
On a day when the chair of the House Permanent Select Committee on Intelligence, Devin Nunes, said he would heed Trump's unsubstantiated calls for a probe into alleged wiretapping of Trump Tower, it's clear there are no obvious candidates willing to risk the ire of Trump voters. And "SNL" is positive about who won't be leading Republican opposition.
"It's definitely not about Paul Ryan," the trailer's voiceover intones.
'Run, Jeffy, Run'
"I had a bad week," said McKinnon as Sessions, employing her syrupy Southern drawl to ape Forrest Gump's bus stop chats with strangers. "It started out real good. The president made a great speech. Folks were thrilled on account of it was real words in a row for a whole hour!
"Then I went to bed and I got like 800 messages on phone alerts saying I was a sneaky, little liar," McKinnon's Sessions says. "I didn't know what to do so my lawyer said "run, Jeffy, run!"
The brouhaha over Sessions's testimony before Congress during his confirmation hearings did overshadow the positive news from Trump's Tuesday address to Congress, at least until Trump decided to accuse President Obama of leading a wiretapping operation inside Trump Tower. The sketch makes light of the mushrooming controversy, which followed with multiple admissions of Trump associates' meetings with the Russian ambassador.
"I never talked to any Russians, ever, and that's all I got to say about that," McKinnon says to one stranger, before admitting to a new arrival that, "I talked to the Russians. Twice.
"But I was the only one who talked to the Russians. Well me and (former National Security Adviser) Michael Flynn. Just me and Michael Flynn. And J.D. Gordon (campaign adviser). So me and Michael Flynn and J.D. Gordon. And Jared Kushner at Trump Tower. So me, Michael Flynn, J.D. Gordon and Jared Kushner. And Carter Page. And that's all I have to say about that. And Paul Manafort," McKinnon says.
Sessions also pines for his "Jenny," Trump adviser Kellyanne Conway, who has come under fire for hawking Ivanka Trump's products and promoting "alternative facts."
"We about as close as peas and carrots," McKinnon's Sessions says. "She's about the best talker you ever heard. They say she could sell steak to a skunk. But they don't let her talk anymore. I miss you Kelly."