SNL Takes on Harvey Weinstein: Baldwin's Trump Hits Back at Eminem As McKinnon's Kellyanne Conway Lurks in Sewer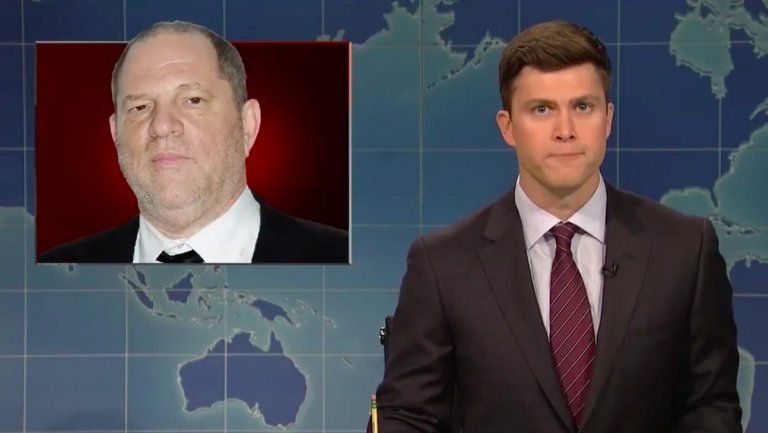 After facing criticism for avoiding the sex attacks scandal engulfing Hollywood producer Harvey Weinstein last week, NBC's Saturday Night Live confronted the controversy in Saturday's episode.
Leslie Jones's Viola Davis, Cecily Strong's Marion Cotillard and Kate McKinnon playing an old Hollywood starlet named Debette Goldry discussed sexual harassment in a round table discussion.
"I did have one meeting with Harvey," McKinnon's Goldry said. "I was invited to his hotel room and when I arrived he was naked, hanging upside down from a monkey bar. He tried to trick me into thinking his genitals were actually his face. It almost worked. The resemblance is uncanny."
McKinnon's Goldry asked the group how to move forward.
"Violence against women, it doesn't just happen to famous actresses, it's everywhere, damn it! It's time we take it seriously," said McKinnon's Goldry. "Pandora's box is open now, and Pandora's pissed."
The "Weekend Update" sketch with hosts Colin Jost and Michael Che also addressed the scandal.
"Apple has announced that it will add hundreds of new emojis to its iOS system including a person at a spa, a vomiting face, and [a] shushing finger," Jost said. "Finally giving emoji fans the ability to describe what it was like to work for Harvey Weinstein."
Weinstein has been accused of rape and sexual assault by a series of women over the past nine days, with two more alleged victims coming forward Saturday. The Academy of Motion Picture Arts and Sciences board voted to revoke Weinstein's membership.
Weinstein, 65, insists that the sexual encounters were consensual.
Later, McKinnon reprised her role as President Donald Trump's spokeswoman, Kellyanne Conway.
The sketch re-creates the opening scene from the Stephen King's film, "IT," with Conway as villain Pennywise attempting to lure CNN anchor Anderson Cooper into a sewer with an outlandish defense of the Trump administration:
"Hello, Coopy. It's me, Kellyanne Conway.... Puerto Rico was actually worse before Hurricane Maria, and the hurricane actually did blow some buildings back together, and I don't know why Elizabeth Warren won't tweet about that."
As part of the show's cold open sketch, Alec Baldwin returned as President Trump, addressing a rally in "Harass-burg," Pennsylvania, where he boasted about "undoing everything Obama did," like healthcare and the Iran deal, as well as "ripping out all of the vegetables in Michelle Obama's garden and planting McNuggets."
Referencing rapper Eminem's attack on Trump in a freestyle last week, Baldwin's Trump says "Eminem apparently did a freestyle network on the BET network the other day, and he rapped some very nasty things about me, and very soon I'm going to release a response rap on the White Entertainment Network, HGT."