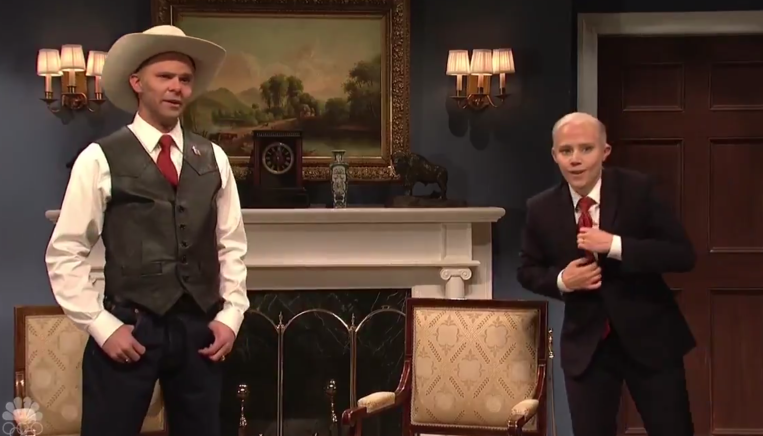 SNL tackled the sexual misconduct allegations surrounding Alabama Senatorial candidate Roy Moore in its cold open Saturday.
In the skit, Beck Bennet's Mike Pence pleads with Mikey Day's Moore to step aside from the race following allegations about Moore's conduct with a 14-year-old girl when he was an assistant district attorney in the early 1980s.
"We can't lose your seat this December," says Beck's Pence.
The accusations are "all lies," says Day, wearing Moore's trademark Stetson. "I'm not that guy," he insists.
"It's hard to convince people you're not into young girls when you dress like Woody from 'Toy Story," Pence says.
In the skit, Kate McKinnon plays former Alabama Senator and current attorney general Jeff Sessions, who declares Moore "too Alabama" even for him.
"Roy, you've been doing some controversial stuff. You wave a gun around on stage, tell folks Muslims shouldn't be allowed in Congress and that 9/11 was God's punishment for sodomy. I love it. You check a lot of boxes for me," says McKinnon's Sessions.
"But it was pretty bad. I'm usually the creepiest one in the room, but I look at you, and I'm like oh .... my God."
McKinnon's creepy Sessions adds: "I'm Alabama but you, sir, are too Alabama ... Get out of here and let me get to my gerrymandering."
Allegations about Moore's sexual misconduct were first reported by The Washington Post Thursday. Moore has called the allegations "completely false," and has vowed to continue fighting for his senate seat.