Is 'SNL' on Tonight? Season 46, Episode 2 Host, Musical Guest
It's the weekend folks, which means it's finally time to kick back, relax and enjoy some Saturday Night Live.
The NBC sketch comedy show is set to air the second episode of Season 46 on Saturday after dealing with a particularly hectic week. Showrunners were forced to give Morgan Wallen the boot after he violated COVID-19 safety measures. The country singer was originally scheduled to appear on SNL as musical guest but after appearing in a string of TikTok videos partying with a large group of people without a mask on, his SNL performance was canceled.
"My actions this past weekend were pretty short-sighted and they have obviously affected my longterm goals and my dreams," Wallen said in an Instagram post on Wednesday. "I respect the show's decision because I know that I put them in jeopardy and I take ownership for this."
Wallen hasn't tested positive for coronavirus, but SNL isn't taking any chances in keeping cast, crew and audience members safe.
While the show is back filming with a live audience inside its usual Studio 8H home-base at Rockefeller Center, NBC is taking all the precautions in light of the coronavirus pandemic, enforcing protocols like flash-testing guests upon arrival, mandatory temperature checks and requiring audience members to wear masks.
Wallen's flub made for quite the hiccup for SNL, but as always, the show must go on. And it certainly will.
Who is hosting SNL?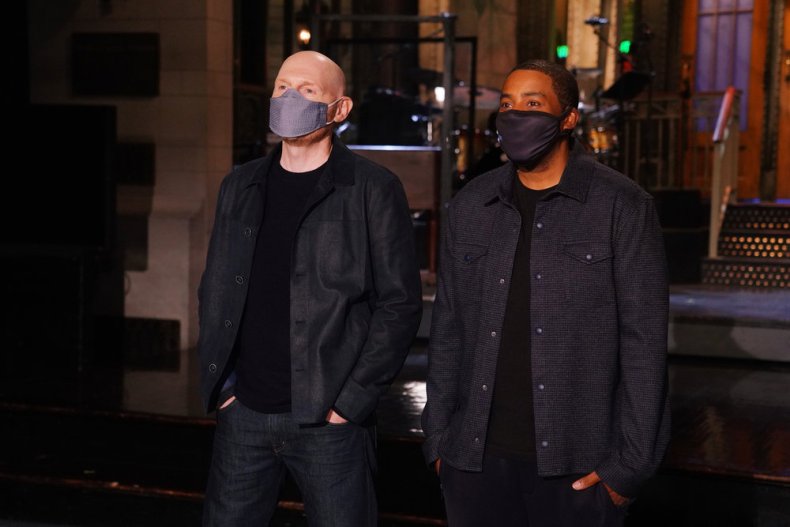 For the first time ever, comedian Bill Burr is taking over as SNL host. This will also mark his first-ever appearance on the show overall.
The Boston native has become quite the figure in comedy after landing a re-occurring role on Dave Chappelle's Comedy Central show in the early 2000s. Since then Burr's become a regular on late-night shows including Jimmy Fallon Live, Conan, and The Tonight Show Starring Jimmy Fallon.
Burr also hosts the incredibly popular comedy podcast, Monday Morning Podcast, and is the masterful-mind behind Netflix's hilarious adult cartoon series F is for Family.
Who is performing?
There's always someone ready and willing to hop on the SNL stage in a pinch. For this week's show, it's Jack White. The singer and songwriter is already familiar with the SNL stage—he appeared on the show once in 2002 as The White Stripes with ex-wife Meg white and again solo in 2012 and 2018.
It's anyone's guess what White will perform. He hasn't released any new music since he got back together with his old band Raconteurs in 2019. But there's always a possibility that the ever-talented musician may debut something new during his SNL set. Of course, we'll happily take a performance of one of his many timeless tunes (loudly whispers: "Icky Thump!," "Seven Nation Army!," please).
Will there be an SNL debate?
Probably so!
On the premiere episode, Jim Carey and Alec Baldwin reincarnated presidential nominees Joe Biden and Donald Trump, respectively, in a debate cold open. Now that the candidates' running mates Vice President Mike Pence and Senator Kamala Harris have officially gotten their debate out of the way, the odds of SNL riffing on their Wednesday night exchange seems likely. Plus, Maya Rudolph, who is reprising her role as Harris on SNL, recently appeared in a new promo ad for the show.
SNL hasn't named any particular person to play Pence. More than likely it will be cast member Beck Bennett, who has played Pence on the show in the past.
And here's to hoping we get a fly cameo! The internet sure is hoping SNL will relive the bizarre moment during the debate when a fly landed and proceeded to chill out on Pence's head for nearly two minutes. Naturally, droves of people began calling on SNL to include the scene on this week's show, and dozens of them have suggested Jeff Goldblum play the part of the fly.
What time does SNL air?
As usual, SNL will air on NBC at 11:30 p.m. ET.
Can SNL be live-streamed?
Surely you can live stream the show if you please. All you'll need is access to a smart device and a cable provider login, and, viola, you're streaming SNL. This with pay-for services like Hulu +Live, YouTube Live, Peacock and Sling TV will be able to catch the show in real-time on those platforms too.
Anyone just looking to catch the best sketches of the night can check SNL's Youtube after the show airs. All the highlights and clips will be there for viewing. And folks can keep up with all the SNL banter on social media by following the hashtag, SNL.