SNL Tries to Clear up Confusion Over New CDC Mask Guidelines
This weekend's Saturday Night Live began with Kate McKinnon reprising her role as Dr. Anthony Fauci and attempting to explain the new mask guidelines from the U.S. Centers for Disease Control and Prevention (CDC).
"It's your boy, Fauci, the patron saint of Purell," McKinnon said, as the episode's cold open kicked off.
"As you probably heard we got some very good news this week and I'm not just talking about JLo and Ben Affleck getting back together.
"The C.D.C. announced that people who are vaccinated no longer need to wear masks, outdoors or indoors. Pretty great, right? But a lot of people had questions. Such as, 'What does that mean? What the hell are you talking about? Is this a trap?'"
New CDC guidelines said fully vaccinated people no longer need masks indoors, but there were numerous caveats that left people confused.
To clear things up, she claimed, McKinnon introduced performers—describing them as CDC doctors who minored in theater—to act out some scenarios and demonstrate proper mask behavior.
"And remember they only had 24 hours to put this little show together," McKinnon's Fauci said.
First up was Aidy Bryant as a bartender and Beck Bennett as a customer who is told he can remove his mask, until he reveals he's not vaccinated.
"Well, I'm entering a bar at 11 a.m.," Bennett then said. "Did you really think I was vaxed? 'Cause that's on you."
Bryant responded: "You're right, I deserve COVID."
"I don't know if that's the right takeaway," McKinnon's Fauci said, before introducing the next scene. "The real point is, we have to trust each other, so please be honest and respectful."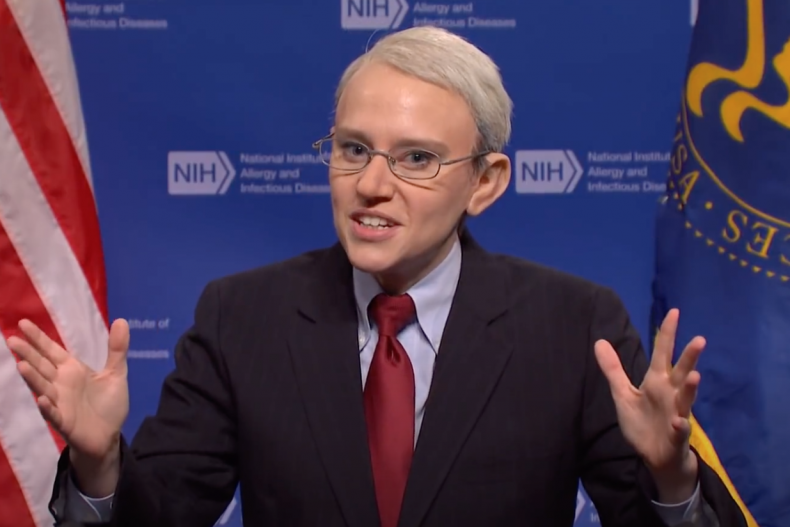 Up next was Bowen Yang and Ego Nwodim as a businessman and a flight attendant who discuss mask etiquette, before things quickly turn sexual.
"The lesson should have been, you need masks on planes, not everybody horny now," McKinnon's Fauci noted.
Another scene saw Alex Moffat and Cecily Strong as a couple in a large crowd, not sure if they needed to wear masks.
"I'm concerned. This is a pretty large gathering. Should we be wearing masks?" Moffat asked.
"We don't have to, because we're outside... the Capitol building. Now come on, let's get 'em." She then holds up as prop weapon as Moffat puts on a red MAGA hat.
"That was a very specific sample, but accurate in terms of masks," McKinnon's Fauci said before moving to the next scenes.
A couple who started dating during the pandemic are seen removing their masks while dining outside. "Oh no, I don't like the bottom half of your face," Chloe Fineman tells her boyfriend. "It looks like you grew mold under your mask."
In a final scene, several players are at a party celebrating the end of the pandemic. "Everybody got the vaccine, so now we never need masks again!" Bryant said.
"Now let's talk about Israel," Bennett says, as the cameras pan back to McKinnon's Fauci.
"OK, OK, seems like a good place to end," she says. "So in summary, please, everyone get the vaccine and enjoy life with no masks. Except this audience, you guys, you've got to keep them on."